In the most basic sense, your ideal client is someone whose needs are met by your service or product.
This person is the perfect person you want to target to market your services. Your messaging speaks their language, and your services (or product) solve their problem.
Why Identifying Your Ideal Client is Important
I know you are probably thinking, "if I exclude someone from my messaging, then I'm losing out on a client. Why would I only want to work with one specific type of person?
You want to find your ideal client because when you market to everyone, you market to no one.
If your message is general and not focused, then your message will not resonate or relate to anyone. Whose problem are you going to solve and how?
Clients want to feel like your services were made just for them!
And there are no rules saying you can only work with clients within your ideal client range.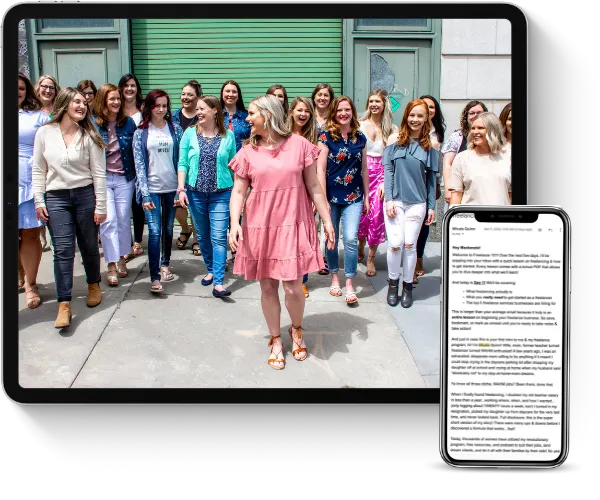 Learn how to earn $3K a month+ as a freelancer working less than 25 hours a week even if you think you have no experience.
This FREE crash course will teach you all about the freelance industry, so you can finally end the family vs. finances battle.
How to Find Your Ideal Client in 3 Steps
Narrow down by industry who you ideally want to work with. Some examples could be course creators, bloggers, or real estate agents.
OR
Narrow it down by interest. For example, who do they help? What is their passion? Fitness and health or mom and baby, etc.
Make a list of businesses you want to work with.
Use the internet or Facebook search to find businesses you might want to help with. Make a list to track them.
Look for indicators they are ready to hire.
Most likely, a brand-new business does not have the funds to hire someone. Instead, search for businesses that have been around longer than just a few months.
Maybe they already have an employee or another freelancer they work with. If they do, that is a good indicator they are in a position to hire.
Do they have a consistent, reliable way they make money? Can you see or identify it? If so, they may be in a good place to hire.
Last, when they talk about their business, they mention or use phrases that they want to grow or scale.
Understanding Your Ideal Client
Once you identify the ideal person you want to work with, you can begin to understand them. That will help you figure out where they are hanging out and what language speaks to them.
Brainstorm the demographics and psychographics
These kinds of things can help you further understand your ideal client. They can help you get an idea of the kind of content, how you present it, and what messaging will resonate with them.
Demographics might include age, gender, location, occupation, income, and marital status.
While psychographics will include personality, habits, likes and dislikes, and lifestyle.
Keep in mind that some of these things can be relevant, and others may not. For example, if you want to offer services to local businesses, then location is important. However, if you want to work with worldwide businesses, location doesn't matter.
So, think about what details will be relevant to the services you offer and the brands you want to work with.
Define ideal client problems
Also called a pain point, you need to know what your ideal client's problems are so your services can be the answer to fixing them.
So, to figure out their problems or pain points, we must get into their head and think about what the goals for their business could be.
What is getting in the way of meeting their goals?
What do they want?
What are they working toward?
What are their common day-to-day frustrations?
What brings them joy?
What challenges are they facing?
Where do they get their information?
Define solutions to those problems
After defining their problems, you can start to brainstorm solutions that will fix those problems.
To do this, figure out why you want to help people solve these problems. What are the services that will help solve these problems? Then tie your service to how it solves the problem your ideal client is experiencing.
Another thing you will want to consider is the tangible results your solution offers and the intangible results.
Create Messaging That Speaks to Your Ideal Client
You want to choose the language that speaks to your client.
Remember making a purchase, big or small, is an emotional experience. So, to identify their needs, look at it from their perspective. Think about the emotional, physical, and mental barriers they may have.
Think about how prospective clients phrase it when they explain their problems. Use a form of that phrasing in your messaging so that it will resonate with them, and they can find you when searching for a solution.
Then highlight the benefits they will reap when choosing to work with you!
3 Ways to Gather Ideal Client Information
As your business grows and changes, your service offering will change, which means your ideal client will also change.
Three ways to get data about ideal clients are:
Facebook groups have the potential to be a goldmine of client information! Brainstorm or search for a few groups you suspect your ideal client would be on and use the search bar to find posts for specific keywords related to your ideal client.
Look at your past clients and projects. You can conduct private interviews, use testimonials, or use constructive feedback you've received to gather information.
Client surveys are a wonderful way to gather ideal client information, too! Using this method, you can even find the language they use to describe their pain points! (

SurveyMonkey is a great free option for creating client surveys

!)
Finding your ideal client is a step in the process of building your business that can be time-consuming. So, many people try and skip it.
It will definitely help you in the long run, though!
Finding your ideal client will help you decide who you want to work with, identify their pain points and how you can solve them. Plus, you will gain clarity on your messaging that resonates with potential clients.
Are you ready to start identifying who you want to work with? The Live Free Academy is your go-to resource for starting your business step-by-step!
This 8-step course is self-driven and teaches you everything you need to know. Plus, it includes worksheets and additional resources to easily find your ideal client!