As I have started to help other moms brainstorm ideas about starting their own freelance, work from home business, the number one question I get is "where do you find clients?"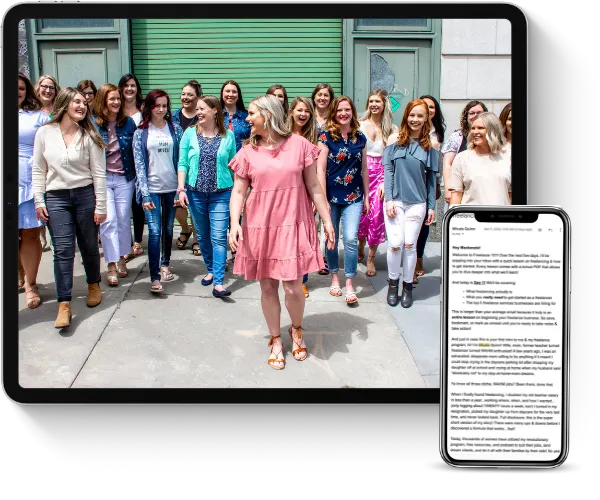 Learn how to earn $3K a month+ as a freelancer working less than 25 hours a week even if you think you have no experience.
This FREE crash course will teach you all about the freelance industry, so you can finally end the family vs. finances battle.
There are a few routes I and other freelance business owners take to find clients.
Online virtual web-based job sourcing boards 

Friends and family

In-person and local networking

Facebook groups
Route #1 – Online Sourcing Boards
Pros:
Can be faster

More traditional way to find jobs and what more people are comfortable with

Don't have to necessarily position yourself as a business owner

Great for a beginner
Cons:
Lower paying

The person hiring has more control over work performed and hourly rate

Tailor your resume and cover letter to each individual job posting

Costs a small fee to join some of the boards
My experience: I started my business this way, before I even knew I was starting a business. It took me awhile because I was still teaching full time when I first started searching and I had no guidance or support about online work.
I was still wondering if working from home was even possible or just a scam.
But, my first client came through an online job sourcing board.
She was a business coach and looking for a virtual admin assistant or a VA.
I started working for her for at $20 an hour for about 15-20 hours a month.
She set the work and the hourly rate. She was in control.
Route #2 – Friends and Family
**To be honest I never went this route, so take what I say with a grain of salt.
Pros:
You know them and they know you

Could be a potential faster way to find your first client

You are in control — you set your rates and the work that you do

You are a business owner
Cons:
Can be hard to put yourself out there

I've always been told don't mix business and family/friends
Route #3 – In-person and Local Networking
**I am JUST now starting to go the in-person and local networking route
Pros:
In-person is more personable and builds a stronger relationship and trust factor faster

Tons of local businesses and opportunities to network

The amount of people approaching local businesses to work in a freelancing capacity at this time is extremely low, so the competition is less

You are in control — you set your rates and the work that you do

You are a business owner
Cons:
Can be super hard to put yourself out there, especially with strangers (can you tell I hate putting myself out there)

Takes time to find the right opportunity and organizations
Route #4 – Facebook Groups
**This is how I built my business from $400 a month from hiremymom.com to 3K a month as a VA.
Pros:
Tons of opportunities

Form lasting relationships with other online based businesses

You are in control — you set your rates and the work that you do

You are a business owner

Can be very lucrative
Cons:
Lots of competition

Lots of groups

It takes time to position yourself as the go-to expert
My experience: Before I *knew* that I was a business owner, I stumbled across a woman who was creating courses for VAs. She had a free webinar on how to build a virtual freelance business through Facebook groups.
That FREE webinar was so beneficial, by the end of her webinar, I signed up for her $1500 course. This course taught me and showed me where to go and how to discover everything I needed to run my own home-based, virtual business.
I have had at least 5 different clients that I found via networking in various Facebook groups. Some were long-term clients. Some were more packaged based.
But it was the Facebook group route that allowed me to earn $2,000+ a month in part-time hours, working from the comfort of my home, when and where I wanted!
My two favorite Facebook groups:
If you are sitting here like, "wow — now I know where to find clients, but what can I get them to pay me for?" Have no fear — my Ultimate Freelance Guide will be perfect for you! Check it out here and it will walk you through step-by-step how to determine what services you can offer to build your work from home business today!