EPISODE 82: SHOW NOTES
What financial numbers do we need to pay attention to as freelancing WAHMs? Danielle Hayden, a reformed corporate CFO who is on a mission to help rule-breaking female entrepreneurs understand their numbers, is on the show to tell us what we need to know!
In this episode, Danielle shares her journey from hairdresser to corporate CFO to starting her own bookkeeping business about 5 years ago. We cover what each transition was like for her and her family. Plus, we talk through the financial numbers that each freelancer needs to know to create sustainable profits.
If accounting and numbers in general aren't your jam, you won't want to miss this episode. Danielle keeps it as simple as possible! Also, if you're a bookkeeper or thinking about starting a freelance bookkeeping business, Danielle offers great insight in getting started!
Thanks for listening today! If you want to apply for my brand new coaching program, head over to MicalaQuinn.com/apply and scroll below for the links to work with Danielle! Talk to you soon!
**This post about knowing your financial numbers may contain affiliate links, which means if you click one of our affiliate links and decide to make a purchase, we receive a tiny commission from the seller at no additional cost to you. We only share products and services we have used, tested, and love ourselves!**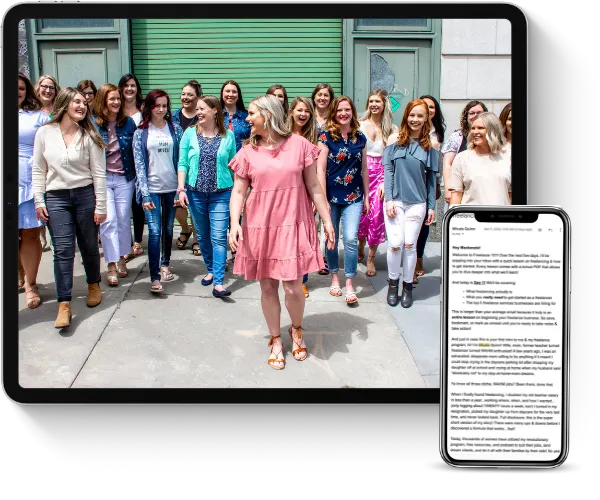 Learn how to earn $3K a month+ as a freelancer working less than 25 hours a week even if you think you have no experience.
This FREE crash course will teach you all about the freelance industry, so you can finally end the family vs. finances battle.
In this episode, we cover:
how Danielle went from hairdresser to corporate CFO to starting her own bookkeeping business,
the 3 financial numbers you need to pay attention to, and
Danielle tips on starting a bookkeeping business
Resources and links mentioned in this episode:
Get 15% off Danielle's Profit Planner Foundations book with coupon code: livefree HERE!
Listen to episode 66 with Angie Trueblood on how to properly pitch yourself (or your clients) to get on podcasts!
Apply for my coaching program HERE!