Are you thinking about a career change and considering freelancing, but wondering if freelancing can replace your full-time income? Yes, it absolutely can! According to this report from Upwork, 36% of the workforce in the U.S. are freelancers. And every year that number keeps growing. So many of the women in the Live Free Academy have met or exceeded their income goals with freelancing completely replacing their full-time income. It has allowed them the freedom to work from home while gaining the flexibility to spend more time with their kids. All while growing a business that is more stable than a traditional 9-5 job.
The Best Jobs for Stay-at-Home Moms
What are the best jobs for stay-at-home moms? A job that allows the freedom, flexibility, and financial stability that comes with owning your own business and achieving your income goals.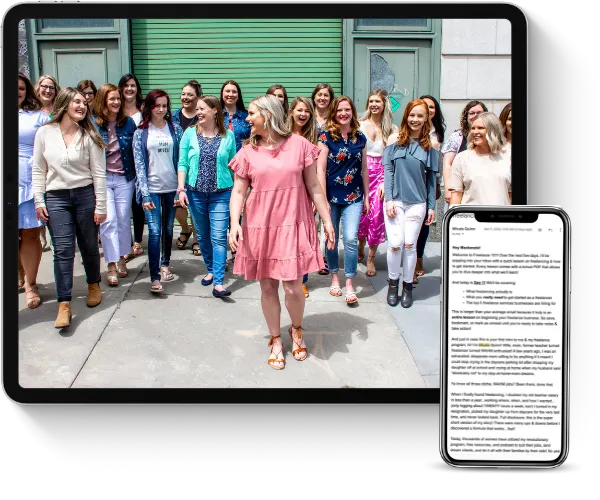 Learn how to earn $3K a month+ as a freelancer working less than 25 hours a week even if you think you have no experience.
This FREE crash course will teach you all about the freelance industry, so you can finally end the family vs. finances battle.
When I first started my journey into looking for a career I could do from home the most common answers were start an in-home daycare, become an MLM consultant, learn to budget and live off less, or work at a call center. None of these options was the right fit for me. I wanted to work from home, make a decent income, and be present with my kids during the day.
Was that too much to ask for?
Then I stumbled upon freelancing, and it was the answer to my work-from-home mom dreams! I started as a virtual assistant, fell in love with social media management, and quickly tripled my teacher take-home pay working a fraction of the hours.
With no experience I did have skills that I turned into services. I offered these services to other business owners and was paid for them. Here are 7 jobs you can do today as a freelancer that can turn into a successful business.
Virtual Assistant. A virtual assistant is someone that takes over the administrative tasks for a business. Some of the things a virtual assistant will do are email inbox management, customer service, research, data entry, creating graphics, and scheduling social media posts.
Social Media Manager. Manages and maintains clients' social profiles and accounts. They may create strategic plans, write captions, create graphics, audit accounts, and engage with their online community.
Pinterest Manager. Manages and maintains clients' Pinterest accounts. Similar to an SMM a Pinterest Manager will create strategic plans, create pins, and pin pins, but may offer more services specific to Pinterest. Things like auditing accounts, setting up accounts, and optimizing accounts.
Copywriter. Do you like to write? You can write the various content businesses need. Content like blog posts, websites, emails, social media captions, and sales pages.
Designer. As a designer, you will create the visuals a business needs like brand identity, logos, websites, sales pages, and pdfs.
Online Business Manager. An OBM helps manage the business. They will help with team management, project management, system implementation, and KPI tracking and analysis.
Podcast Manager. A freelancer that manages and produces a business podcast. You may assist with launches, edit the podcast, book guests, publish the podcast, and write show notes.
These are just a few freelance services that you could offer as a freelancer. You don't need to be an expert; you just need to determine what skills you have that you can offer to other businesses and build from there. To help you decide what skills you already have that you can use to start a freelance business, download my free skills assessment in the Freelance Starter Kit.
Determine Your Freelance Rate
I get asked all the time, "Will I make any money freelancing?"
Yes! As a freelance mom working from home, you can make and exceed your full-time income from your 40+ hour a week job, while working part-time hours.
When you sit down to determine your freelance rate you should consider a few variables. Those are your rates, how much you want to work, and the price of your services. These three variables will be based upon what you need to meet your income goals.
Here's an example I like to use. For an income goal of $5,000 per month, you would charge $35 per hour. If you set a package with a 30-hour monthly retainer, you would find 5 clients and be working approximately 33 hours per week.
Why Freelancing is More Stable than a Traditional Job
There are three main reasons I believe that freelancing is AS (if not more!) stable than a traditional career working full-time.
As a freelancer, you will likely have multiple clients. Multiple clients = multiple income streams, which means losing a client isn't the end-all, be-all dealbreaker for your business. So when a client (or you! Your business, your rules!) determines that it's time to end your contract together, you will view it as an opportunity to bring on a new client at a higher rate – not like a traditional job where if you lose your job your income is reduced to zero immediately.
You are in control. Building a freelance business allows you the flexibility to decide who, what, where, when, and HOW you want to work. So, whether that means you are working while your kids are napping every afternoon or getting up early before they wake up, or even keeping your regular 9-5 hours, you choose when, where, and with whom you want to work! You are in control of what works best for you and your business!
You set your rates and determine when to raise them. If you are a beginner just starting, you may start by charging $20 per hour to build confidence, expertise in your field, and the ability to run your business. After adding 1 or 2 clients at your beginning rate then building up your skills profile, within 6 months you could actually triple (or more) your starting rate!
Freelancing is a stable, flexible, realistic option for stay-at-home moms who want more! Get started today with the free Launch Fast Crash course to launch a business you love!