Too many women are suffering from working mom burnout, and too many articles talk about it without offering a solution. Not today! I have a solution for women suffering from working mom burnout AND stay-at-home moms who feel like they've lost a piece of themselves in motherhood.
Working mom burnout is real! I'm sure that's not news to you. 
But have you ever heard this statistic? Despite the fact that only 2% of working women plan to leave the workforce for family reasons, the reality is that more like 43% of highly qualified women end up leaving their careers after having a baby. 
Wow! That's a lot of ladies leaving their careers to care for their families.
Now, I'm not here to debate the merits of being a stay-at-home mom versus a working mom. Momming is a tough job any way you go about it, and I strongly believe there is no ultimate right way to approach it. There are positives and negatives to each route and kids in both scenarios can grow to be happy, healthy, productive members of society. I get that it's a very personal decision based on many factors. So let's just get that out of the way right now. 
I do, however, want to help every mom out there who isn't satisfied with her work, whether it's outside the home or inside it. 
If you're someone who is working her tail off outside the home to contribute financially to your family—girl, I'm in awe of you! Because I know that even though you hold down a job, you're also carrying the load of invisible work that comes with motherhood—whether you've got a partner to help out or not. I know that constantly chasing a work-life balance can suck the life out of you. And while it's a financial support to your family, it may also be a financial burden because daycare costs are no joke, am I right? No joke. 
And if you're a stay-at-home mom who wonders at the end of the day, "What's in it for me? What did I accomplish today?" Honey—I know you accomplished plenty! Despite your exhaustion, you made it through the day wearing all the hats that a stay-at-home mom wears: chauffeur, cook, baby whisperer, maid, psychologist, and on and on. And I also know that you may feel depressed, unfulfilled, and sometimes you want more. You miss interacting with adults. You miss the feeling of accomplishment you had when you worked outside the home, but you're worried about doing it all and reaching the point of working mom burnout.

I see you. I see both of you, whether you're a working mom or a stay-at-home mom. I see you and I feel for you. 
I've been you.
And I wasn't satisfied in either of those roles.
Enough with the problem. I want a SOLUTION!
I've seen so many articles about the struggles of working mom burnout and being unfulfilled as a stay-at-home mom. But what I don't see enough of are solutions. 
Those articles that claim to have a "solution" and then basically just say to practice self-care and take a bubble bath and everything will be right in the world—yeah, those don't count. I'm ALL for bubble baths, but they aren't a legit solution to these ongoing, daily struggles.
I'm here to offer a solution. 
You need a flexible work option that you can do from home—ain't got no time for a commute!
You need work that is fulfilling, that uses your brain in new and interesting ways, and that feeds your soul.
You need to make legit money! You need to earn a decent wage so that you can make a real impact on your family's finances.
You need to be there for your family—your babies, your kids, your teenagers, your partner. This isn't just a want. You need it.
The solution is freelancing!
When I first started my podcast, the second episode I did was all about why freelancing is the best option for moms to work from home. It's one of the most popular episodes, but don't worry if you don't have time to listen. Here's the gist:
With freelancing,
you get to work from home, the playground, the beach—wherever you want.

you choose who you want to work with, meaning you can accept or turn down working with a client based on your own interests and criteria.

you set your rate and give yourself raises when you see fit. For example, the beginning freelancer rate for a virtual assistant is $20-30 an hour. You may start with your first client there but then raise your rate by $5 for each client. Or you may do some special skills training down the road and then jump to the specialist or expert rates which are $50+ per hour. Or if you're an expert already and have experience, you can jump right in at $100+ per hour.

you choose what hours you work based on your schedule. If you have kids to care for you can set up your business to be a nap-time hustle, work while they're at school, or work early in the morning or late at night. 

you choose the

services you offer

based on the skills you already have and the work you find fulfilling. 
Do you see the potential? Are you imagining what this would mean for you and your family?
I know ladies who have matched or exceeded their corporate incomes by freelancing from home and working fewer hours.
I know ladies who have doubled and tripled their teaching income by working part time doing freelance work. 
I know stay-at-home moms who have started their freelancing businesses and helped their family reach major financial goals, like paying down debt or going on a great vacation, all while boosting their confidence and sense of fulfillment.
Ladies! We do not need to settle for living on the cusp of working mom burnout or being lost in the never-ending cycle of diapers, laundry, and meltdowns (theirs and ours)!
A freelance economy.
The economy is changing. Gone are the days of getting a job and sticking with it until you retire. People are changing jobs frequently. More families are relying on two incomes. And more and more Americans are choosing to do freelance work.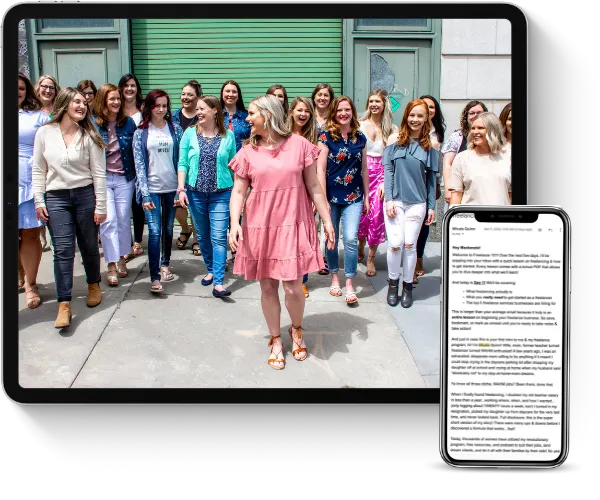 Learn how to earn $3K a month+ as a freelancer working less than 25 hours a week even if you think you have no experience.
This FREE crash course will teach you all about the freelance industry, so you can finally end the family vs. finances battle.
I may not
love
math, but the numbers don't lie. Check out these statistics based on the 5th Annual "
Freelancing in America
" Study (2018).
More than one in three (35%) Americans freelanced in 2018.

Both freelancers and non-freelancers prioritize achieving the lifestyle that they want but freelancers are more likely to get it.​

77% of freelancers report having a better work-life balance.

51% of all freelancers say no amount of money would get them to take a traditional job.

Freelancers value skills training by 93% over formal education, which is why anyone can do a variety of freelancing jobs without a specific degree.

More than three in four freelancers report that technology has made it easier to find freelance work. The percentage of work they obtained online increased for 67% of freelancers in 2018.

Freelancers are optimistic about the future of freelancing—nearly nine in 10 see the industry's best days ahead.
(

Freelancing in America Press Release, 2018

)
And here's a quote from Stephane Kasriel, President and CEO of Upwork, based on the results of this study:
"Freelancers play a critical role in our economy and in shaping the future of work. Despite an economic boom, which has created a record number of full-time, 9-to-5 job openings, Americans are increasingly choosing to freelance. At the same time, technology is freeing people from the archaic time and place work constraints that are no longer necessary for today's mostly knowledge-based work." (Freelancing in America Press Release, 2018)
What does this mean for YOU?
Whether you know you're ready to dive in and launch your own freelancing business or you're still on the fence, I want to support YOU! 
Check out this blog post that links to all of my best resources: Getting Started Guide to Becoming a Freelancer and watch my free training Become a Work at Home Mom.
And I would really love it if you would share the information you've learned here with other moms you meet! My heart aches when I see moms suffering from working mom burnout or who feel like they've lost a piece of themselves as stay-at-home moms. 
Sure freelancing might not be right for absolutely everyone, but it can be right for a whole lot of women out there, and I want them to know about it! You can help me on my mission to spread the message:
Freelancing work is legit. It's a great flexible option for moms to work from home. There are SO many opportunities out there and enough work for everyone, from beginners to experts, with all levels of experience and skills.
So ditch the feelings of working mom burnout! Stop ignoring your own needs and do something that lights you up!
Chase those dreams, mamas!