In this post, we are continuing The Overcoming Your Fear Of Freelancing Series! Another common fear moms have is the fear of rejection.
No one likes rejection, but the simple truth of anything that you do in life is that there will be some kind of rejection associated with it. Whether that comes in the form of that new recipe you tried at dinner last night that does not look at all like the perfect Instagram photo, not making the team after try-outs, or not signing that ideal client.
Once you realize that you can use rejection to be successful you have nothing to fear! That is my goal with this series, to break down those common fears of freelancing and share some strategies to help more moms overcome their freelancing fear of rejection.
The Fear Of Rejection
Every freelancer will face or have faced rejection. You won't get hired by every potential client you apply to work with. And that's okay! It's a part of freelancing.
When someone decides not to work with you, remember…
You are not alone.
How will you move forward from this?
What separates successful freelancers from the ones who give up is that they keep going. They reevaluate and keep trying.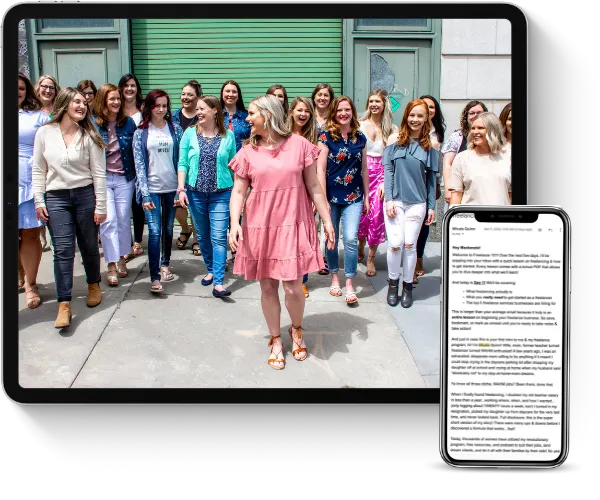 Learn how to earn $3K a month+ as a freelancer working less than 25 hours a week even if you think you have no experience.
This FREE crash course will teach you all about the freelance industry, so you can finally end the family vs. finances battle.
How To Overcome The Fear Of Rejection:
Reevaluate and keep going
First, remember that every other freelancer has been in your shoes at some point. All freelancers fear rejection, then they face it, and it becomes not so scary anymore.
When you hear your first or the next "no" think about how you will react to the rejection.
Will you let it roll off your shoulders and keep putting yourself out there? Will you keep networking and making connections? Or will you let the rejection fester becoming a bigger and bigger thorn in your side?
Reframe it, then try to accept it for what it is. What is something positive that comes from not working with this client?
Does this rejection leave you room in your schedule to find and work with your ideal client?
Keep your mindset positive. This will help in more ways than one. Take some time to process and come at it with a good attitude.
Negative self-talk can and will affect your confidence. You wouldn't tell a friend that she will never succeed after a bad interview, would you? So why would you do that to yourself? Instead, try reminding yourself that it didn't work out this time, but maybe it will in the future.
Don't burn the bridge
Don't burn the bridge or damage the connection you built with this business owner. Maybe it didn't work out this time, but they will keep you in mind for the next time and that next time could be your ideal position.
Find your why
If you don't know why this one is important, stop what you are doing and listen to this podcast episode. In it, you learn about your why and how it is the key to never giving up on your freelance dreams. Then come back and finish this post!
Once you have figured out your why bring it to your focus. How can you use this rejection to motivate you to keep going?
Analyze and reevaluate
Finally, analyze your actions and improve for next time. What can you change? What can you improve? If you are hearing a lot of no's from your outreach. Whether it's a pitch on a Facebook networking group or a cold call to a local business, it may be time to evaluate your script.
Something is not clicking so it's time to reevaluate, make some changes, and try again. Go back to the drawing board. Figure out how you can make your services more appealing.
Determining how your services will solve your client's problems is the best way to get in front of them.
There will always be more jobs and more chances to put yourself out there. So, do not let the fear of rejection hold you back from starting or moving forward! You can do this!
If you feel stuck, check out the free resources on micalaquinn.com. From the five-day email course to the skills assessment, all these resources are there to help you get unstuck and motivated to move your business forward and leave the fear of rejection behind!
Don't forget to check out the other parts of this series:
How To Master Your Freelancing Fears: The Fear Of Getting Started