FAQ: What is Freelancing
If you're new to the freelance world and curious about what it means to own your own freelance business you're not alone. On the blog today, we are discussing the most frequently asked questions about all things freelance so read on to discover more about what is freelancing, who can freelance, who hires freelancers, and more!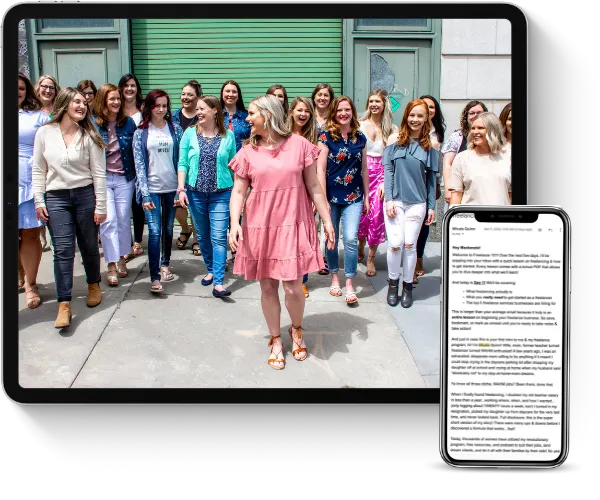 Learn how to earn $3K a month+ as a freelancer working less than 25 hours a week even if you think you have no experience.
This FREE crash course will teach you all about the freelance industry, so you can finally end the family vs. finances battle.
Let's start with the most common question that I am asked. What is freelancing?
What is a Freelancer?
A freelancer is someone who operates as an independent contractor, rather than an employee. Freelancers offer a specific service, based on knowledge and skills, to business owners under self-employment that allows them to sell their services on a contract or project basis. As a freelancer, you get to control the variables like where you work, when you work, and how much you make (which makes freelancing an obvious choice for a stay-at-home mom job). Freelancers can choose to work on a project-by-project basis or a monthly retainer choosing what services they want to sell and how exactly they want to charge for those services. Some freelancers charge their services on an hourly basis, while others will package their services and charge a flat rate per package.
Who Hires Freelancers?
When a company has a sudden or temporary increase in workload or needs a specialized project they often opt to hire a freelancer for a specific skill or talent. Companies choose to hire a freelancer over a full-time employee for several reasons. This could be anything ranging from saving money to accessing a specific talent to getting quicker or more flexible deliverables. Since freelancers generally work for themselves the company does not provide full-time employee benefits to a freelance contractor, an office workspace, or training. (That creates an opportunity for a freelance mom looking to make some money while being at home!) Any and every business can hire a freelancer and most companies do! While it is most common for online-based businesses to hire freelancers, more traditional businesses are starting to hire freelancers as well.
What are Some of the Most Common Industries?
As the world turns more digital, so are businesses. Online coaches, boutiques, Teachers-Pay-Teacher's sellers, Etsy sellers, multi-level marketing, bloggers, influencers, restaurants, podcasters, photographers, local businesses, online course creators, real estate agents, lawyers, doctors, therapists, wedding planners, and product-based businesses (like e-commerce shops) are industries that have been making huge waves in the digital world. Small and medium business owners are constantly reaching out for more help as they look to grow. As a small business grows the owner no longer has time to do all the tasks associated with running a business so they hire help to fill in the gaps. These may be tasks like creating a content calendar, posting to social media, engaging with their customer base/social followers, bookkeeping, and all the other internal workings of running a business. If you are thinking about getting started as a freelancer or just want to learn more about what they do for clients, go listen to my podcast Episode 171: 'How to become a virtual assistant' where I go more in-depth about all this and more!
How Much Can Freelancers Earn?
One of the many amazing benefits of being a freelance mom is its flexibility. You can earn as much as you want by setting your rates and determining how much you want to work. You set your working hours monthly, set your prices based on your skills, and what you need to make to meet your income goals. For example, to hit an income goal of $5,000, you would charge $35 per hour. If you set a package with a 30-hour monthly retainer, you would find 5 clients and be working approximately 33 hours per week. The best part? Since you are in charge of your rates, you get to decide when to raise them!
What is the Industry Hourly Rate Across All Services?
Industry rates can be fairly standard across the board. However, the rates will vary a bit with every individual freelancer because each person determines their rates based on their skills, experience, and income goals. Different skill sets will inevitably be more in demand, depending on difficulty and availability. So what is the general industry hourly rate? Based on your skills the general rates start at $20-$35 per hour. Once you advance and gain knowledge your prices can be upped to between $35-50 for an experienced skillset. An expert freelancer can generally charge anywhere between $50-$100+, and as an expert freelancer offering some extra services you could potentially charge $200+. It's worth noting that often when charging top rates upwards of $200 it's expected that these prices are results-backed.
Can a Beginner Be Successful at Freelancing?
Yes! You have skills, talent, and experience that easily translates into a freelance job that can be helpful for many businesses out there. You just need to brainstorm which path is right for you by determining what services you can offer based on your current skills. In the Live Free Academy, I have built out an entire step in the process dedicated to helping you select the right services! Plus, there are so many opportunities for beginners who are willing to learn on the job- as long as you price yourself correctly (which we also cover in the program). Still hesitant about which skills you can offer just starting? Download the Freelance Skills Assessment for free to uncover the skill set you can leverage to build a profitable freelance business!