Let's break down the virtual assistant services many freelancers offer and help you determine if this is the right freelance business for you.
Maybe you haven't gotten started yet, because you are not quite sure what service to offer.
Maybe you have an idea, but you just want to learn more about what it means to be a virtual assistant.
Whatever your reason, I hope that this post will help those of you who are sitting out there saying "I can't do this", because you are unsure of what service to offer.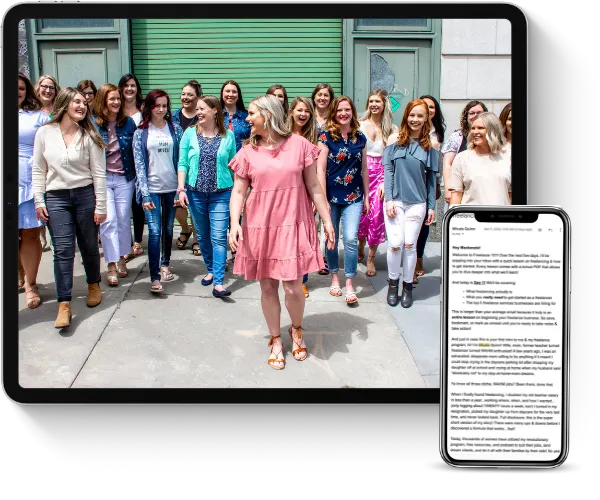 Learn how to earn $3K a month+ as a freelancer working less than 25 hours a week even if you think you have no experience.
This FREE crash course will teach you all about the freelance industry, so you can finally end the family vs. finances battle.
What Is a Virtual Assistant?
A virtual assistant is someone who provides services to businesses.
Their job is to come in and take on all of the random tasks that a business owner needs completed that the owner cannot or does not want to do. That could be recurring tasks that happen every week or every month. Think of a virtual assistant as a jack-of-all-trades; you'll need to wear many hats (which means you'll gain tons of experience!)
These recurring tasks need to get done, but take up a lot of time. So, a Virtual Assistant (VA) comes in to execute those tasks. They can also assist with random one-off projects that pop up.
Your role as a VA will most likely look different for each client. Every business and business owner is different, and your role and expectations will vary. Many beginners love to start as a VA to get their feet wet across multiple roles and industries, before niching down when they find their best fit.
What Does a Virtual Assistant Do?
Some of the main tasks most VA's handle are administrative (things like email inbox management, scheduling social posts, updating the calendar, etc.) and customer-service tasks (responding to DM's, assisting in Facebook groups, etc.).
It can vary day-to-day or week-to-week, but when you are working as a virtual assistant essentially your job is to be an extra pair of hands across many facets of the business.
In most cases, the client will tell you what they need help with and train you on any necessary systems or software they use. If they can't–run! Your job as a virtual assistant is a task doer.
In this role, you are not creating strategy or thinking big picture. That's not to say you'll never help with that- many virtual assistants grow with the business or brand and do take on more strategy-type roles… But in the beginning, as a virtual assistant, you are assisting to get stuff done.
It is the client's job to tell you what they want to be done. It is your job to execute that task by the deadline that you guys set together.
That may include tasks such as…
Email inbox management
Customer management (replying to emails that come into a business)
Solving technology problems
Managing customer orders
Organizing Google drives
Data entry
Recording KPIs
Scheduling social media posts
Doing research projects
Creating social media graphics
Creating slides
Taking a Google document and turning it into a branded pdf
Who Can Become a Virtual Assistant?
Anyone can become a virtual assistant!
Especially if you are a problem solver. If you are organized. If you are a get-stuff-done person. And if you are willing to learn as you go. This role is for you.
You don't need a ton of training or skills, either. I promise – you already have valuable skills that clients will pay you good money for to help them manage their business. You just need to sit down and figure out what those skills are, and the free Freelance Skills Assessment can help you.
Who is Hiring Virtual Assistants?
All businesses are hiring virtual assistants. Big, small, and medium businesses from all industries use virtual assistants.
"How could they ever hire me? I don't even have experience as a virtual assistant!"
Trust me- it does not matter. Sure, some VA roles might be super complex or a client just might need that extra guidance from an experienced VA. If that's true, they will probably have a bigger budget and need to hire someone that is an expert in those roles.
Not everyone has the budget for an expert, though.
And a client that is happy to work with a beginner will know that you are just starting and have limited knowledge of the software or systems they use. If they are using a project management software, like Trello, often they will have standard operating procedures in place for you to follow along with as you're doing the tasks they need.
How to Work as a Virtual Assistant?
Getting started as a virtual assistant is easier than you might think!
Inside the Live Free Academy, you will learn how to start and what to do after starting. It's all in Step 7: Working with and Wowing Clients. I even share a full onboarding document that you can use!
A client will hire you on an independent contract basis. Meaning you are not an employee.
They will hire you for 20, 30, 40, or however many hours of work they are looking for help with per month. From there they would share the tasks they need help with on Mondays, Wednesdays, etc.
With this role, you should have agreed upon turn-around times for when tasks are assigned, and when they need to be completed.
For example, don't think that clients can just send you a project to work on and expect it done within 15 minutes. That's one main difference between full-time employees and contractors.
As a freelance contractor, you work when it fits your schedule, where you want, and how you want. With the understanding that you have will meet all client-determined deadlines.
How Do I Get Experience?
A lot of people are willing to hire beginners.
If you follow me on Instagram, each Friday I post job leads on my stories straight from the LFA Job Leads board.
When clients use my hire form, they are asked if they are willing to work with a beginner. A lot of times the answer is "Yes!" or sometimes the answer is "No, I want to see testimonials and current case studies."
Both are fine. There is room for everyone in the freelance space!
And you can even gain experience right now! For free!
Join the Live Free Podcast Mastermind community, and participate in the 'Swap It Sunday' threads where you can do testimonial work (free work in exchange for a testimonial).
I also have podcast episode 140: How to Use Free Work to Fast Track Your Success all about free work that you will want to check out. It allows you to get some experience in a low-pressure way.
How Do You Price and Package Your Services as a Virtual Assistant?
Typically, a virtual assistant will package their hours for a client to buy in advance.
To price your packages, charge your hourly rate by the number of hours in the package to get the package price.
The great thing about being a VA is that having packages of hours is going to set you up for retainer clients. A retainer client is just a recurring client that you will do tasks for each month. You have an agreed-upon rate that they pay upfront each month.
How Much Can You Earn?
How much you can earn is mostly up to you.
An entry-level virtual assistant just starting generally would charge anywhere between $25 per hour up to $40 per hour for a little more experience.
Remember- the only work experience I had when launching my business was inside a classroom and babysitting! If I can do this, you can too! Download my free skills assessment right now and get started today!