EPISODE 26: SHOW NOTES
I can't wait for you to meet Emilee!
Emilee didn't know much about social media, really wasn't sure how freelancing was going to work for her but she set goals and dove in!
It was less than two months after she started my program that she replaced her full-time income as a teacher! Crazy!
I've said this before and Emilee is proof that my program isn't a magic pill. Success in the freelance world takes hard work, believing in yourself, and knowing what to do to get started.
But you can do this!
I hope after hearing Emilee's story you'll be motivated to write some big goals and then make moves to accomplish them. Keep your eyes peeled for an episode on writing goals in the near future!
Come ask your questions in the Live Free, Mama Facebook group – I'd love to be part of your path to freedom!
**This post about how to replace your full-time income may contain affiliate links, which means if you click one of our affiliate links and decide to make a purchase, we receive a tiny commission from the seller at no additional cost to you. We only share products and services we have used, tested, and love ourselves!**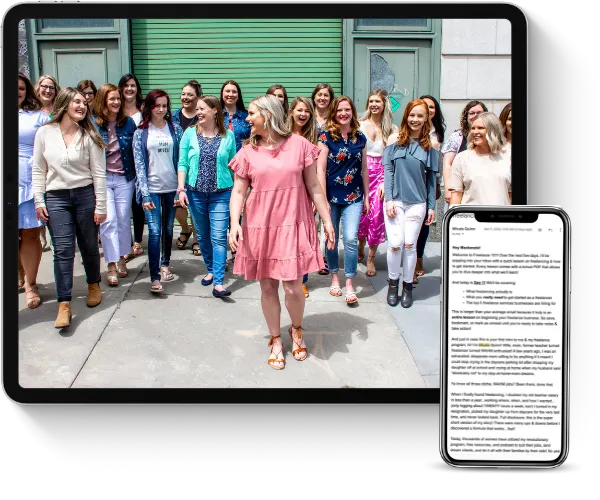 Learn how to earn $3K a month+ as a freelancer working less than 25 hours a week even if you think you have no experience.
This FREE crash course will teach you all about the freelance industry, so you can finally end the family vs. finances battle.
In this episode, we cover:
how to move past not feeling qualified to land your first job
the free way Emilee learned social media management strategies
the 3 steps Emilee took early on that resulted in her success
Resources and links mentioned in this episode: