EPISODE 103: SHOW NOTES
How can freelancers successfully pitch brick and mortars? What are they looking for? And what does it take to be on a dream team as a freelancer?
We are answering these questions and more on today's episode with Wisconsin Small Business Person of the Year, Stacy Tuschl!
Stacy started her own business at the age of 18 in her parents' backyard and turned that company into a multi-million dollar business she still runs today called The Academy of Performing Arts. Stacy then started helping small businesses around the world get more customers in the door through her online business and podcast, Foot Traffic. If there is one person that knows how to successfully run a brick and mortar AND an online business, that person is Stacy!
As freelancers, there is so much opportunity both online and by partnering with local (and non-local) brick and mortars. As Stacy says in this episode – "Everyone needs help with their marketing" and it doesn't end there!
Tune in to hear how you can help brick and mortars plus get on a dream team like Stacy's.
Thanks for spending time with us today! Share your takeaways from this episode with myself and Stacy over on Instagram! Talk to you there!
**This post about a dream team may contain affiliate links, which means if you click one of our affiliate links and decide to make a purchase, we receive a tiny commission from the seller at no additional cost to you. We only share products and services we have used, tested, and love ourselves!**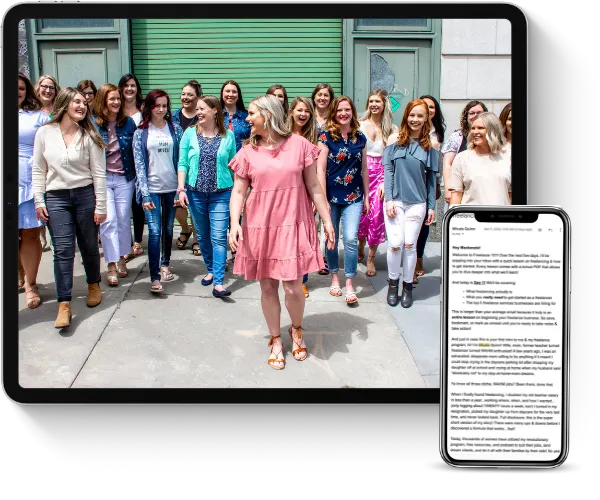 Learn how to earn $3K a month+ as a freelancer working less than 25 hours a week even if you think you have no experience.
This FREE crash course will teach you all about the freelance industry, so you can finally end the family vs. finances battle.
In this episode, we cover:
How to cold pitch your services to brick and mortar businesses,
What Stacy looks for when hiring for her dream team, and
How Stacy treats running her house like running a business
Resources and links mentioned in this episode: