EPISODE 155: SHOW NOTES
Whether you love data or it makes you want to run, this episode with Jennifer Graybe is a must-listen! In this episode, we are diving into data to help you grow both your business and clients'!
Jennifer was an English major that hated math who then worked in corporate PR before helping online business owners with their data! She shares how she became an online service provider, what problem she sees business owners making with their marketing numbers, and the no-brainer numbers you should check on Google Analytics!
This is information you can use for your business and to serve your clients because we all need help deciphering numbers and using them to build our businesses. Check out your own Google Analytics and tell us what you learned over on Instagram! I'm @Micala.Quinn and Jennifer is @JenniferGrayeb. Thanks for being here today!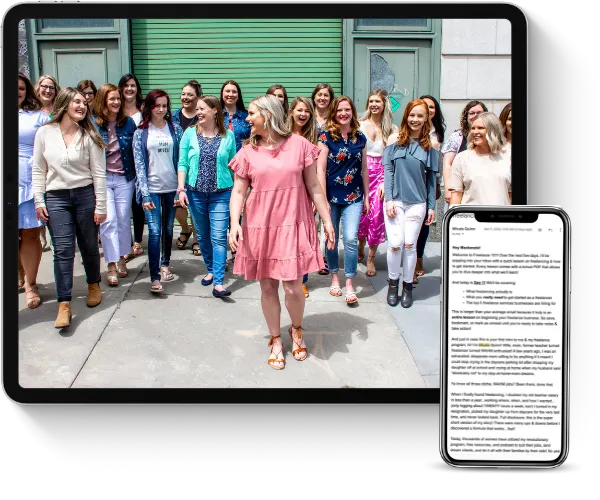 Learn how to earn $3K a month+ as a freelancer working less than 25 hours a week even if you think you have no experience.
This FREE crash course will teach you all about the freelance industry, so you can finally end the family vs. finances battle.
In this episode, we cover:
How Jennifer helps her clients with their marketing data,
What problem she sees business owners making when diving into data,
The no-brainer numbers you should check on Google Analytics, and
How you can help your clients decipher their marketing data
Resources and links mentioned in this episode:
Get Jennifer's traffic dashboard HERE
Learn more about Jennifer's program for service providers, Measure and Maximize, HERE
Loving the show? It would be so helpful if you could write a review HERE

. Thank you!

Don't miss our last success story episode with Nikki Gerber on never giving up
**This post about diving into data may contain affiliate links, which means if you click one of our affiliate links and decide to make a purchase, we receive a tiny commission from the seller at no additional cost to you. We only share products and services we have used, tested, and love ourselves!**