Time for a new post in the Series "A Day In The Life"! Every month we do these posts that feature an LFA student who is sharing a day in their life. They share with us how they began freelancing, what they are doing now, and what their schedule sometimes looks like.
Today we are following along with Lindsay Lemke. Lindsay is a tech virtual assistant and freelancer. As a former 1st-grade teacher looking to leave the classroom to work from home with her son, she was referred to The Live Free Academy course by a friend. Lindsay began her freelancing tech virtual assistant journey back in 2022 and now has multiple retainer clients. She just replaced her full-time income by working ½ the hours she was when teaching!
Lindsay will share with us her day, some project-based work she does, and how she specializes in helping clients launch a course!
Beginning the Day as a Tech Virtual Assistant
Lindsay starts by sharing with us that she is feeling so lucky to be in her PJs in the morning, have the ability to sleep in, and let her 6-month-old play while she makes coffee and breakfast.
Lindsay says for her, one of the biggest perks of being a stay-at-home mom is,
"Being in your jammies or comfies all day or however long you want to be."
How Lindsay turned from teacher to tech virtual assistant
Lindsay says she got started in LFA from a friend who had taken the course in February of 2022. Lindsay was 4 months pregnant at the time and says she took the course really, really slow because she was also teaching at the time.
Lindsay landed her first client in July and then had her baby at the end of July. After that, she had a couple of project clients and 1 more retainer client. After all that she hit her teacher income for the month!
Since hitting her income goals, Lindsay has decided to transition from a general virtual assistant to a tech virtual assistant focusing on project-based work in course creation.
Morning as a Freelance Tech VA
Lindsay says the first thing she does in the morning is check her email to see if there is anything she needs to do or look over.
Next, she checks her Slack to see if there are any new messages. Today there are none.
Last, she looks at Asana to look at who she is working with and her list of things to do for various clients.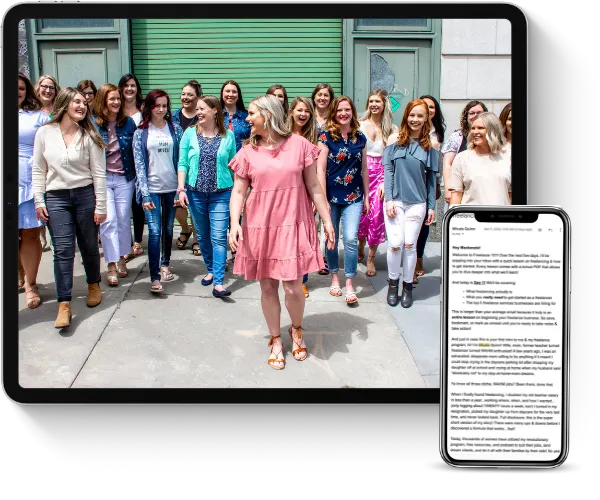 Learn how to earn $3K a month+ as a freelancer working less than 25 hours a week even if you think you have no experience.
This FREE crash course will teach you all about the freelance industry, so you can finally end the family vs. finances battle.
Afternoon as a Tech Virtual Assistant
After some playtime and answering questions, it's almost time for her son's second nap. Lindsay says this nap is usually a contact nap because otherwise, he does not sleep.
Lindsay shows us what she does during this time. One of the things is going on her social media, and responds to messages, scrolling through posts, and interacting.
Then she goes onto the Live Free Academy job board, which is through the LFA course. This job board is only for LFA members, and with it, you get access to so many job postings. So she will go through there and find any that she is qualified for, save them, or apply to them during nap time too.
After that, she does a little more work that she can do while holding her son. And shares a screenshot of her setup.
Next, Lindsay signs in to the LFA coaching call with Micala, which is included when you sign up as a Live Free Academy student!
After the coaching call is brunch!
Tech VA Client Work
One project Lindsay is working on uploading products from Teachers Pay Teachers into a client's WordPress/WooCommerce Store. Lindsay set up her store and now she is uploading products to get ready to sell.
Client breakout
Currently, Lindsay has 2 retainer clients. She does a lot of general VA work for them and a little bit of coursework, and podcast work.
She is currently moving from general virtual assistant work into tech virtual assistant work. So, with that, she does automation, system setups, optimization, and manages social media community for clients too.
Lindsay is a community manager for 4 Facebook groups. That work includes admitting members and occasional posting/interacting.
Lindsay also shares a screenshot of her work doing a course build in TriveCart.
She first puts all the lessons in place, then adds videos and different images, and adds in branding.
Lindsay says she typically works 9 AM to 4 or 5 PM. Before signing off for the day, she shares this screenshot of her finished to-do list for her work as a tech va!
Signing off to go play with her son!
Tech VA Services
The services Lindsay offers as a tech virtual assistant are:
Course launches
Email marketing automation
System setups
Troubleshooting
Tech optimization
E-commerce set up
analytics
Q&A
Q: How did you learn all the tech services you offer? Are those retainer or project-based?
A: Lindsay says she learned all the tech VA services by doing, whether that is for herself or clients. The more time she spends in a system, the more she knows it and is more confident in it. If she doesn't know a system she usually Google or YouTube or uses their resources on that system.
Once you know one, a lot are very similar. For example, email marketing. If you know one system, most of them are very similar.
As for clients, Lindsay has both project-based and retainer clients. Project-based is a lot of eCommerce setups and automation systems.
Q: Are you able to find a lot of course launch clients? Are a lot of them repeats or one time?
A: I find my course launch clients mainly in Facebook groups that I'm in! I do a lot of networking within those groups, answering tech questions and being helpful. Since this is a newer offer that I do I have not had repeat clients but I imagine that could be the case down the line!
Q: Teacher here! When did you decide to quit your job? Summer or mid-year?
A: Lindsay shes she did not quit mid-year. She always knew she wanted to stay home and wasn't sure if they were going to be able to make it work. Then in January/February a friend told her about Micala's Live Free Academy and realized maybe she could stay home.
In April was when she needed to turn in her resignation. She did and did not have any clients yet, knowing that she would be on maternity leave for a few months. Lindsay took it [the course] very slowly and landed her first client in July, just before the baby was born.
Then didn't start ramping up until October.
Q: What do you do as a tech VA?
A: Lindsay started as a general VA doing a lot of admin stuff like calendar management, data entry, kind of boring stuff as she describes it. Then she took on a couple of projects knowing nothing about tech, but willing to try them. She started to really enjoy it because she loves a good problem and solving it. In tech, Lindsay feels like she gets to solve people's problems to try and think through automation and how their system works.
Lindsay says she really enjoyed making that jump from starting as a general VA and moving into tech VA and course launches.
Q: How do you find time to work and still remain present with your little one?
A: Balancing it all is a huge challenge. Lindsay says when he was younger it was a little bit easier because he napped a lot better. Right now she is doing the work while he naps, but his middle nap right now is a contact nap. It is always different every day.
Usually, she gets started working right away because he is very independent in the morning. Right now, he is in his play area and just hanging out while she does little snippets of work.
Lindsay says she is very lucky because her husband works from home Mondays and Fridays, so she will try to do long onboarding calls then.
She usually does discovery calls in a half hour, but says at the beginning, "I have my little guy with me, and may need to step away and take time for him." Usually thought he is pretty good.
Then depending upon whether nothing gets done during the day and Lindsay needs to get work done, she will often work when he goes to bed or when her husband gets home. Things like messaging something or responding to some emails.
Lindsay says it is so wonderful to be able to hang out with him if he needs her or on days like today that are really nice weather wise they can get some fresh air. Lindsay makes her schedule so that if the day is going crazy, she can do what she wants and can set her notifications to let clients know she's out and will be back at a certain time.
Q: Did you return to work at all after you had your son? I'm a teacher due in July also.
A: So I resigned for the end of the school year and did not return this fall! Maternity leave at my school is unpaid so there was no reason to stay–I used up all my PTO by the end of the year (literally took one week off). I cleared my classroom out in June 2022 and had a baby end of July! I had done some one-time projects (didn't want to have a retainer before the baby because then I'd have to pause for a few months & subcontract which was too complicated as a newbie!) I actually did end up with 1 retain client 2 weeks before I was due! But I set clear expectations and she was very gracious about work expectations!
Q: How many hours do you work a month? Do you want more? How long have you been a VA?
A: Currently I work around 50 hours/month! 35 of those hours are retainer and 15 hours project based. I'm hoping to land 1 more retainer client soon! So that I have a combo of retainer/project-based! I like to have that retainer $$ to fall back on if projects are slow.
I've been a VA for approx. 9 months! But remember- started slow, had a baby, maternity leave, and started ramping up in October! I currently match my teaching income.
Do You Want to Learn How to Freelance as a Tech VA?
Are you ready to quit your full-time job and replace your income as a general or tech virtual assistant? Start your freelance business today! With The Live Free Academy course, you will get a step-by-step program to help you start and run your tech va business.
When you sign up, you will get all the tools you need like access to the step-by-step training videos, systems to stay organized, brand kits, skills training, a community of freelancers, and exclusive access to the LFA job board! You have everything you need from day 1 to start and land clients and replace your full-time income! Sign up for the LFA program at MicalaQuinn.com/Academy!