Today, we continue with the "a day in the life" series!
If you are not familiar, the "a day in the life" or DITL is where we follow an LFA alumna for the day to learn about how they work, who they work with, and how they do it all.
If you've been around Instagram Stories for a while, you may have seen other LFA alumni talking about their journey before!
Becca is a social media virtual assistant, she takes us through a typical day showing us what it's like working at home, as a social media virtual assistant.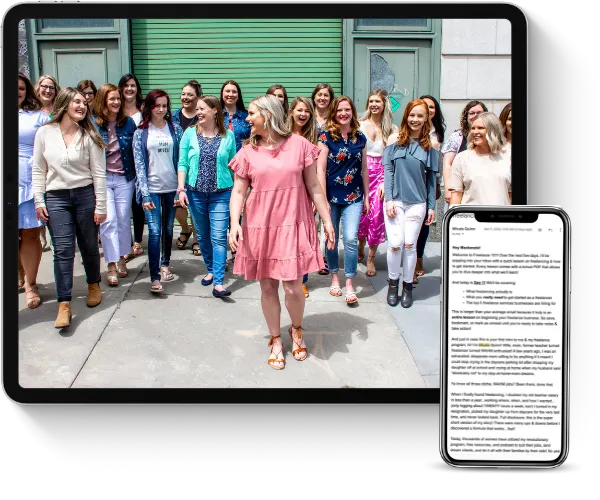 Learn how to earn $3K a month+ as a freelancer working less than 25 hours a week even if you think you have no experience.
This FREE crash course will teach you all about the freelance industry, so you can finally end the family vs. finances battle.
A Day In The Life Of a Social Media Virtual Assistant
Watch the full video with Becca here to see extra details like a Q&A and why Becca made a switch from being a school music teacher to social media virtual assistant!
Waking up
Around 6:15 Becca wakes up before the rest of her family and begins her day with quiet time. She gets ready, reads her bible, and preps for the day before her two kids wake up.
Around 7 A.M., Becca hears her husband wake up and shower for work and her toddler waking up. So, Becca goes to get her daughter up and dressed for preschool. By the time she's finished with that, the baby is awake so Becca gets her up and nurses her.
They all have family time eating breakfast together before the activities of the day begin.
Becca's husband takes their older daughter to preschool, so Becca can focus on her business. Today being a preschool day, they head out the door for drop-off.
Nap + work time
The baby has playtime and Becca spends that time playing with her before the first nap.
Crossing her fingers that the baby takes a good nap so that she can do a good chunk of work while the baby sleeps.
Mid-Morning
When baby wakes up, Becca dresses her and they try to get some movement in. If the weather is nice out, it is usually a walk outside.
When they get back home, the baby has playtime and Becca does a little more work. And shares her to-do list for the day!
Lunchtime
Becca and baby take a break and each lunch.
Then the baby is ready for nap number two. This nap is usually her longest nap of the day allowing Becca to get the most work in, usually about 2 hours.
Afternoon
In the afternoon, the baby wakes up and plays while Becca fits in a little more work before calling it quits for the evening. Becca shares what her office looks like while they work and play for a bit.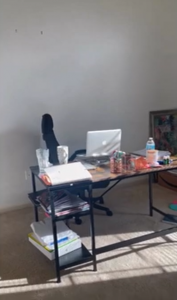 She also fits in a workout for the day.
Since the baby woke up early from her nap, Becca decided to try and put her down for a short nap before big sister gets home from preschool. While napping, Becca checks that all her tasks are completed for the day, and makes a list for the rest of the week.
Evening
Becca wraps up work for the day and they go pick up big sister from preschool. Eat dinner as a family, and prepare for church activities in the evening.
Becca says she tries not to do any work in the evening, but some days she needs to.
Becca's Work as a Social Media Virtual Assistant
While working in her business and with the retainer clients she has, Becca figured out that the tasks she likes and enjoys doing most are, in some way, related to social media.
So, eventually, she wants to niche down into offering social media management in 2023. But for now, she's happy calling herself a social media virtual assistant.
Workload
Here's a breakout of Becca's clients and current workload.
Client 1: VA tasks and SM content creation/scheduling.
Client 2: VA tasks, content repurposing, podcast pitching
Client 3: VA tasks, scheduling pre-made SM content
Client 4: Social Media Management
Client 5: VA tasks and SM content repurposing, some content creation, and scheduling
Client 6: I help my church with VA tasks
Want to Learn More About Freelancing?
Learn the 8-step framework you need to start as a social media virtual assistant. This program is packed with the tools you need to start a business today. With the Live Free Academy course, you get free access to Trello boards, brand kits, and even discovery call scripts that have proven successful for many LFA alumna like Becca!
Do you still want more information on freelancing before you sign-up?! We get it! Check out all the free resources right here!