Another day of the "a day in the life" series! A series of blogs about women who have successfully started their freelance businesses after finishing The Live Free Academy course and want to show us how they live a life they love working from home!
Today we are following Kenzi Collins, a social media manager, and the owner and founder of Wild West Social.
Kenzi shows us an inside look into how she structures her day and what she does for clients on a day in the life of a social media manager!
A Day In The Life Of A Social Media Manager
Power Hour
Kenzi starts her day around 6:30 in the morning. She gets up and does a "power hour" of work before everyone else wakes up and the craziness of the day begins.
Kenzi used to work on her business early in the morning before she left for work to teach and the habit just stuck after quitting her full-time teaching job and becoming a social media manager.
Around 8 AM, she wakes her kids up for the day to get dressed and ready.
Three days a week they go to childcare on Mondays, Wednesdays, and Thursdays. Today is a childcare day, so they all head out the door at about 8:20.
After drop-off, Kenzi heads to the gym for an uninterrupted workout at a local cross-fit gym.
Getting started as a social media manager
Before becoming a freelancer, Kenzi was an elementary school teacher. She says she loved the job and did it for 7 years. Then she had her daughter and everything changed. Her daughter became her whole world and she wasn't able to keep the same lifestyle she once loved. With a new baby at home, she wasn't able to get to school early and prep for the day and was unable to stay after.
It quickly turned from the best job to the worst job.
Looking for other options, she turned to a Google search to find other jobs she could do with her education degree and background. After searching and searching, she was scrolling through Facebook and found a group of other teachers also searching for the same thing.
One of the other members posted something about The Live Free Academy, and Kenzi's curiosity got the best of her. Kenzi started cruising MicalaQuinn.com and following on Instagram soaking up all the information.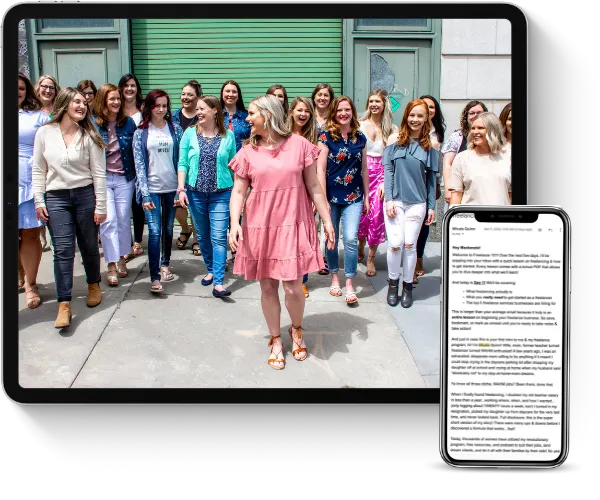 Learn how to earn $3K a month+ as a freelancer working less than 25 hours a week even if you think you have no experience.
This FREE 5-day email course will teach you all about the freelance industry, so you can finally end the family vs. finances battle.
After some thought, she decided to try it out. If nothing else, it would be some side money she could use for teaching.
Kenzi purchased the course and dove in. She would start early in the morning and work on it every day. After finishing the course, she landed two retainer clients and made her investment back in just two months!
Freelancing was her side hustle that year, and in April she knew she wasn't coming back next year.
Services
Kenzi couldn't do a day in the life of a social media manager without sharing the services she offers as a social media manager!
Her business is Wild West Social, where she helps busy mompreneurs stay consistent and grow organically on social media.
Office
Next in her day as a social media manager, Kenzi goes home and gets cleaned up. Then begins on her to-do list.
Before jumping in, Kenzi shares a quick screenshot of her office.
Schedule
As Kenzi mentioned, she has 3 days a week when her kids are at childcare, and she works–Monday, Wednesday, and Thursday.
She breaks down how she works and the tasks she works on each day.
As a social media manager, she likes to task-block her days.
Monday
caption writing
hashtag research
Wednesday
graphic design
video editing
Thursday
schedule content
catch up on unfinished tasks
Tuesday and Friday
Catch-all days to pick up tasks not finished earlier in the week.
Friday Nap Time
Working on her business: listening to podcasts, a course, and reading blogs to further her education.
Staying up to date on social media trends.
Wrapping up
Around 3:30 in the afternoon, Kenzi wraps up her work day, grabs a snack, and goes to pick up her kids from childcare.
Are you ready to start a life you love, just like Kenzi, working as a social media manager? Enroll in The Live Free Academy course to get your business started today, and quit your full-time job for good! Click here to learn more about the course!