Hello! Today on the A Day In The Life blog post, we will be following along with Allison Krysl. Allison is in the first year of her business and is a data analytics tools designer.
Being a data analytics tools designer means that she looks at other businesses' data to help make their tracking and analytics processes easier for people.
What Does a Data Analytics Tools Designer Do?
That means a few different things.
Create generic data analysis tools and templates to sell on my store to help people track basic data metrics. That could look like a basic income/expense tool to help with tracking those numbers.
Once the spreadsheet is updated, I can connect a dashboard that will pull up graphs, charts, bar graphs, etc.
Custom templates for business owners that the business owner needs to make for themselves in their business, or for tracking their clients' data metrics. For example, podcast managers who need to step up their tracking, analysis, and presentations to create a spreadsheet to present.
Other data metrics projects
Today, I am working on a project for a bookkeeper, who is looking for alternative ways to present data metrics for clients or potential clients that do not have the funds to hire a full-on bookkeeper.
About Me
I am a mom to an almost 1-year-old. I'm also a former teacher, now a full-time data metrics freelancer.
Daily Work Schedule
I try to start working before my kiddo wakes up for the day. Since he usually wakes up around 6-6:30 AM, I am usually up a little before that.
The Perfect Day
My perfect day is getting up to get a little bit of quiet time in order to spend some time alone before the day starts and have a little bit of time to get some work done. On those days, I feel more able to focus on my son when he is awake.
Current Data Analytics Tools Projects
Today, I am working on:
Templates for my store.
Custom projects for clients, usually take between 2-4 weeks.
Social media posts, email marketing, professional development, and tracking for my business.
Benefits of tracking data metrics
Allows you to be consistent
Know exactly what to track
Put all your numbers in one spot
See change and growth over long periods of time
Morning Playtime
Once my son wakes up, I stop what I'm working on to take a break. We play and I get breakfast ready.
First Nap
After playtime, my son goes down for his first nap, and I can get a bit of work in.
Play After Nap
My son woke up early taking a shorter nap, so we are outside for some playtime before lunch.
Journey to Becoming a Data Analytics Tools Designer
Starting in the LFA
When a friend of mine was going through the process of starting her own business, it introduced me to the idea of freelancing. I had watched this friend become pregnant, realize she wanted to be home with the baby and stumble on deciding what to do about that.
Then she happened upon the Live Free Academy, took a leap of faith, and joined! I remember watching this while feeling like I was soon to be in the same situation.
At first, I remember watching my friend and being super skeptical of freelancing in general. I was waiting for the moment when it didn't work. But it never came. It worked for her!
My friend had to make sacrifices to make it work for her, but it did–and still is!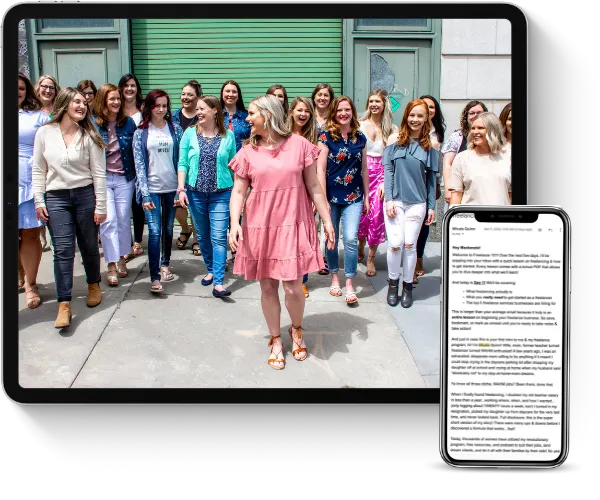 Learn how to earn $3K a month+ as a freelancer working less than 25 hours a week even if you think you have no experience.
This FREE crash course will teach you all about the freelance industry, so you can finally end the family vs. finances battle.
Joining the LFA Course
When I found out I was pregnant, I decided to join LFA! Luckily, as a teacher, I had the summer off and was able to start during summer break.
That allowed plenty of extra time to purchase the program, work through modules, create a portfolio, and other things from the course.
Looking for clients
I started looking for clients before finishing the program and did not worry about creating any social media accounts or a website yet.
General VA
I began as a general virtual assistant because I didn't know what I would enjoy or what skills would transfer over to the online world.
So I started making a list of all the programs I knew how to use:
Gmail
Google Drive
Spreadsheets
And my strengths, like how organized I am.
First Client
After starting the program in June, I landed my first client a couple of months after. It was a client that needed a general VA to help with organization and backend stuff for her business.
Second Client
Then it slowed down after finding that first client and took a while to find another one. Finally, after completing a one-time project for someone, that client turned into a recurring client!
I had 2 and was figuring out the ropes with them, knowing that after the baby came and I took a maternity leave I was not coming back to teaching and would work on building a client repertoire.
Business Shift
Once the baby was about 3 months old, there was a shift in my business. I still had the two clients and was thinking about adding more. Then I was hit with the realization that I had limited capacity to be doing daily things and was looking for options that didn't require daily work.
So, I started to pivot to opportunities that would give me more flexibility with my schedule. Which led to looking at data.
I applied the strategy from my classroom of looking at data and allowing it to inform instructional decisions on what to teach based on what my students knew, what they were picking up, and what concepts weren't clicking yet.
She realized that applies in the business world too. That people are looking for organized structure, and need help making data metrics easy.
Now, I primarily take on custom projects for business owners looking for a better way to structure their data analytics tools and processes.
From Beginner Virtual Assistant To Data Analytics Tools Designer Timeline
Afternoon
Running errands
Work block during afternoon nap time
While the baby takes a nap, I will work on data metrics spreadsheets.
Play after afternoon nap
The baby woke up early from his nap, so now we are outside playing this afternoon.
By this time in the day, after his second nap, I really try to be done working. (Any time between 3 to 5 P.M.) I usually use this time to make sure dinner is ready and be up with my son, spending a lot of time outside.
We will usually go for a walk or just hang out in the front yard.
However, if I am ever in a pinch where I need to finish a project we will stay inside. I'll work in the living room while my son plays by himself.
Evening work time
In the evening, I'm usually done working. However, sometimes it's when I'll do last-minute details for projects or learn for my own business. That can be working through different programs or backend business work that can often get shoved to the side.
Q&A:
Q: Did you have previous experience in bookkeeping and your other services offered?
A: I don't have a lot of previous experience with bookkeeping or a lot of these other areas at all.
For bookkeeping, I have the experience of what I've done for my own business. Which is not very much. I put in that spreadsheet, along with just some extra research on what these numbers mean, what do these terms mean, what matters.
Then for example, I've created a podcast tracker and I've worked with someone who is a podcast manager on that one, so I was able to lean on her expertise of the podcasting world.
I've basically come at it with the perspective of, if I were using a podcast in my business, what questions would I want to answer and how can I do some research to figure out what numbers are currently available to me that will help me answer those questions.
Q: What's your biggest piece of advice for someone just getting started?
A: My biggest piece of advice is don't be afraid to jump in and just do it. It was really easy for me to want to wait until I felt like I had all my ducks in a row or everything perfect before I started applying for jobs. And the biggest thing that has helped me launch my business is just getting started.
Instead of feeling like I have to figure it all out, adopting the mindset of I can figure it out when I need to.
Another piece of advice is don't be afraid to google things. It just has blown me away how much other people think that I am an expert in, just because I Google something. You can learn so much from Google and YouTube.
Keep in Touch
Follow along with Allison on  @hello_AllisonKrysl on Instagram.
Read other Day in the Life blog posts here! 
Learn more about the Live Free Academy Program here.
Or if you just want to learn more about freelancing click here to download (for free) the Freelance Crash Course!