Time for another post in the A Day In The Life Series, where we follow around a freelancer for a day to see how they work! Today we are following Leah Alfonsin to see how she works as a certified online business manager!
DITL Of a Certified Online Business Manager
Leah starts the day by asking questions and letting us know that Wednesdays are usually her day to get things done with client work and running errands.
Leah shares a glimpse of her Wednesday checklist!
Then shows us a peek into the first item, the morning workout.
Next, Leah prioritizes her client task list as she starts on client work for the day as a certified online business manager.
Talking about the perks of working from home and why she loves it.
You can wear your cozy socks and high-waisted pants.
You don't have to wear makeup.
And you can listen to music all day while working!
Then Leah dives into sharing her background and how she found freelancing.
With 12 years of experience in retail management and sales, she was used to working evenings, weekends, and holidays. But was missing that time with her family, so decided to take some time off from that way of life.
Leah learned about The Live Free Academy course from her younger sister who had already taken it. She started researching and decided to take the course.
She quickly realized this was a real thing and something that she had been missing.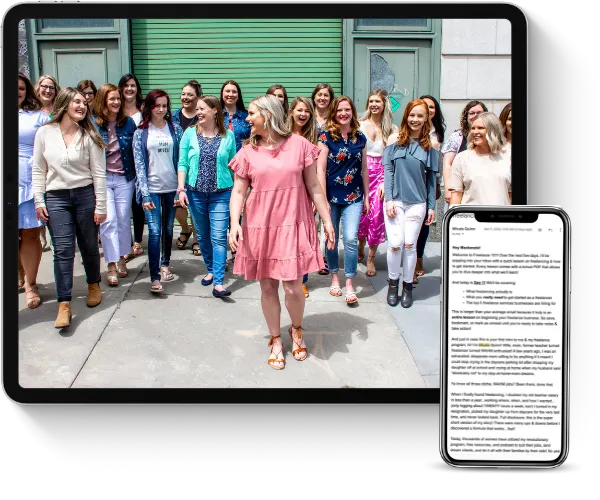 Learn how to earn $3K a month+ as a freelancer working less than 25 hours a week even if you think you have no experience.
This FREE crash course will teach you all about the freelance industry, so you can finally end the family vs. finances battle.
Leah wanted to learn everything about working online, so she took about 3 or 4 months to learn it all, but something was missing. She quickly realized it was the team development and people management piece that she had in her previous role.
She kept hearing about an OBM role (online business management) in various Facebook groups and workshops and she started to research it. Eventually, she decided to sign up for an OBM course and became a certified online business manager earlier this year!
Leah shares a quick screenshot of the differences between a virtual assistant role and a certified online business manager role.
Then shares her lunchtime dance party with her 3-year-old!
Next, Leah shares about a service she offers as an OBM.
An operational audit where she does an overhaul of their business for new clients. During the audit, she asks lots of questions to understand the business.
marketing strategy
sales process
the team
hiring needs
financial goals
After looking at all those aspects she can understand what their business does and how to prioritize their first 90 days as a client.
Then she reassesses every 90 days, with the following questions:
Did we meet the goals intended?
Why or why not?
Leah will then prioritize the next 90 days:
Determining who on the team needs to be included in those tasks.
What needs to be delegated out?
What processes need to be created?
Whether there is any tech or tools that need to be purchased or any that will not be needed for the next 90 days that can be canceled.
Once these details are determined and approved by the client, Leah puts a plan in place to have the client approve, and she then puts all the tasks into their project management tool.
Next, it's time to pick up her daughter from school.
While in the pick-up line, Leah shares a tip with us!
"I always keep a notebook and pen in the car because when I'm sitting in line for 10-15 minutes, I'm sitting here thinking, scrolling through my phone, and ideas will pop up. Someone I follow or want to reach out to will pop up, so I always jot it down in my notebook."
Next, she shares a family selfie!
Leah ends her day around 2:30 PM to spend the rest of the day with her family!