Bekah Hebdon's Story
Bekah is a Stay at home mom turned virtual assistant/social media manager and is now transitioning into the Director of Marketing role.
From starting her freelancing journey and landing clients while finishing her degree, while pregnant and raising small children, Bekah had the drive to make freelancing work for her and her family! Bekah is finishing up her Director of Marketing certification while working with her current clients. She chats with us all about how she landed her clients and how she learned the skills to make her feel confident as a freelancer, even with no prior work experience.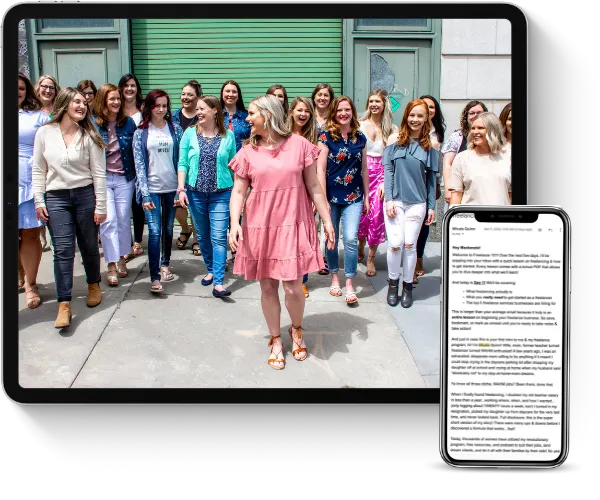 Learn how to earn $3K a month+ as a freelancer working less than 25 hours a week even if you think you have no experience.
This FREE crash course will teach you all about the freelance industry, so you can finally end the family vs. finances battle.
From Stay at Home Mom to Director of Marketing
After having her daughter and becoming a certified medical assistant Bekah realized she wanted to be home with her daughter, so she started staying at home. A few years later, she began to realize she wanted something more, something she could put her creative energy into.
Thought about selling baked goods or starting a home daycare, and ultimately decided those options were not for her. Bekah stumbled upon a video about freelancing, and after doing more research, began to binge the Live Free Podcast.
So, she returned to school to get a foundational education and graduated with a bachelor's degree that focused on social media marketing, virtual assistance, and commercial fundamentals. And at the same time, she joined the LFA program and started to build her business!
Timeline of the course and landing the first client
Bekah rushed through the course in about a month and a half, because she gained her first client before she enrolled. Bekah describes getting her first client by subscribing to a business owner's list. One of the business owners that does finance printables was looking for a copywriter. Bekah applied and in the final round of applications she had to write a product description for one of the products and a personal finance story. After receiving an email that she didn't get the copywriter position, she responded by offering her social media and virtual assistance services. The owner was interested in working with her, so they tried it out for a month. Then they began to work together on an ongoing basis!
What kinds of things did she do for this client?
Bekah describes her role as starting with blog management. She managed the newly hired copywriter by doing the outlines for posts, then the copywriter would write them. Bekah would post it to Shopify and publish it on the blog. Bekah also managed Pinterest and Instagram for her.
Learning on the go, Bekah says she knew a little bit about social media from school and her social media accounts, but she googled everything on the fly and learned as she did it.
Onboarding more clients
After the birth of her third baby, Bekah stayed away from the job board because it was very tempting to look and apply. She wanted to be very intentional with where she spent her time, so she didn't become burnt out. She also wanted to build her social media presence and thought leadership before applying for jobs.
Bekah's 2nd client reached out to her and they scheduled a discovery call. Turned out that Bekah was pregnant with her son, and went into labor early when that call was to happen. So, Bekah let the then potential client know and they rescheduled for a few weeks later. Now, they still work together doing virtual assisting and managing her social media.
Bekah's third client is a virtual assistant job, and the client found her through another freelance group. Her final client is described as a dream client. She helps with social media and entering into the role of director of marketing.
Pivoting to Director of Marketing
The director of marketing is all-encompassing. So, it goes outside of social media. It goes into funnels, email marketing, print marketing…everything. It includes the strategy and analytics behind all the marketing channels.
Bekah says she has always loved the strategy behind creating social media for clients. Taking the business as a whole, their goals, and where they want to be to figure out how social media can help them get to where they want to be. To get her feet wet and see if she liked the role, Bekah tried it a few times on the Swap it Sunday thread on the Micala Quinn Facebook Page. Then took a course to learn more about becoming a director of marketing for the clients she works with.
What does pivoting to director of marketing look like?
With a mix of social media management and virtual assistant clients, Bekah plans to transition by keeping all the virtual assistant clients she currently has and adding new clients as a director of marketing.
After finishing the course, she will be certified as a director of marketing and plans to start a website to showcase her offerings.
Do you want to hear the tips Bekah gives to moms working from home with little kids? Listen to the whole episode of the Live Free Podcast with Bekah Hebdon here!
If you want to learn more about freelancing download the Launch Fast Crash Course here. With it, you will learn how to transform your skills into a freelance business today!