EPISODE 122: SHOW NOTES
If you've asked yourself, "Where do I get the skills to be a freelancer," or "Could I really do this as a mom, full time employee, etc?" then this episode is for you! Each member of the Live Free team is sharing what they do on my team do, how they learned their skills and how they got started. Plus, we talk through what their day-to-day lives look like!
This will answer your questions on what a day in the life of a freelancer actually looks like and what you need to know before you begin your freelance journey. You'll see that one of the ladies on my team probably started in a similar situation that you are in right now!
Thanks for listening today! Let me know how you're getting started today over in the Live Free Mastermind fb group. Suck somewhere? Let me know that too! Talk soon.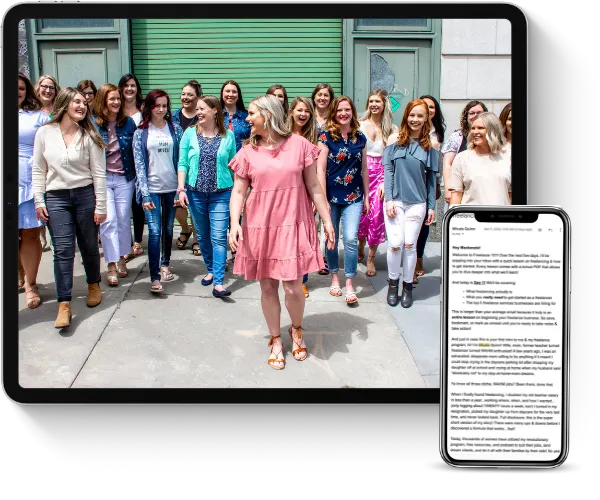 Learn how to earn $3K a month+ as a freelancer working less than 25 hours a week even if you think you have no experience.
This FREE crash course will teach you all about the freelance industry, so you can finally end the family vs. finances battle.
In this episode, we cover:
What a day in the life of a freelancer looks like for each person on the Live Free team,
The different tasks that my team does to show that you can do these too, and
What you need to know before you begin your freelance journey
Resources and links mentioned in this episode:
Get the Ultimate Guide to Launching your Freelance Business HERE
Don't miss last week's episode with Brittany Bayley on how to sound like your client as a copywriter
**This post about the live free team may contain affiliate links, which means if you click one of our affiliate links and decide to make a purchase, we receive a tiny commission from the seller at no additional cost to you. We only share products and services we have used, tested, and love ourselves!**