When you start a freelance business, no one tells you about all the acronyms that come with it in the business world.
If you're like me, you may wonder what some of these new phrases are. And why must everything be shortened? Doesn't it take more time explaining the acronym than just saying it?
In any case, a business SOP is essential in your business so let's jump into what it is, why you need it, and how to create one!
What Does Business SOP Stand For?
SOP stands for Standard Operating Procedure.
What is a Business SOP?
A standard operating procedure is the steps you take to execute a given task in a business process.
It describes how to do the task from beginning to end.
Examples of a Freelance Business Standard Operating Procedure?
Create a process for onboarding. When you start working with a new client, you'll create a new method for setting up all the things you need to begin working with that client.
The first step could be creating a board in Trello with the tasks and due dates.
Then you'll need to create some place to store all the client documents and deliverables. Again, Google Drive is simple and easy for creating folders and sharing them with specific people.
How you communicate with clients is a process you'll want to create an SOP for as well. Especially if there are multiple people on the team.
Create your SOP with the goal of keeping everyone on the same page.
It will keep the communication points to a minimum. Having one person who manages client emails and can cc all other necessary team members on an email is a great way to create a smooth system for your business.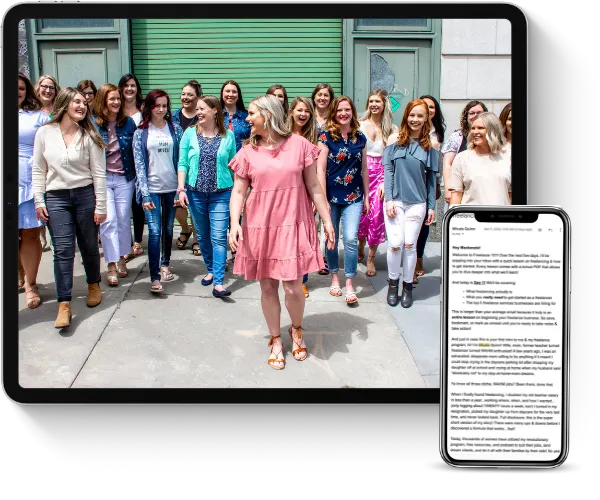 Learn how to earn $3K a month+ as a freelancer working less than 25 hours a week even if you think you have no experience.
This FREE crash course will teach you all about the freelance industry, so you can finally end the family vs. finances battle.
Why Does your Freelance Business Need SOPs?
Every business needs to have SOPs laid out because they benefit those working in that business.
They provide consistency. No matter who is doing the work, it will be processed the same way each time.
Increased efficiency. Most people have their way of doing things. But creating an SOP ensures that any other person performing the task follows the steps provided, which can help keep extra steps out of the process. Higher efficiency leads to lower costs and money.
Reduce errors. A written SOP can help reduce errors by ensuring everyone follows the procedure. Plus, they understand how to perform each step. It can shorten training time for new tasks, which reduces costs too!
Easy transfer of work. Say you need to hire out for a task, take maternity leave, are sick, or want to take a vacation. Your business doesn't have to stop just because you're away. Having an SOP will allow you to have the process performed as you were doing it with little change to the output of results.
What Are The Best Apps/Software for Creating an SOP
If you are like me, then a good ole' Word Doc will do fine in creating an SOP. However, there are some fancy new tools out that can be helpful too!
Loom

: record your screen and webcam, and add voice steps to the video with the editing features to create tutorials.

SweetProcess

: it allows you to keep documents, procedures, and tasks in one place and create ways to document the processes.

Lucidchart

: allows you to build diagrams and create visuals in one central location.
How to Create a Business SOP
1. Choose a format
Depending on the content and process will help to determine what kind of SOP you want to create.
A few options for consideration are:
Checklist. Easy-to-follow steps setup in a checklist format and not necessarily in number order.
Step-by-step. Think of a training video. It has steps outlined in order and intended to follow in the same order.
Flowchart. Lists steps and directions to follow when there are multiple possible outcomes. If yes, then follow this chain of events. If no, then follow the alternative measures.
2. Gather all information
Think about the process and how it's performed.
What information is helpful to the person learning about the process? What tools will they need? What kinds of accounts will need to be created first before being able to follow the steps you have outlined?
3. What goal does the SOP accomplish
Before you start listing the steps to take, you should think and make clear what goal this training accomplishes.
State it at the beginning of the training so that anyone watching it will understand what the process is for.
Also, define the performance metrics that measure the results of the task.
4. Define a consistent style
A consistent style will help establish these things within your brand and stay consistent throughout all your brand materials.
Use action verbs to emphasize the tasks to do.
Elaborate only when necessary, and do not add extra information that is not relevant. Using too many acronyms can be confusing. And you may have to take the time to explain what they stand for.
Create easy-to-follow instructions by keeping them short and clear in the explanation.
5. List all steps as you perform them
It may seem obvious, but creating the business SOP while you do the task will help to ensure you don't forget something. Doing it from memory can be overwhelming. And it opens up the possibility that you leave out an important step.
Yes, it may take a little extra time, this time, to complete the task. However, once you are done, you have a well-written and followable process that you can return to.
Or that you can share with team members to reduce the number of questions you receive.
6. Test
If you can, test it to ensure no steps are left out and the directions are clear. Something that may be clearly worded to you may not be to someone else.
7. Update as needed
Businesses are constantly changing, and procedures continuously change with them. Remember to go back and update your SOPs as the processes change in your business.
Keeping up with algorithms and new software changes or updates will mean that SOPs need to be updated!
Which Tasks Should You Create SOPs For?
So, how do you know what procedures you need to document and which ones to do first?
Document the procedures you don't like doing. Those are the ones you are most likely to contract out and will need to train on in the future.
For other tips to scale your freelance business, check out the Live Free Podcast. The episodes feature inspiring success stories and guest speakers with loads of information on growing your freelance business!