Highlights:
A content strategist is someone who oversees the content of a business.

Create a content strategy plan by knowing who you want to work with. Second, know your offer suite, and your pillar topics. Last, optimize the links in your bio.
Rebekah Hebdon is an LFA grad who is now a content strategist and manager.  You may remember Rebekah previously from this Live Free blog post. Today, we are checking in with her to learn about how her business is doing!
The last time we talked with Rebekah, she was working as a virtual assistant and was transitioning her business role into a director of marketing. Now she works with coaches and service providers.
Rebekah's Background
Rebekah is a mom to 4 kids under 7 years of age. If you want all the nitty-gritty details on how Rebekah began freelancing,  listen to the first episode with Rebekah on the Live Free Podcast here!
Rebekah first wanted to be in the medical field so she went to medical school, got certified, and had her first baby. Then she stayed home with the baby for the first year and realized she wanted to do something else besides motherhood on the side.
So, she tried different little things like making bread. Then she found freelancing and the Live Free Academy. A few months later, before having her 2nd baby, she decided to finish the course and get established before.
Starting as a virtual assistant, Rebekah did that work for about 6 months. She realized she really liked strategy, so she became a director of marketing. Then decided to niche into content strategy and marketing after seeing it has more potential for making connections with people.
What is a Content Strategist?
A content strategist is someone who oversees the content a business puts out, creating a strategy to manage the content for a business to help the business sell through its content.
That could be creating evergreen funnels or offers, or it could be managing old content to make it relevant and new again.
Monthly tasks
For a freelance and copywriting coach, Rebekah helps manage and strategize what the client wants to sell that month. Using task manager software like Clickup, Rebekah outlines all the content for the clients (2) Facebook groups and Instagram content.
This includes reels, statics, and text for the Facebook groups.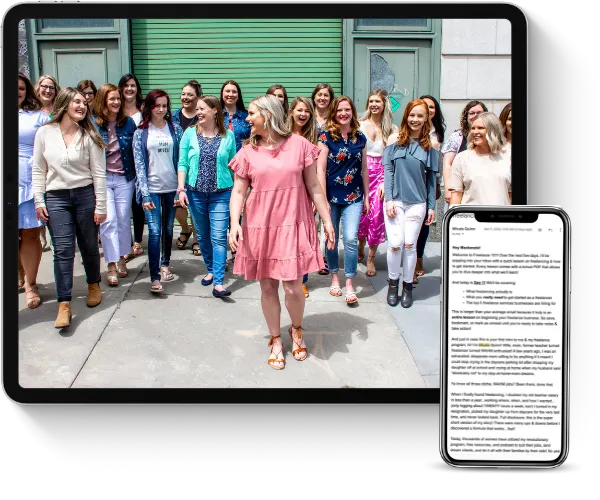 Learn how to earn $3K a month+ as a freelancer working less than 25 hours a week even if you think you have no experience.
This FREE crash course will teach you all about the freelance industry, so you can finally end the family vs. finances battle.
4 Steps to Create a Content Strategy Plan
First, you need to know who you want to work with.
Second, know your offer suite.
Next, your pillar topics.
Last, you want to optimize your bio.
Difference Between a Director of Marketing and a Content Strategist
A director of marketing is the person who oversees a company's marketing as a whole. In this role, you manage their content, their ads, overarching strategy, and the implementation of it.
Content strategist offers
Monthly management for clients that want offhand everything or work in a partnership on their content for the month.
Connection to Conversion: a 6-month consulting role, where she helps clients nurture and convert leads through content. This includes strategy, accountability, and action.
Content Strategy Roadmap: a 1-off strategy session for mainly newer content creators to start on the right foot.
Challenges of Building a Business
Finding time to work with kids
With a 2-month-old, 2-year-old, 4-year-old, and 6-year-old Rebekah says there was a lot of naptime hustle in the beginning.
Now that she has kids that don't nap anymore, she needs more time to work on content strategy. So, she has hired a teenager to come over 2 times a week for 4-hour blocks so that she can help with the kids while Rebekah works.
Determining a direction for her own business
Rebekah says figuring out where to go in her business was also a struggle. After hiring a coach, it has helped her pinpoint where she wants her business to go. It has also helped her create a plan and act on it.
Content Strategist Tips for Marketing Your Content
Rebekah's number one tip for creating a content strategy is optimizing the link in your bio.
"Send people to what you want to sell right then.
You can do that by optimizing the link in your bio.
If you have an open retainer spot, send them to the landing page if you have one. Or send them to where they can connect with you.
If you have an offer or a freebie, send them to that page to learn more about that one offer, rather than a general link in your bio or a link tree.
Promote yourself more
Everything that goes out, should be in a roundabout way, promoting yourself. With newer freelancers, they usually focus on more educational content, but a lot of times that doesn't speak to who you want to work with.
Speak to your ideal client
It may feel like a safe space to work in, but to work with your ideal client you need to put yourself in their shoes and figure out the transformation they want.
Always have a call to action
It could be inspirational or relatable or entertainable. You can always have a call to action at the end, for example, "If this resonated with you, follow along". And even that is promotional in a way.
Everything can be promotional
Everything can be promotional, without straight selling. So, for example, in your stories, you can show what is working with a current client. Also, taking your audience through what you do day-to-day is promoting yourself.
Having text slides that walk through your offer and process, or having text slides "work with me" on a static post.
Resources
If you have a client that needs a content strategy or you want it for your business, reach out to Rebekah to work with her or become a resource for you. You can connect with Rebekah on her website or her Instagram!
New to freelancing, but want to learn more? Check out my Freelance Crash Course here(it's free!)
Want more freelancing tips + tricks? Learn more on the Live Free Blog here!
Are you ready to jumpstart your freelance business and want help building it step-by-step?
Learn more about my program The Live Free Academy here, I would love to support you!