Have you heard? It's pretty much impossible to be a mom and work in 2020! Who knew, right?! Oh wait — we all did!! I don't know about you, but I am so.tired. of articles explaining how COVID-19 is widening the gap and making it harder and harder for moms to work traditional jobs, without offering any solutions. So…let's change that! 
Freelancing is THE answer for moms looking for freedom, flexibility, and stability. Let's explore why!
Picture this: happy Mom, scrolling Instagram while feeding my newborn baby girl.
(don't come for me breastfeeding advocates about how we should be staring into each other's eyes for every session- I know! And I do! A lot! She is stinking perfect. But let's be real…sometimes you gotta get your scroll on to keep yourself awake and upright! No shame!)
. Anyhow…imagine my surprise when I came across yet another
article in the Atlantic detailing how
working moms' jobs are at a
serious risk
right now because of COVID-19.
I won't summarize the whole article for you, because by now you know the drill. In fact, you're probably living this nightmare, wondering why you are staring at yet another think piece, detailing exactly what you've been dealing with for 6+ months, with no end or solutions in sight.
Let me just highlight one quote super quick:

"But mothers are disproportionately absorbing those shocks—bearing the brunt of a public-health emergency they did not create and cannot single-handedly manage. If companies don't act, working mothers will pay the price."
Let me ask you something.
Do you really have time to wait for your company to finally find a solution? And how long will that take? How many departments and HR reps and board members will have to sign off, water down, or completely change whatever temporary solution your corporate job comes up with? 
Do moms really need another article pointing out and pressing into how hard we are struggling to provide for our families- financially, emotionally, mentally right now?! 
No. We need solutions. We need answers. And we need them now.


Not next year. Not after a board of marketers, executives, and HR reps signed off on some empty initiative. We need a plan that can be implemented
today
…and preferably developed and backed up by other moms who know
exactly
what it's like balancing work, life, and all the crap COVID has thrown our way. 
And
that
is why I am so stinking frustrated that absolutely
no one
is mentioning freelancing as a viable, sustainable, realistic option to the extreme decisions moms are currently facing in the family vs. finances battle. So…let's break it down!
Why Freelancing is the Answer to the COVID vs. Working Moms Crisis
Freedom.

84% of full-time freelancers state that their work allows them to live the lifestyle that they want.

Flexibility.

42% of freelancers agree that freelancing allows them the flexibility they need because they are unable to work for a traditional employer because of personal circumstances (health issues & childcare needs)

Financial stability.

60% of freelancers earn more freelancing than they did with an employer (and most got there in less than 1 year!)
Ok Micala, love the stats. But how does this apply to REAL moms trying to live and work in the REAL world?!
I'm so glad you asked!
Let's solve one scenario at a time. And to be clear- I won't solve them all in this blog post. Otherwise, you'd be reading this for days. But…if you have a specific scenario you
really
wish I would've covered, email me at
[email protected]
. I will respond & add any special requests we get to my Instagram stories-
so make sure you're following me there too
! The point being…no matter
what
…I know there's a freelancing solution that can work for you. Let's examine a few.
Real Moms, Problems, & Solutions with Freelancing.
I need to replace a 6-figure income.

Well- first of all- congrats! You worked really freakin' hard to advance your career! Don't let that invested time stop you from moving on, though. If your corporate job is no longer giving you what you want or need…you are not trapped. You don't have to hire a headhunter or apply for jobs secretly on LinkedIn. You

know

you have skills. Let's transform your amazing experience and skillset into a business that works for

you

! Meet Lindsay White. Lindsay founded The White Label Creative in 2019 after transitioning from her 6-figure role with Raymond James Financial. Now she serves as a Marketing Consultant and full-time mom, partnering with clients to build and execute strategic marketing plans. She first met her 6-figure salary goals on

September 23rd

, about a year after really diving into growing her business! Stay tuned for her podcast episode to learn ALL about how she did it- and how you can too…that episode will be going live at the end of November!

I got laid off/hours reduced/I am super nervous about my job because of COVID.

Kaci Ackerman joined OTO at what we originally

thought

was going to be the worst possible timing ever. Mid-March. Like, exactly when

all

the major COVID-19 shutdowns started rolling out.

Like many Americans, Kaci's job at a dental office was furloughed. She used that unexpected time off to dive

into OTO. Kaci transformed her future and finally regained control of her life- transitioning from furloughed to freelancer…replacing her full-time income in less than one month! When she received an email from her boss that it was time to get back to work….she let him know she

would not be returning!

You can hear her full story, plus her tips for getting started

on this podcast episode!
I'm a stay-at-home mom needing to earn extra income.

No matter

what

skills or experience you have- there is a freelance career that will work for you! When

Chelsea Mellinger first joined my program, she was a former teacher and stay-at-home mom to 3 kiddos. Within the span of a few months, she had landed 2 clients and a year later, has a total of 5! You can

listen to the podcast episode with Chelsea here

for her tips on managing your time as a WAHM mom and marketing your current skills to potential clients. 
Looking for even more results from real moms? You can view all our freelance success stories and receive awesome tips and inspiration on exactly
how
they did it by
clicking here
! You can also join our
FREE Facebook group here
to chat with other moms, find encouragement, and even throw your hat in for opportunities to build your portfolio with testimonial work!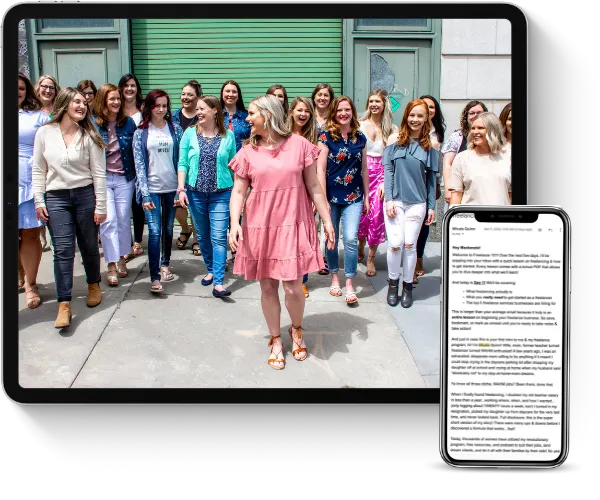 Learn how to earn $3K a month+ as a freelancer working less than 25 hours a week even if you think you have no experience.
This FREE crash course will teach you all about the freelance industry, so you can finally end the family vs. finances battle.
Now, in the interest of full transparency…I do want to make one thing clear before we wrap up.
Freelancing is not perfect.
It is not a magic wand you can wave over your life. It is not 100% guaranteed, 6-figure success. Yes, like any other job…there are risks. Let's dig deeper…
Three Freelancing Barriers (+ How to Break Them!)
It is HARD to start a business.

This is 100% true. And…not gonna sugarcoat it- it's even harder when you have little ones demanding your time and attention. But those little ones are the very reason you are doing this! They will keep you going, keep you laser-focused, and keep you motivated. Is it hard to launch a business while being a mom? Absolutely. Impossible? Not even close.

And…if you ask me. Working a regular job is way harder. When you build your business strategically and effectively, you decide who, what, where, when, & HOW you work. Whether that's the naptime grind, regular 9-5 hours, or cranking a night owl grind- you are in complete control of what works best for you. No more difficult bosses or coworkers to side-eye you for showing up late or calling in when your daughter is sick. At the end of the day, you choose your hard.

Would you prefer your hard to be a late-night, early-morning, or naptime grind to launch a business that works for you, your schedule, and your family? Or the current hard of the rushing, stressing, and restructuring of your entire life to keep your corporate job?


Freelancing is incredibly unreliable. You can never guarantee your income.

Let me guess…you've heard this from all the naysayers in your life. While this can be true…if you set up your business and packages strategically, freelancing can actually be more secure and stable than your traditional career! Why?   
Diversified income.
As a freelancer, chances are you will have multiple clients. Most likely anywhere from 4-7 (maybe more, maybe less depending on your exact goals). When you have MULTIPLE streams of income…losing one client isn't an end-all, be-all dealbreaker. And some of you probably learned the hard way during COVID…a traditional job
(& your only income source!)
can be pulled in an
instant
.
Endless opportunities.
You set your rates. And you also choose when to raise your rates. My income as a freelancer and entrepreneur has always been MORE than my 9-5 income. You could start out charging $20/hour, build your confidence and expertise, and within 6 months your hourly rate could be triple your initial starting out rate, if not more! There is no ceiling! And you don't have to wait until that annual review to beg for a 2% raise. You call the shots!!
3. Launching a business is too expensive.
Yep. It can be. If you feel like you absolutely
cannot
launch a biz without the "traditional" tools – media coverage, flashy business cards, billboards, a fancy Website, additional skills training, a brick and mortar location, etc. Then…yes. 100%. Launching a biz can absolutely drain your finances.
However, I launched my business with nothing besides a free Facebook page. And so did hundreds of other OTO alumni. Seriously- you can start today with nothing more than an email address and computer. Save the upgrades, custom Website, and special skills training for whenever you are ready to scale your business. Start small. Start simple. And watch your success snowball from there.

Ready to learn even more about freelancing and how to get started- for free?! Perfect timing!
You can access my newly revamped (for all of 2020's craziness!)absolutely free workshop right now!

By the end of this 40-minute workshop, you will know:
The Who, What, Why, & How of freelancing

The key secret to establishing a stable income while freelancing

What freelance services you can provide right NOW – no experience needed!

The magic formula  to landing discovery calls

How to wow clients with your answer to the dreaded

"what's your experience?"

question 

My no-fail method to quitting your day job
It's time to STOP wishing, waiting, and wondering when your company is going to embrace and understand the struggles working moms face. Forge your own path. Get started right now, right here for FREE.