Are you ready to pivot your business into a service you love? In this month's success story episode, Courtney is sharing her story on how she took her instructional design degree and turned it into a profitable freelance business! 

Courtney's Story   
Courtney moved from Wisconsin to South Carolina after her husband got a new job in the summer of 2018.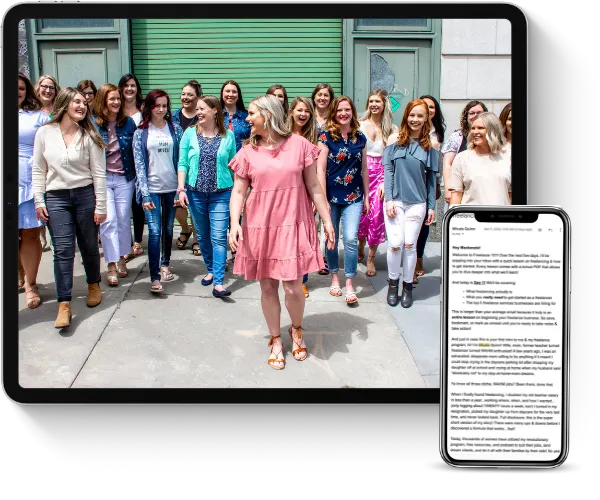 Learn how to earn $3K a month+ as a freelancer working less than 25 hours a week even if you think you have no experience.
This FREE crash course will teach you all about the freelance industry, so you can finally end the family vs. finances battle.
In Wisconsin, Courtney taught sixth-grade math, but she was starting to feel that teacher burnout. She wanted to use the move to South Carolina as a fresh start and a possible career change. 
She spent the summer looking for online jobs but to no avail. So in August, she went back into the classroom, teaching third grade this time. After a week, she quit. This was not the fresh start she had in mind! 
"By that point, I was just really comfortable with finally being like, 'Nope, this is not what I want.' And so rather than investing months and months and feeling that way, I was like, 'I'm going to make a change.'"
Courtney found out she was pregnant in October 2018, and she knew she made the right decision to leave teaching. She wanted a more flexible job—one that would allow her to spend time with her son. 
The following month, she started working for a building company in their design center. But, this was still a 9-5 job. Courtney didn't want this either!  
Desperately searching for another career path, Courtney came across an OTO Facebook ad in December. This was her answer! Courtney joined Overwhelmed to Overbooked and officially launched her business on January 1st, 2019. 
Courtney was able to leave her job at the building company in February (5 months earlier than anticipated) because she had landed a few projects! 
After working with several clients, she decided to take a Pinterest course. With this new knowledge and new service to offer, she connected with several TPT sellers and became their Pinterest Manager! 
Wait, I Have A Master's Degree
Right before she quit teaching, Courtney went back to school to get a master's degree in instructional design. 
"The fact that I had this master's degree in instructional design never really occurred to me that I can use that in the online business space."
Courtney connected with a client who needed an online course built. She had never done that before, but she was intrigued! She wanted to use her educational background and figure out how to translate it into the online space. The client loved Courtney's determination, so they worked together on her first course creation project. 
"It was an excellent use of my master's degree and just my skill set from being a teacher. I fell in love."
With this newfound love of course creation, Courtney did a coaching program with Micala Quinn, and this gave her the confidence she needed to pivot her business from Pinterest Manager to Online Course Creator. 
Tips for getting started with online course creation: 
Join as many Facebook groups as you can that have online course creators in them.

Listen to podcasts and gain as much knowledge as possible.

Most course creation platforms have instructional videos in the help section. Watch the videos and get an idea of what the tech setup actually looks like! 

Most software has a free trial. Sign up and get some hands-on practice (just make sure you cancel before they charge you!)

Build your confidence and get out there! 
Client Breakdown
Very first client was her aunt! She was a realtor and needed help with Facebook posts. 

Second client was an Etsy coach who needed help with SEO research.

After Courtney took a Pinterest course, she got connected with several TPT clients through Facebook groups.

Courtney pivoted her business from Pinterest Manager to Instructional Designer and gained even more higher-paying clients through Facebook groups and referrals! 
And that is how Courtney used her instructional design degree and turned it into a profitable freelance business!
"I offer a done-for-you course creation package. I take all of their content and I create the slide decks to go along with their videos for their course so that they can record those. I create any of their printables and any downloadable materials that they're going to offer to their students. So that's the first phase of the project. And that's something all teachers can do!"
Courtney's Tips for Success
Don't give up.

Don't stop searching until you find a job you love. Don't settle. 

Use your skills.

You have a lot to offer. Don't forget about what you're good at! 

Pivot when necessary.

It's okay to change your business as you grow. 

Google is your friend.

Use Google as a tool for knowledge. 
Are you ready to join Courtney and the thousands of other women who have ended the battle between freedom and finances…forever?!