Are you struggling with being a confident work at home mom?
Do you find yourself holding back or being held back from the fact that you are a beginner?
If you are – no sweat, I can give you some effective strategies and tips for moving past feeling like a beginner.
And guess what – EVERYONE starts out as a beginner at some point and lots and lots of them are now successful freelance business owners doing big things for small businesses.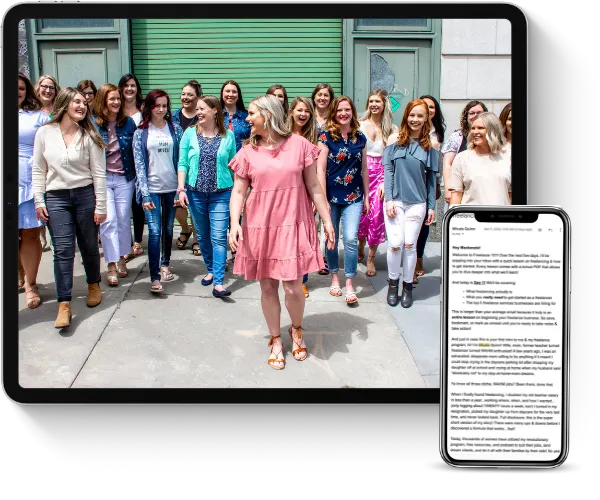 Learn how to earn $3K a month+ as a freelancer working less than 25 hours a week even if you think you have no experience.
This FREE crash course will teach you all about the freelance industry, so you can finally end the family vs. finances battle.
Okay – so to illustrate how you can get past this feeling like a beginner, let's take a look at two freelance business owners, both in the early stages of their business.
Meet Timid Tammy.
She is a mom, wife, and full-time teacher who really wants to be a SAHM, but has to replace for full-time income before can quit her job.
Tammy is excited about the possibility to work from home, but anytime she thinks about putting herself out there, she stops. She gets scared, starts to question if she can do what the potential client is asking, and gets intimidated by everyone else who may have already applied.
Tammy lets her fears control her and eventually she gives up on becoming a work from home mom and lives a sad, resentful life wondering what could have been.
Now Meet Confident Connie.
She too is a mom, wife, and full-time teacher who really wants to be a SAHM, but has to replace her full-time income before she can quit her job.
Connie is not only excited about the possibility of working from, she is motivated to do whatever it takes to make this happen for her and her family.
She has decided that she is not signing her teacher contract come April and is set on replacing her full-time teaching income by July.
How do you get to be like Connie?
The difference between Timid Tammy (btw – I realize these names are totally cheesy, but a little cheese never hurt anybody J ) and Confident Connie is their mindset.
Fears are normal in the early stages of starting a business and fear is not necessarily a bad thing.
Fear shows that you care about your work and the value you provide to your clients or potential clients. Fear is what drives you to prepare and research and land awesome clients. Fear is also a totally normal feeling no matter what your previous job experience is, what your skill level is, or how long you have been offering services as a freelancer, but it can be intimidating in the early stages of your business.
So how do you get past this feeling like a beginner and building confidence in yourself without having had any clients yet?
Three crucial things you can do to not only build confidence in yourself but also build trust and credibility with potential clients to get over feeling like a beginner:
1. Do some free work in order to build your portfolio
So free work great for people starting out. But you need to rethink the value of offering free work – it really isn't free work. Instead of being paid an hourly or package rate – you are paid with experience, a testimonial, work for your portfolio, and possibly even referrals.
How: Reach out to people you know (or even strangers) to see if there are small tasks you can offer help with.
Wanting to get into virtual assisting? See if someone needs help uploading, formatting, and scheduling their blogs or repurposing content.
Wanting to get into graphic design? See if someone needs a logo refresh or a mood board.
Wanting to get into social media management? See if you can help someone create a weekly plan or one week's worth of content.
Why: Not only will this help you build up a portfolio and hopefully help you with referrals and testimonials, but getting actual hands-on experience is the #1 way to boost your confidence in your skill set!
Bonus Tip: Treat it like a paying gig, overdeliver, have a contract in place.


2.  Build a portfolio of work you can do, but not necessarily have done for clients
Portfolios are a great way to showcase the work you have done or the work you can do for potential clients. They can glance at your work and see if they like your style before scheduling a call, which leads to getting on calls with more qualified leads!
How: Don't just limit your portfolio to work that you have done, but use it as a chance to highlight the potential of what you CAN do. You can create 3 different "fake clients" and create a sample of work you created for that client.
Why: This helps to make you not look like a super beginner to potential clients AND helps you be more confident in what you can do because you have a little experience!
Bonus Tip: When creating your portfolio of what you can do – create fake clients that would be your ideal client, so when you do eventually start talking with your potential ideal clients and they ask to see your portfolio – they feel like you are the perfect fit for their business!
3. Be clear on how your past work translates into experience for this role
Just because you may be new to the online business space, does not mean you do not have any relatable experience that would be pertinent for the potential client.
How: Reflect on your biggest strengths or accomplishments from your current job and brainstorm how and why that translates into the online space.
Why: This will be a huge confidence boost and make for a great talking point (or few) on discovery calls or pitches to potential clients.
Bonus Tip: Keep this list handy, write it out, print it, and review it often!
I hope this was helpful, but if you find yourself wanting more tips and strategies to land clients and get out of your 9-5 ASAP – check out my Jumpstart your Freelance Career program – it includes everything you need to go from overwhelmed to overbooked + a bonus module on how to make back your money ASAP (one student did it within 1 week of purchasing!)