Today is a Student Success Stories Series post, and we get to meet Chelsea! She is a mom to a sweet little 6-month-old. Chelsea also started her business just 6 months ago. After she signed up for The Live Free Academy Course last October, her baby came early only a few days later, and Chelsea built her business on maternity leave! She used cold email outreach to land influencer clients, and is going to share her tips and the process she used!
Chelsea's Story
Chelsea lives in upstate New York with her husband, daughter, and two dogs. The typical 9-5 was never her dream, and when she was in college couldn't pick one thing to focus a career on.
Chelsea settled on nursing school. But admits she was only in it because she knew she could have a remote job, and being able to work from home was ultimately what she wanted.
Eventually, she began working as an administrative assistant and held other various roles with the same company for about 10 years.
When she became pregnant in October of 2021, she was searching for a way to make it work. Unable to live on just her husband's salary, staying home was not an option. Chelsea found Live Free Academy while looking for something that could work for her.
She says she was immediately intrigued and started binging The Live Free Podcast! She realized this is what she had been looking for and what she should be doing, but was on the fence. Uncertain if they had the money to invest in the program.
After miscarrying she still wanted to start the course but was still on the fence. In February, when she became pregnant again, Chelsea was listening to podcast episodes every single day at work.
Finally, after being put on bed rest, she began planning the route she would take. She finally committed. She would take the course before the baby comes and jump into implementing everything after the baby came. Surprise! Her daughter came early so the plan didn't work out as planned, but Chelsea utilized all the night feedings and any time she could during the day to complete the course.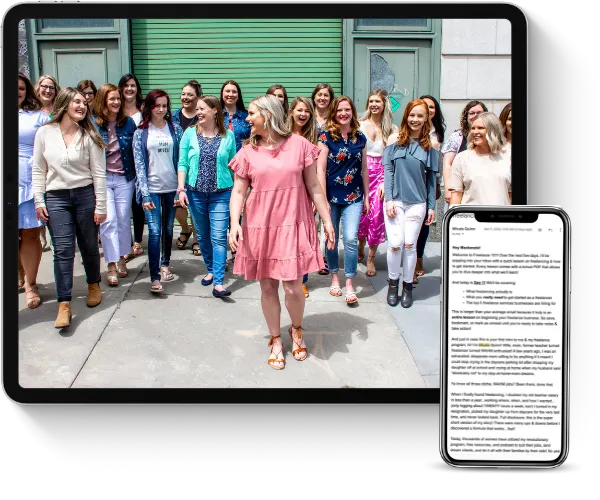 Learn how to earn $3K a month+ as a freelancer working less than 25 hours a week even if you think you have no experience.
This FREE crash course will teach you all about the freelance industry, so you can finally end the family vs. finances battle.
The Cold Email Outreach Method
Cheslea describes herself as very shy, introverted, and afraid of putting herself out there. She reached out to me maybe 3 or 4 times to ask about how and IF she could be successful as an introverted freelancer.
Spoiler the answer is yes!
Being very nervous about reaching out to people, she says it's not as intimidating as you make it out to be in your head. Chelsea decided to do cold email outreach to land clients because it felt like a more natural conversation to her.
Chelsea says when she decided to do cold pitching, she looked at it like she was just sending someone an email. And what was the worst that could happen with that? They just don't answer, and that's okay.
There are going to be people that won't answer you, but you're going to have people that will answer that are so excited and happy that you reached out.
"So don't let the fear hold you back."
Cold Email Outreach Method & Timeline
Chelsea said her method to pick who she wanted to work with was to write down all the jobs that sounded interesting that people were doing in a freelance capacity.
Then she made a list of at least 25 places or businesses for each job on her list of who she wanted to reach out to. The virtual assistant list was the longest and what she ultimately decided to go with. Chelsea says she had probably a list of 100 people/businesses she wanted to reach out to.
Chelsea would sit down for as long as she could and reached out to as many as she could through email, using the Trello tracking system to help her remember when she needed to send 2nd and/or 3rd follow-ups.
Cold pitch timeline
From the first set of cold pitches Chelsea sent 1 initial email to 3 separate people. From those 3 she heard back from 1 person who turned out to be her first client!
Those were sent at the beginning of January, and she started working with the client in the middle of February.
After that initial set of cold pitch emails, she decided to bump it up. Chelsea began sending out groups of 25 emails at a time. With those she did get some no's and some responses that would say they are not looking for that help at that time.
Then in the middle of February, during the 3rd set of emails, she found her 2nd client.
And a few weeks later, she landed her 3rd client. A dream client that she followed up with, and ended up being her largest retainer client!
The cold email outreach process Chelsea used to land influencer clients
First, as Chelsea said, she started by making a list of people she wanted to work with.
Then she sent emails to groups of 25 people. She wrote super personalized emails to each one that could not be duplicated. Chelsea did not copy and paste! She took the time to get to know and send emails to influencers that she had been following for years. She knew their business. She knew how she could help them. That's what made her stand out from the sea of other cold pitch emails these influencers received, and often why she often got responses and even landed clients from the cold email outreach campaigns.
For each group, she tracked the emails she pitched and sent 2nd and 3rd follow-up emails. Once she didn't hear back after 3 emails and no responses, she would move them to the not interested list.
In Chelsea's emails, she says she didn't just say, "Hey do you want to hire me?" Rather she found something to connect with them on. She would give very specific detailed information that showed them that she knew their story, and showed how long she had been following them. Then the would mention herself, and say if there is ever an opportunity to work together to please keep her in mind.
If you are on the fence about freelancing, you are not the only one! Chelsea was on the fence about freelancing too. After coming back again and again she finally decided to commit to it, and it changed her life! If you keep coming back just like Chelsea did, wondering if this is for you. Check out the free resources on MicalaQuinn.com to learn more about freelancing.
If you want to freelance, but just don't know how to get started, The Live Free Academy course is for you! It's a step-by-step course that will teach you how to build a solid foundation and land clients! It includes skills training, a community of freelancers just like you who are building their businesses, weekly coaching calls, a job leads board, and accountability challenges to meet monthly goals. Learn more about the program and sign up at MicalaQuinn.com/Academy!