How do you handle client calls with kids at home? The inspiration for this post came from a comment someone left on one of my ads, and it addresses this question that pops up a lot. The comment was in response to my free workshop that I run to raise awareness about freelancing.
The comment said something along the lines of, "Cool, then we will just see all these moms having a nanny distract their kids while they work all day long."
This comment struck me the wrong way in many ways.
1. For the moms who do work full-time and have their kids in childcare full-time.
2. To those moms who want to work, and want to have some type of consistent work schedule.
The greatest thing about freelancing is that it doesn't have to be one way or the other. It is flexible. There are different ways you can structure your schedule with kids at home.
So, we are going to discuss how you can handle client calls with kids at home by structuring your schedule and working with kids in your lap.
How to Handle Client Calls with Kids
Schedule
One of the greatest things about freelancing is that you are not working that traditional 9-5.
Depending on what service you offer, you are probably not going to have a set schedule where you have clients from start time to end time, every single day.
The great thing about freelancing is that you get to get the work done when it works for you. You get to control your schedule!
So if you want to fit when you work into non-traditional hours, you can make that happen.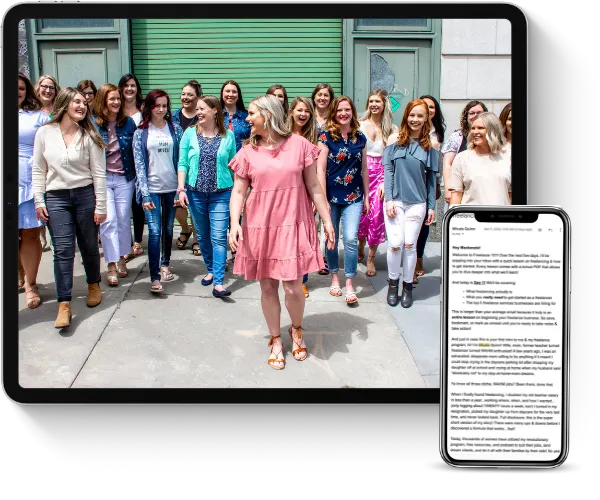 Learn how to earn $3K a month+ as a freelancer working less than 25 hours a week even if you think you have no experience.
This FREE crash course will teach you all about the freelance industry, so you can finally end the family vs. finances battle.
1. The Naptime Hustle
The most common way I see women in the LFA handing client calls with kids at home is the naptime hustle. This is just a cutsie way to say you work when the kiddos sleep.
This is how I started out, with no childcare. I worked when the kids were sleeping.
Time chunks
How I made it work was that I had chunks of time that I would work. So, roughly, I had 3 chunks of about 2 hours per day that I would work while they were sleeping. That would give me about 6 hours a day that I could work.
However, I didn't want to work 6 hours every day. 4 hours was more of my max, but sometimes things happen. And on those days I knew I had 6 hours to get everything done.
Morning
That meant that my first block was 5 AM to 7 AM. When I had quit teaching to stay home and freelance, I had just had my second baby, George. Having a new baby meant I was not waking up every day at 5 AM to work because some nights were harder than others. So, I had that first chunk of time in the morning if I needed it, or I could sleep it if was a rough night.
Afternoon naptime
The second chunk was naptime. At that point, Mclaren was still taking a solid 2-hour afternoon nap, and George would be napping at that time too. So that was 2 hours I had of dedicated work time.
Evening
In the evening, if I still had work to get done then I still had that evening chunk of time that was 7 PM – 9 PM, if I needed it.
Now, I could have done no daytime work and just scheduled my work to be in the evening after bedtime from 7 PM to 11 PM, if I wanted.
You will want to look at your schedule and think about what will be best for your family.
2. Hybrid Naptime Hustle/Part Time Childcare
This is where maybe you have a sitter come 1 day per week for a couple of hours to all day to watch the kids. Then you would do the naptime hustle the rest of the week. Some of the gals that offer VIP days, this is how they fit those VIP days into their schedule.
There are different ways to schedule that too.
You could do 2 days with no childcare or 2 days with part-time morning childcare.
3. Part-Time Childcare
Another popular route is part-time childcare. This is the route I do now. So I work very part-time hours and have the world's best nanny come watch the kids during that time.
She comes Monday through Thursday in the mornings until about 2 each day.
That gives me that solid space Monday through Thursday to work. But to be a mom of 4 kids means that someone has a doctor's appointment every week, or there is volunteering in the kid's school room. So having that part-time childcare option is what my family needs right now.
4. Traditional Full-Time Child Care
This schedule is having the traditional full-time child care so you can work. Or maybe you have all older kids who are in school full time from roughly 8 AM to 3 PM which allows you to work then.
Running Client Calls with Kids
A question I get asked around this topic is, "How in the world do I do client calls with kids in my lap?"
Wouldn't potential clients frown upon having kids at home while I'm working or on client calls?
The answer is no. Well, some might. But if you are doing this to be home with your kids, they are going to be around. Especially if you are doing a naptime hustle or part-time childcare schedule.
Do you want to work with someone who is going to frown upon you having your kiddos nearby while you take a call? No, that's stressful!
When I first started, I didn't have anyone to tell me that kids being in the background or being on client calls is fine. I would stress myself out so hard trying to plan naptime around client calls, and if a call was running late, I would pray the kids didn't wake up until it was over.
It was just unnecessary stress that I put on myself because I didn't realize that it was okay.
Find clients that are okay with kids around
There is a whole world of people who understand that there is life besides work. There are so many mom-owned businesses that run their business at home so they can have more time with their kids. They are going to understand. They won't care if you have your toddler nearby doing an activity while you are on a discovery call.
In my opinion, anyone who isn't okay with a kid coming to say "hi" on a discovery call or needing something, isn't going to be a great client long term.
There are countless examples of women in the LFA program who have been on discovery calls with potential clients and their toddler went bat-poop crazy having a meltdown on the call, but they still landed the client.
A real-life example from the LFA Group
I even remember one instance where the client told the freelancer, whose toddler had a meltdown on a call, that if she could keep herself together during that then she's got her stuff together and wanted to work with her!
So, I hope this post helped you with the different ways you can structure working as a freelancer. If you are still deciding or in the early stages of building, and trying to determine how you can do this. How can I do client calls with kids at home? Is that even possible?!
Yes, it's possible! You can freelance with your kids at home with you, and I'm here to help!
More resources
If you find yourself needing some resources to land your first client or clients, and take your business from idea to reality, don't forget the just-launched Freelance Shop! We've got courses from how to land clients, to landing clients with direct outreach, to templates, to discovery call scripts, to client onboarding systems. If you just need something small, check out The Freelance Shop now!
If you need a more complete start to finish everything you need to do to start your business; you want to support, you want job leads, you want a community to support you then check out The Live Free Academy!