"Hey Micala, I love the idea of working from home as my own boss and having the freedom, flexibility, and the financial stability to be the mom that I want to be… How do I get started?"
I get asked this question a lot!
Like a lot a lot. And this is kind of a loaded question because just like raising a baby, with starting your business there is not a clear one-size fits all plan.
But nonetheless, this question still begs for an answer and is the inspiration behind my "How do I get started series blog series."
In my course,  I have broken down what you need to do to start, run, and grow your freelance business into four main modules or units. To get started you need clarity, visibility, a strategy, and confidence!
This post goes in depth on clarity!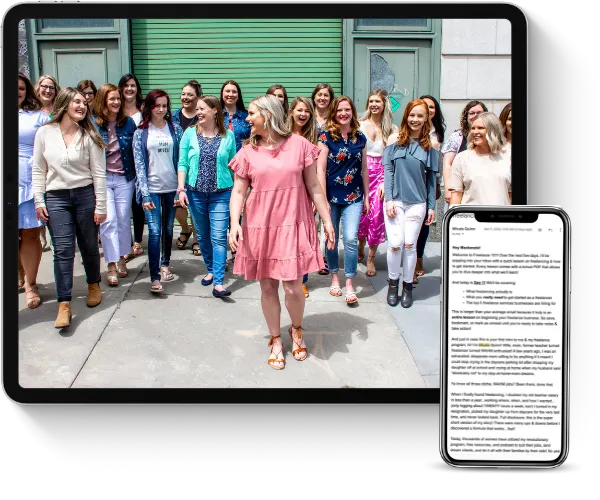 Learn how to earn $3K a month+ as a freelancer working less than 25 hours a week even if you think you have no experience.
This FREE crash course will teach you all about the freelance industry, so you can finally end the family vs. finances battle.
Let's get started, before you have a business you need to have a clear picture and understanding of your business.
Let me give you a checklist. You need clarity on:
What your services are

Who your ideal client is

How you package your services

What you charge for your services

What your branding will be

What your goals are

How you are going to accomplish them
These clarity pieces might seem like something you can come back to later or like something you don't really need to decide on, but I want to tell you that is false. It is 100x better to be clear on what you offer, who you offer it to, how much you charge etc because otherwise you kind of lack purpose and direction, sorry if that's harsh.
Clarity is something I have had to really hone in on too in my business… for example when I first started out I was in this excited and energetic and wanting to take on anything and everything state, but in trying to take on too much, I was doing nothing well and literally just going in circles.
When you have clarity you have focus, and when you have focus, you can actually accomplish your goals.
So let's go into a little more depth on a few of the clarity pieces.
Clarity on services
What types of things will you do for your clients?
There are literally unending opportunities here: you could be a virtual assistant, social media manager, copywriter, editor, technical assistant, content strategist, FB ads manager, pinterest manager, pinterest strategist, sales funnel specialist, graphic designer, digital marketer, online course specialist, blog manager, customer service rep, graphic designer, project manager, launch strategist, the list goes on and on.
My advice for picking your services: Start with what you are currently good at (if you are not sure — download my Ultimate Freelance Guide (for free) — it will help to discover what services make the most sense to start offering today.
Clarity on your ideal client
Who do you actually want to work with?
When I ask this question the answer is almost always: "anyone who will hire me." And while that is probably true, especially in the early stages, that should not be your answer.
Why? Because to get hired people want to feel like you are speaking to them. They want to feel like your business was built with them in mind.
And this won't happen if your marketing plan is built around "anyone who will hire me." Spend some time getting that clarity and you will please when your ideal client starts flocking to you!
P.S. I tell the students in my course all the time, if you are speaking to everyone, you are speaking to no one.
There's more to it than that and my jumpstart course really helps you identify and understand your ideal client so you can get hired again and again!
Clarity on how to package your services and how to price them
This piece is huge. Time and time again I see freelancers (who mostly try the DIY route and don't have the support system and mentorship relationship with someone established get burned by not packaging their services and offerings in the best way.
If yours are not packaged properly you could turn potential clients away or worse, get taken advantage of.
How you package your services will be determined a lot by what services they are! A social media managers packages look drastically different than a general VA's does.
But some things you need to think about are what should be included, how many options, should it be package based or on a retainer baseis, one off, or recurring?
Packages and pricing can be overwhelming — let me help! All students of my course get access to a super active, private Facebook group that provides accountability, support, + coaching from me and the other members daily!
Clarity on your branding
This one is so fun!!
Branding does not have to be this super intense, crazy expensive process.
It can be.
And is very helpful if you have the money to invest, but DIY branding is totally doable and totally necessary to start. And you guessed it — I cover it in depth in my course, but here are some quick items to tackle your branding.
Who is your ideal client? (Yep — so important you want your branding to speak to them, duh!)

What colors, words, images etc. will appeal to them? Create a mood board for inspiration.

Get consistent. Display the same images, colors, logo, fonts across your web presence and marketing materials.
Clarity on your goals and how you will accomplish them
To get somewhere you gotta know where you are going + how to get there.
AKA in your freelance business you need to set goals and develop a plan. Make a plan. Don't just set a goal.
Here is my process to setting goals and taking names 🙂
List your goal

Why is this your goal? What will it do for you? Why is it important? Why now?

How will you know you are making progress towards this goal? What are indications you are working towards accomplishing this goal?

What resources do you need to accomplish this goal?

What are the steps you need to take to complete this goal? These are more like to-dos.
Let me give you an example:
Goal: Find 3 paying clients within the next month.
Why: This will prove to myself that I can be successful and give me motivation to continue working to grow my business.
Progress: Launching a business page, setting up discovery calls, finalizing my packages and pricing sheets
Resources: A mentor or a course to help guide me step by step on the right way to build my business, so I can get there faster.
Action Steps: find clarity on services, packaging, pricing; get a storefront/visibility so potential clients can find you; develop a strategy to find potential clients; get confident in your services and offerings, so you can wow and land those potential clients!
I'd love to hear from you — how you are going to implement these tips and advice into starting your business! I especially want to hear what services you landed on!! Drop a comment below.
Thanks for hanging out with me today and stay tuned to the next post in the series: Visibility!