Chelsea's Story
Are you ready to hear how this former teacher started freelancing and doubled her income in less than 1 year? Today, Chelsea Hall, the owner of Chelsea Hall Social, chats about her Pinterest Management business.
Chelsea was a first-grade teacher for eight years and truly enjoyed it but was feeling burnt out and wanted to be home with her daughter. Chelsea heard about OTO, bought the course, and dove right in. She not only replaced her teaching income but doubled it in less than 1 year.
Chelsea is a toddler mama, wife, Michigan native, and now a Pinterest strategist who supports female teacher entrepreneurs.
Doubts and Diving In
Chelsea bought the course on November 1st, and the following week went back to sleeping as much as she could with her newborn daughter around. Still teaching full-time during the pandemic, Chelsea finished the course in one week, set up her portfolio, and went to market herself in Facebook groups.
After two weeks nothing was working. She was hearing crickets on Facebook, so she then applied to several jobs on the LFA Job board. After hearing a bunch of no's, Chelsea finally landed her first client.
Then landed another small project.
Then about a month in she landed two more retainer clients.
She was able to quit her full-time teaching job in March after replacing her teaching income. Eventually, she went on to double her teaching income after just 9 months of working as a freelancer!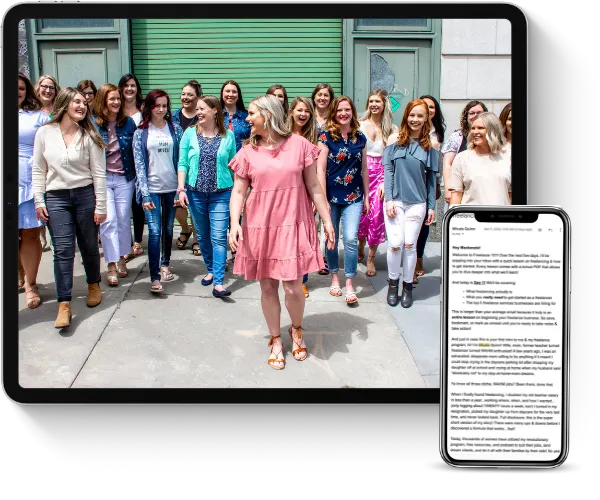 Learn how to earn $3K a month+ as a freelancer working less than 25 hours a week even if you think you have no experience.
This FREE crash course will teach you all about the freelance industry, so you can finally end the family vs. finances battle.
Starting and Pivoting to Pinterest Manager
Feeling like she wanted to go all-in, Chelsea was determined to start with a skill set and path in mind. So, she took courses and learned all there was to know about being a social media manager. After landing her first client and doing social media management for her, Chelsea quickly found out she did not enjoy SMM.
So, she took on Pinterest services for this client. Took a free training on YouTube, and eventually invested in Pinterest courses to advance her skills.
2 Things that Helped Chelsea to Succeed in Her Transition to Pinterest Manager
Building a strong support system and community. The community around the Live Free Academy course is something Chelsea says she would have paid 3x over for. She attributes her success and new friendships to the LFA community!
Skills Training. Chelsea attributes a lot of her growth to niching down her service offering to Pinterest management and the courses she has taken to grow that skill set.
Challenges
Feeling like she was absent from her daughter during her first few months of life because Chelsea's computer was open nonstop while trying to get her business running. The feeling of being absent was tough for Chelsea to reflect on. However, she believes it was all worth it to be able to be home with her in the long run.
Chelsea also says her mindset–in thinking that she didn't have any skills as a teacher and figuring out how those skills applied to other opportunities–was a huge challenge she had to overcome. But working on her mindset, and having conversations with other members of the LFA group has helped Chelsea to grow and make the changes she needed to succeed.
A Day in the Life of a Pinterest Manager
What does each day look like for Chelsea now?
Her daughter goes to daycare 3 days a week, then naps when she gets home. That gives Chelsea about 18 hours a week to work while her daughter is at daycare.
Some days they go out and do fun activities like the zoo or visit her sister, who just had a baby.
Chelsea attributes her happiness to her success in freelancing as a Pinterest Manager!
You can hear Chelsea's full story on the Live Free Podcast. Or learn about becoming a Pinterest Manager here.
Are you looking to replace your full-time income with freelancing just like Chelsea did? You can do it with the Live Free Academy!