If you'd really prefer to build your business without social media, then this episode is for you! In this month's success story episode, Charity is sharing her story on how she landed clients as a bookkeeper without networking in Facebook groups or on Instagram.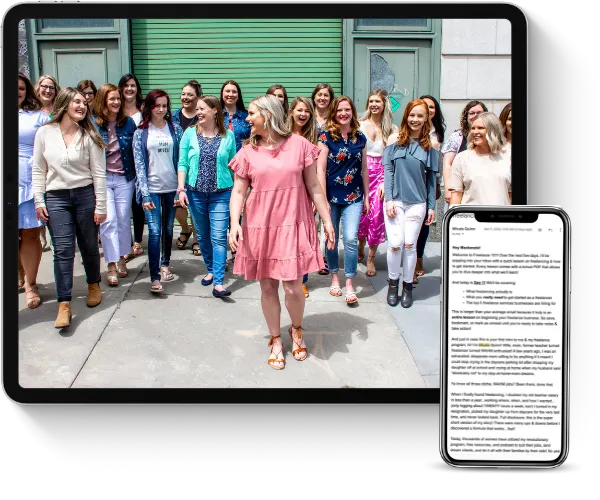 Learn how to earn $3K a month+ as a freelancer working less than 25 hours a week even if you think you have no experience.
This FREE crash course will teach you all about the freelance industry, so you can finally end the family vs. finances battle.
Charity's Story
Charity recently moved to Katy, Texas with her husband and two young children after her husband received a promotion. 
Before they moved to Texas – while living in Kansas City – Charity thought she wanted the corporate job life. But after having her son, her perspective changed. Dropping him off at daycare was just too heart-wrenching! She wanted to make a change for herself and for her son — she wanted to make sure he was able to thrive. 
While scrolling Facebook one day, Charity actually saw Micala's very first Facebook ad in October 2018! She researched the course and convinced her husband that freelancing was the right decision for their family. In January 2019, Charity joined Overwhelmed to Overbooked.
Surprisingly, the following month, she found out she was pregnant with their second baby! Charity continued through the course; she was determined to make this work. 
Social Media is not the be-all and end-all
While working through the course, Charity discovered that Facebook groups were not her thing. She needed to find another avenue. Charity decided to try LinkedIn — and this platform was far less overwhelming for her. She regained her confidence that she could do this! 
"I don't want to be on social media. I don't want to do social media for other people. It seems like that's the only thing you can do as a freelancer, but that is absolutely not true."
Through LinkedIn, Charity was able to land her first client in May 2019! She found a path that worked for her. Even though her business didn't look like the "typical" business from what she had seen, it didn't mean that she wasn't successful. In three more months, Charity landed her second client. And now, she has three clients and feels completely satisfied! 
Client Breakdown
By creating a LinkedIn profile, Charity landed her first client through a personal connection — bookkeeping for a nonprofit.

Client #2 came from the OTO hire form — another bookkeeping gig! 

Client #3 was Charity's brother-in-law who needed help with bookkeeping and property management.
And that is how Charity found success without social media! 
"You can still succeed if you're not doing what everybody else is doing."
Charity's Tips for Success
Determination.

Do what is best for your family. Go with your gut. 

Trial and error.

It is okay not to like or use social media! Find your personal niche and networking avenues. 

Have resources.

Make sure you have what you need to be successful. 

Everyone is different.

It is okay if your business looks completely different from someone else's. 
A typical day in the life
Charity has found a good balance by working around 10 hours a week. 
Her son is now in school on Tuesdays and Thursdays, so she is able to do the bulk of her work on those days. Charity's one-year-old daughter is also with her throughout the day, but she is able to get some work done during nap time. She found the perfect balance. 
Charity plans to grow her business one day, but right now she is focused on her family and growing that, too! 
"It's okay if your business doesn't look like someone else's or everyone else's. If you only want to work 10 hours and maintain what you hit, that's okay."
Are you ready to join Charity and the thousands of other women who have ended the battle between freedom and finances…forever?!