If you are searching for a way to become a stay-at-home mom, you may have looked for freelancing jobs. If you haven't yet, you should be!
It's an amazing option for moms that are looking for a way to stay home with their babies and help contribute financially to the family (like I was). Read more about how here!
Becoming a freelancing mom was the answer to my dreams. It's the solution I had been searching for!
Freelancing isn't just for moms that want to stay at home with their babies, though. It's been talked about for years as a career booster.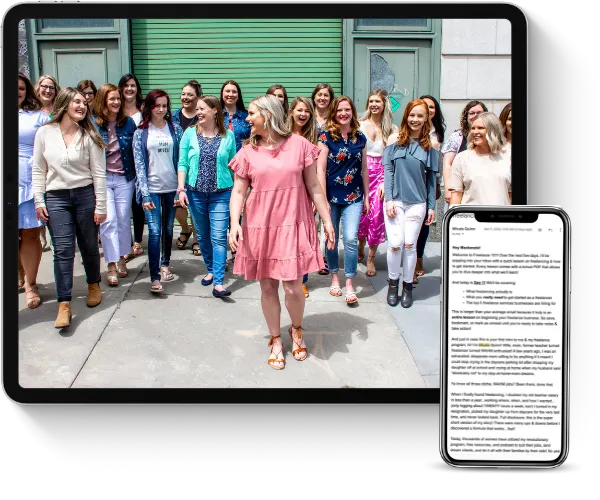 Learn how to earn $3K a month+ as a freelancer working less than 25 hours a week even if you think you have no experience.
This FREE crash course will teach you all about the freelance industry, so you can finally end the family vs. finances battle.
How Freelancing Can Boost Your Career
Freelancing is great for women looking to stay at home. Here's why…
You can choose your schedule.
You can choose when you work, what hours, and how many hours a week. Set out time during the day when your kids are sleeping, or you have a quiet break. When I was freelancing, I cut out 2 hours in the morning, 2 at naptime, and 2 after everyone went to bed. That added to 6 hours a day I had dedicated to working on my business. Plus, I was able to be home with my babies and play with them during the day.
You can choose who you want to work with.
You get to determine your ideal client. In the Live Free Academy training program, we will go over who your ideal client is. What their avatar is, and how to create messaging using the avatar to connect with your ideal client.
Also, covered in the LFA training is a section dedicated to discovery calls. Part of the purpose of a discovery call is to help you and your potential client determine if you will be a good fit working together. On the discovery call, you should ask questions to get to know them, what they are looking for, and who they are to figure out if you both will work well together. If you get into it and then determine a client is not a good fit for you, refer them to someone else, and find a new one to replace them.
You can make however much money you want.
As a freelancing mom, you get to set your rates, and you get to choose when to raise them. As a freelancer, women in the Live Free Academy program are constantly bringing home more income than their traditional 9-5 jobs. And because you can raise your rates with each client you onboard, you don't have to wait for a yearly review to get a 2% raise.
The way you work is flexible.
When I have to be at the doctor's office for an appointment, I can run my business from my phone. I'm not tied to the classroom or worried about taking a sick day because even if I have to be away during my normal working hours, I can easily make that up or work on the fly with how flexible freelancing is.
Why Freelancing Can Boost Your Career
The bottom line is, that freelancing is an awesome opportunity for moms looking to work from home. The work is flexible, the hours, who you work with, and the amount of money you want to make.
With everything, there is a "but". But you have to put the work in. Starting your own freelancing business is not easy. You are starting up something brand new. It takes a lot of effort and work to put yourself out there to network and find clients.
When you do it's so lucrative and so worth it.
Starting a freelancing business is furthering your skillsets, and opening new doors for you. Even when you don't realize it's happening. You never know who you will be doing business with, and how that will evolve your role and skills, and transform your business into something you never thought was possible.
Similarly to how I became a course creator. I didn't start out teaching moms how to work from home. I wanted to eventually, but I started as a virtual assistant, pivoted into social media management, and then ended up as a course creator. You can read more about that story here!
Why Freelancing Will Not Boosting Your Career
When you're starting a business you have to put the work into it. If you don't put the work in, and if your heart is not in it, then you may not be successful with freelancing.
The only reason you shouldn't start a freelancing business is if you don't want to.
It's not going to help you now, and it won't help your career later on if you are working on a business half-heartedly.
So, don't start freelancing because you want a career booster.
Start because it's something that you want. Start by determining your 'why'. Why do you want to make this big change? Listen to the Live Free Podcast Episode 29: The key to never giving up: knowing your why on MicalaQuinn.com/podcast (or wherever you listen to podcasts) to help you in discovering your why. Because once you figure this out, it's going to keep you going during the rough days-not the fact that it may or may not boost your career down the road someday.