EPISODE 80: SHOW NOTES
I am so excited to finally be interviewing Mackenzie Mader on her success as a Virtual Assistant turned Pinterest Manager turned Web Designer! In this episode, Mackenzie shares how she replaced her full time income, quit her job, and scaled her service-based business to 10k months!
She shares how she successfully pivoted over the years and how she does it all as a wife and mom to two little ones. Mackenzie has been been my right-hand lady from day 1 and has such an amazing story. You won't want to miss it!
If you're just getting started, this episode will inspire you to set big goals and show you the limitless room for growth in the freelancing space! If you've met your initial income goal and are ready to scale your service-based business to 10k months then head to MicalaQuinn.com/10k to sign up our free workshop taking place on Wed, November 13th at 8pm CST.
Thanks for joining us today! I can't wait to see you over in the Live Free Podcast Mastermind fb group! Talk to you there!
**This post about scaling your service-based business to 10k may contain affiliate links, which means if you click one of our affiliate links and decide to make a purchase, we receive a tiny commission from the seller at no additional cost to you. We only share products and services we have used, tested, and love ourselves!**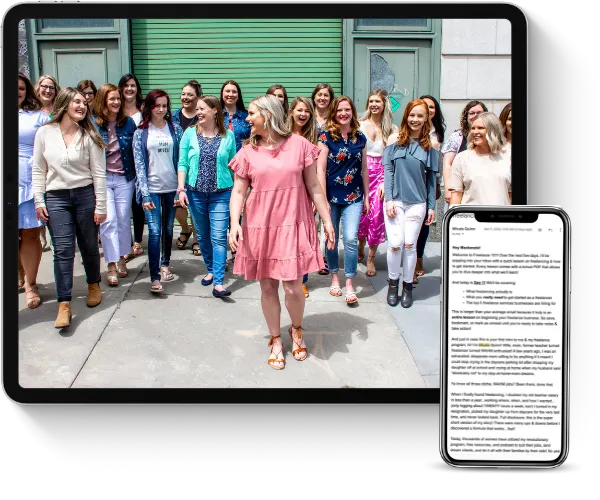 Learn how to earn $3K a month+ as a freelancer working less than 25 hours a week even if you think you have no experience.
This FREE crash course will teach you all about the freelance industry, so you can finally end the family vs. finances battle.
In this episode, we cover:
how Mackenzie pivoted from Virtual Assistant to Pinterest Manager to Web Designer,
what to do if you're feeling burnt out on a service, and
how to balance a full-time job, a family, and more as a freelancer
Resources and links mentioned in this episode:
Sign up for the workshop – 3 Secrets to Scale your Freelance Business to 10k Months – here!
Join the Live Free Podcast Community over on Facebook!