EPISODE 20: SHOW NOTES
Welcome back!! And thank you so much for being here!!
Guess who I am interviewing today!?!?
You've heard me mention her subscription box before…
Yep! Today you get to meet Jessica founder, owner, and CEO of The All Girl Shave Club!
I am SO excited for you to meet her.
A couple of reasons why you don't want to miss this episode!
She is a kick-butt mom and business owner and really sheds some light on the mindset of taking that idea that comes to you in the shower and turning it into a profitable and scalable business.
If you have a product based business idea and are looking for some guidance on HOW to get started… we talk about that!
If you are a freelancer… this is a great episode to tune into because you are getting an inside look at the pain points of product-based businesses and we also talk about what product based businesses tend to outsource the most!
**This post about business idea to taking action may contain affiliate links, which means if you click one of our affiliate links and decide to make a purchase, we receive a tiny commision from the seller at no additional cost to you. We only share products and services we have used, tested, and love ourselves!**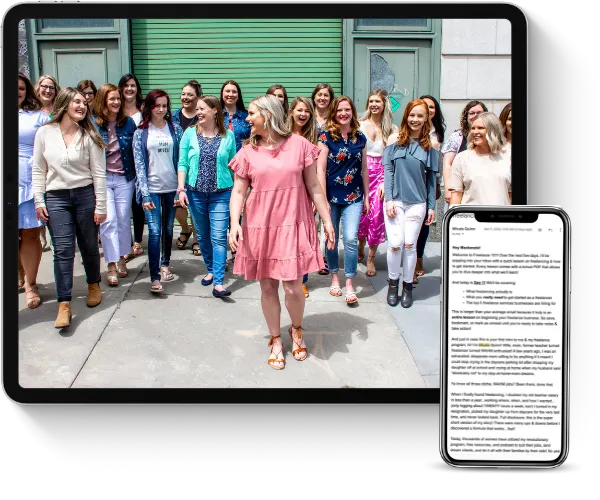 Learn how to earn $3K a month+ as a freelancer working less than 25 hours a week even if you think you have no experience.
This FREE crash course will teach you all about the freelance industry, so you can finally end the family vs. finances battle.
Meet Jessica
Jessica Principe is the Founder and CEO of All Girl Shave Club. Founded in late 2016, All Girl Shave Club is a subscription service and online boutique featuring female-focused shaving and body products. What started out as a passion project to transform the chore of shaving into a treat, quickly turned into a full-time business serving thousands of women in all 50 states and Canada.
With a lifelong passion for small business and entrepreneurship, she built her brand from the ground up without investment partners and spent thousands of hours researching and learning what it takes to build a successful business. She now provides training, resources and consulting to subscription box owners and to those looking to start a subscription box business of their own, to fast-track their success and build a business that they love!
She's married to a firefighter and mom to two little boys, residing in beautiful southern NH.
What we chat about in this episode:
What she did before All Girl Shave Club
How she found her big idea
Her process from idea to action
What types of services product based businesses are looking to outsource
Resources and links mentioned in this episode: