Today we get to meet the fabulous Becca Hoover! Becca is from Pennsylvania and is a former teacher. She is sharing her story about how she started building a business while working full time and having 2 tiny kiddos to care for.
If you have young kids, just had a baby, are about to have a baby, or can't just quit your job cold turkey to start building your freelance business, this story is for you! Most women in the academy don't just quit their jobs to build their businesses. Most start building a business while working full time.
So keep that in mind while you learn about how Becca was able to prioritize building a business while working full time and being a mom to two tiny humans!
I hope this story will show you that if this is what you want, you too can do this!
Becca's Story
Background
Becca lives in Pennsylvania with her husband and two daughters. Back in 2019, when she had her first daughter, she was a middle school music teacher. Just like a lot of teachers, she started to feel burnout, especially right when Covid was beginning.
Once she had her daughter, Becca says her priorities shifted and she wanted to be home with her.
But they were not in a position, not even close to being in a position, financially where she could stay home since she was the breadwinner at that point in time.
How Becca started building a freelance business
Becca says she was like most moms in that she would be up late at night, Googling trying to find ways to stay at home. She says she didn't want to do an MLM so she just thought,
"Okay, it's not going to happen, I'm not going to be home."
So she pushed it aside.
Then in 2020, during COVID when she was trying to teach from home she was able to spend all this time at home with her baby. She realized she wanted to be home and needed to find a way to be home.
At the very end of 2020, in December around Christmas break browsing on Pinterest, she saw a Pin about The Live Free Academy.
After looking into the program a little and seeing all the success stories of women building a freelance business, Becca thought,
"This is me, I want to be home!"
So she bought The Live Free Academy Course. Becca says she took a slow approach to work through the course, but in April of 2021, she officially registered her business with the state and launched everything!
Quiet about it at first, she didn't tell a lot of people because of this fear that she might fail. That people would judge her if she failed.
That summer she was making her way through the course and trying to get clients. She didn't end up getting any. Her family moved to a new house and found out about baby number 2 that summer! So, she remembers a lot of extra stressors, but Becca was determined to make this work.
That school year began and Becca was still working on her business doing 1-off projects here and there. But she had no retainer clients. She had discovery call after discovery call and recalls hearing the line, "Oh we really loved you, but we went with someone else" often.
Feeling discouraged, Becca probably heard that 5 or 6 times in a row in one week. But did not let that stop her–she pushed harder to land a retainer client.
Then at the end of 2021, she landed her first retainer client! She says she didn't set boundaries so this client wasn't the best. However, in 2022 Becca did The Make Back Your Money Challenge and regularly put herself out there more. She even went through the course again to figure out where she could improve. Then something just clicked!
In January 2022 she landed a client with the challenge! She was going on maternity leave the next month and started just telling people about her business. Even though it was a little scary, she just started telling everyone she wasn't coming back next year to teach.
Becca just started landing clients after that well on her way to building a business while working full time. During her maternity leave, she landed 4 clients! She had surpassed her teaching income even before coming back from maternity leave.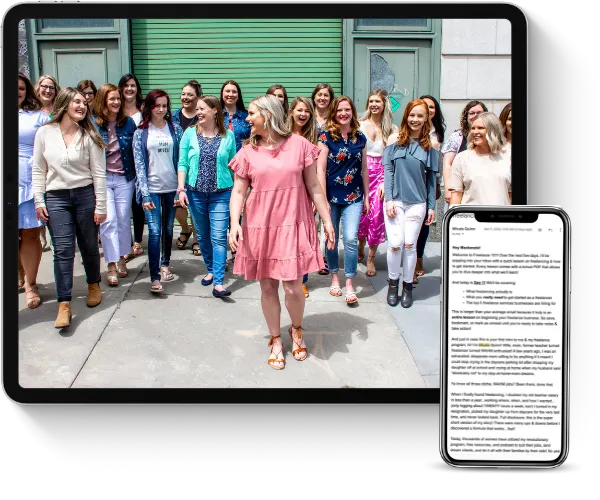 Learn how to earn $3K a month+ as a freelancer working less than 25 hours a week even if you think you have no experience.
This FREE crash course will teach you all about the freelance industry, so you can finally end the family vs. finances battle.
Client breakdown
April 2021 was when Becca launched the course. She did not land a retainer client until November in the fall.
Doing 1 off projects here and there, she was not yet making enough to leave teaching.
She dove in in January of 2022 and landed a big retainer client from the OTO job board. She was looking for a VA and had a lot of discovery calls, but when Becca started working with her she was doing more Facebook community management for her. Which the client didn't even know that she wanted help with.
The second client was a big retainer client that Becca still does VA work for. She helps with various tasks like podcast pitching, repurposing content for her Instagram account, and email marketing.
How Becca Started Building a Business While Working Full Time
Since Becca's 2-year-old was already going to daycare, she kept that the same. With a newborn at home, she was very motivated to get her business up and running. She had a home birth with her second daughter, and after 48 hours was feeling so great that she was already hopping on her computer to work. (Please note this is not a requirement to build a freelance business!)
She remembers her mindset being that she had a new baby and wanted to land more clients to stay home with her new baby.
She landed a second client when her daughter was 1 week old. She says that is one reason Becca loves working with other moms because they understand that you can work with a baby in your lap!
The rest of her clients were landed through networking on Facebook groups.
After landing these 4 clients Becca has surpassed her full-time income!
Hours Becca works building a business while working full time
Becca says as a teacher, with her master's degree, and in her district, she was making $3,400 per month, working full time. With her freelancing business, she brings home $4,000 per month, working about 20 hours a week.
As she has moved into social media management, she has raised prices. That has helped to bring her daughter home from preschool, and they plan to try homeschooling for the next school year.
Working as a social media manager, Becca works about 15 hours a week and brings in $4500-$5k a month.
Transitioning from Virtual Assistant to Social Media Management
Last fall, Becca decided she wanted to niche and move into social media management.
It was where her heart lies.
She recalls working as a virtual assistant she noticed that when clients would have her work on repurposing content or creating graphics for social media she was just more excited about that work. So, slowly she has started replacing clients that end contracts with her with new social media clients.
She still has 2 clients that she does virtual assistant work for and the rest are social media management clients.
She found those clients from Instagram networking and marketing. She posts from her business Instagram account to market her freelance business, learn tips and tricks, and stay up to date on current trends.
Balancing Home and Work
Becca says that she is currently working on balancing home and work and it's tough some days. She doesn't want to miss out on the time spent with her girls, and that is why she is bringing her oldest home. It's the whole reason she started this business.
There are days when she can be overwhelmed with a deadline, or the kids are screaming and sick that can be tough. On those days, she just reminds herself that she is doing this business so she can be home with them and not miss even those toughest days!
Future of Her Freelance Business
Even though Becca doesn't work full-time anymore, she still plans on building her freelance business. Hoping to take on a few team members to join her in her business and only plans on hiring through the Live Free Hire Form!
Want to follow along with Becca and her social media business? Connect with Becca @rebeccaelizabethllc on Instagram!
And just because Becca's story is over, doesn't mean the knowledge party has to stop! Come hang out and read other success stories with real mommas from The Live Free Academy here!
Are you new to the idea of freelancing, and wondering if you can build a business while working full time? You can! Check out The Live Free Academy program and all the free resources to help you learn all about kickstarting your journey today!