EPISODE 19: SHOW NOTES
This is one of my favorite topics!
Efficient and Effective Time Management — now if you are building your business on the side as a working mom or a SAHM or you are a WAHM with minimal daycare this is going to be an extremely beneficial episode for you!
Now, I am not professionally trained in productivity, and I do get distracted from time to time, but for the most part, when I am working, I am really good at managing my time to get #alltthethings done.
So I wanted to share my methods with you in today's episode!
**This post about how to build your freelance business on the side may contain affiliate links, which means if you click one of our affiliate links and decide to make a purchase, we receive a tiny commission from the seller at no additional cost to you. We only share products and services we have used, tested, and love ourselves!**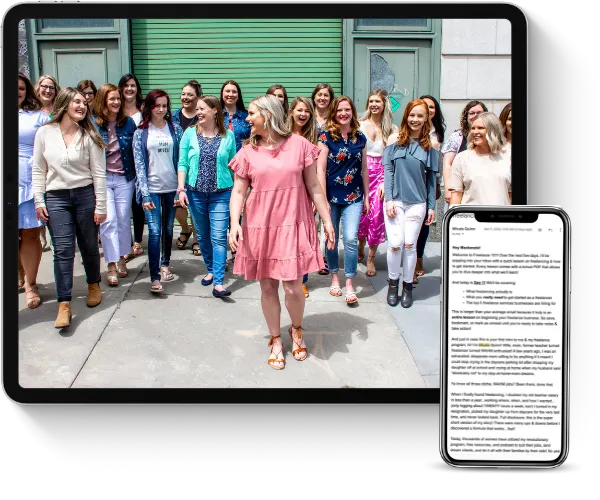 Learn how to earn $3K a month+ as a freelancer working less than 25 hours a week even if you think you have no experience.
This FREE crash course will teach you all about the freelance industry, so you can finally end the family vs. finances battle.
In this episode, we cover:
why you need a clear plan each day and week
my three musts for a productive week
Resources and links mentioned in this episode:
What now:
Try this system out. If it doesn't work, try a different system, but find a system and stick to it. Because winging it is stressful and not really effective.
If you need additional support, come reach out to the community in the Facebook group. Tell us your situation. And we'll all try to help you problem solve and/or other moms can share with you what works for them!
Lastly, if you need more support on what to do business-wise to build or grow your freelance business… come check out my program!