EPISODE 86: SHOW NOTES
Welcome to our first coaching call episode on the Live Free Podcast! We are talking to Genevieve Christianson about how to build your business while serving your current clients.
As the Overwhelmed to Overbooked community has grown to over 12,000 women, I wanted to find a way to continue building 1-on-1 relationships with you, get to know the business' you've created, and give back. That's why we decided to open up 1-on-1 coaching calls that will be recorded and shared on the podcast so the rest of us can learn from them too!
On this episode, Genevieve is looking for advice on how to build her new Virtual Assistant business while serving the two clients she has now. How much time does she spend on networking versus client work? How does she raise her rates? What should her goals be for 6 months from now?
We start by getting to know Genevieve's business and her current clients and then I give her a plan on how to grow her VA business and manage her time! If you have a new VA business, this episode is perfect for you!
I hope you love these new episodes! I'd love your feedback over on Instagram @Micala.Quinn or within the Live Free Podcast Mastermind fb group. Thanks for spending time with me today. I appreciate you!
**This post about how to build your business may contain affiliate links, which means if you click one of our affiliate links and decide to make a purchase, we receive a tiny commission from the seller at no additional cost to you. We only share products and services we have used, tested, and love ourselves!**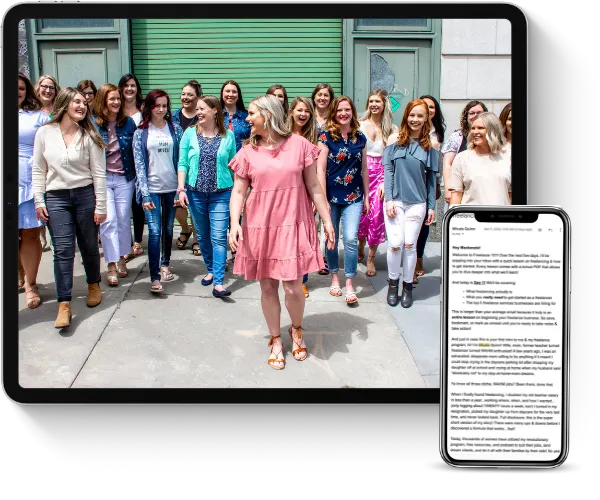 Learn how to earn $3K a month+ as a freelancer working less than 25 hours a week even if you think you have no experience.
This FREE crash course will teach you all about the freelance industry, so you can finally end the family vs. finances battle.
In this episode, we cover:
what Genevieve's business looks like now,
how she should build her business over the next 6 months, and
how to manage her time between growing your business and serving her current clients
Resources and links mentioned in this episode:
Connect with Genevieve on facebook!
Listen to episode 31 on the system I use to set goals
Check out episode 24 on how to manage your money with the Profit First mindset
Learn more about Sarah Noked's OBM certification here