This post about building your work from home business contains some affiliate links. If you click on one we receive a small compensation at no additional cost to you. But hey — we would only ever suggest products and software we love! And it also helps pay the bills so we can keep offering awesome content for you!  
Chances are if you landed on this post, you have heard me talking about the #freelife and how amazing it is to be at home with my kids and still make a full-time income.
Or maybe you posted somewhere about wanting to quit your job, but still needing to make money and you asked what are your options?
In my last post, I wrote about the different options for moms to make money from home based on my experience.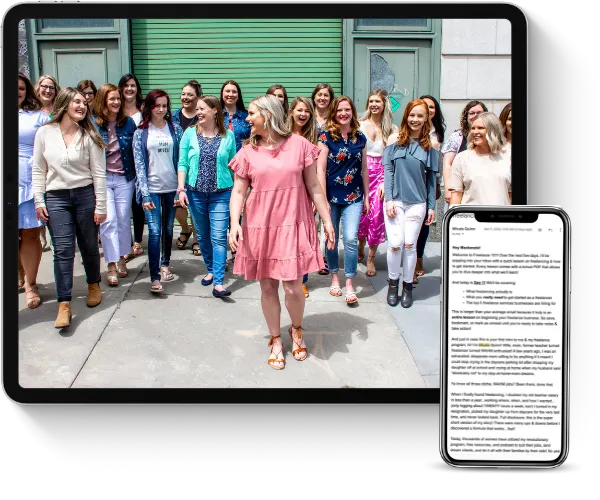 Learn how to earn $3K a month+ as a freelancer working less than 25 hours a week even if you think you have no experience.
This FREE crash course will teach you all about the freelance industry, so you can finally end the family vs. finances battle.
To save you some time… if you are short on it… the other options stink and the only one you need to worry about is freelancing! 
Freelancing in a nutshell — lots of businesses hire independent contractors to help run their business. You are either paid an hourly rate or have packages that potential clients can purchase. You can choose who to work with, how many clients you take on at a time, and what type of work you offer.
And the hourly rate is not too shabby depending on services and experience. Starting out hourly rate for an inexperienced virtual assistant (typical entry-level position) is around $20-$30 an hour.
It is the perfect option for moms looking for a side-hustle, but also for moms looking to replace their full-time income.
Without further adieu… here are the 5 essential steps to building your successful work from home freelance business
Step #1 — Understand what is involved when you choose to operate as a business owner, independent contractor, and entrepreneur.
First, it is not for everyone. Originally, I didn't even think it was for me.
It started as an ends to a means. I needed to make $900 to break even and maintain our lifestyle when I decided to quit my job.
But along the way, I fell in love with working, and this world of limitless possibilities that entrepreneurship provides.
So what is involved in being an entrepreneur?
There is a difference between running a business and just thinking you run a business or even just thinking about thinking about running a business.
It takes hard work. There are no guarantees and this isn't a job where you can just show up and slack off and still accept a pay-check at the end of the day. If you do not have a strong work ethic, freelancing may not work out for you.
It takes motivation. When you first start out, you will be putting a lot of effort and energy into building your business. There is no boss or annual review or fear of being fired to motivate you. It's just you.
It takes organization and time management. Especially if when you start out you are either still working a 9-5 or are home with kids a majority of the day. Both situations can very easily be done, but it takes extreme organization and sticking to a solid schedule. I am a lover of all things planners, routines, and checklists.
It takes having a strong support system. Whether it is your husband, best friend, sister, or someone else having support and feeling supported is crucial to your success. It is important to have friends and family on your side, but it is also important to have an online community that can celebrate your wins, share in your struggles, and collaborate with you.
If you are looking for an online community of moms who also freelance either full or part-time, check out my facebook group: The Live Free Mama Mastermind.
It also takes thick skin. Life as an entrepreneur and freelancer is a roller coaster ride. There are highs and lows. There are times you will be told no, there are times you will make a mistake, there are times you will get fired from a project, and there will be times when you will fire a client from a project. That's why the support system is so huge!
If you think you have what it takes, but are intimidated by the list above…
Just look at some of the benefits… They are worth it for sure
You can work when you want

You can work where you want

You can work how you want

You can work with who you want

You can work with what you want

You can avoid daycare costs

You can make a sizeable and sustainable income
 Step #2: Determine what services you will offer to potential clients and how much to charge.
This is huge. If you don't know what services you are offering, you don't have a business.
My advice is to focus on your current strengths and start with what you are good at.
If you are struggling to determine your strengths and what your services should be, I have an Ultimate Freelance Guide to help you determine what services you should start with.

When you select services, instead of trying to offer all of them, I would focus on just one.
Some common services to offer: Virtual Assistant, Social Media Management, Pinterest Management, Copywriting, Tech Assistance, Design, Sales Funnel Support, Digital Marketing.
Once you figure out your services, you need to determine how much to charge for your services. As a freelancer you determine your pricing and whether or not you want to charge hourly and/or by packages. I go over the pros and cons and how to structure your packages and pricing in my course.
Step #3: Identify your ideal client and create a brand that speaks to that specific client.
Branding does not have to be this super intense, crazy expensive process.
It can be.
And it can be helpful if you have the money to invest, but DIY branding is totally doable and a totally okay place to start.
Who is your ideal client?

What colors, words, images etc. will appeal to them? Create a mood board for inspiration.

Figure out WHERE they hang out. If they are not in facebook groups, then switch your efforts to somewhere else where they ARE hanging out.

Get consistent. Display the same images, colors, logos, fonts across your web presence and marketing materials.

The more specific the better.
Step #4: Find your clients and get paid
There are so many routes to take to find clients:
Facebook groups

Job source boards

Family and friend network

Local in person networking

Online and/or local cold pitching
Check out this post where I go in-depth on the pros and cons of the different routes to find clients.
Step #5: Develop effective business systems and procedures.
Here are some software recommendations that will make running your business more efficient and effective.
You need a tool to book calls and appointments with potential clients. Check out Acuity!
They make it super seamless and easy for potential clients to book calls with you. They send automatic reminders and links to both you and the client. Acuity has a free option, but as your business grows Acuity can grow with you and you can collect payment for strategy sessions with clients.
You need a tool to conduct client calls. Telephone is so impersonal. I highly recommend conducting video calls. Skype is an okay option, but an even better option (and still free) is Zoom. Check Zoom out here!
You need a tool to organize your business as well as your client's projects. Trello is my project management tool of choice. And again — guess what they have a free version! Check out Trello here.
Most importantly you need a tool to send contracts, proposals, collect invoices, track expenses and more! Check out And co. They have a totally free option and will make managing your business effective, seamless, and pain-free! Check them out here! 
And if you want to see and.co in action, check out this review from Lewis over at The Freelance Effect.
I hope this post was helpful and gives you the push you need to get out there and build your business! But from experience, I know that building, running, and growing a business looks so much easier on paper than it is in reality, so if you find yourself needing extra support, make sure you book a call with me.
I offer a free 15-minute consultation. We'll talk about your goals, what you are wanting, what you are struggling with, and how I can help you get from where you are to where you want to be!