EPISODE 106: SHOW NOTES
Have you heard the phrase, "Busy is not better?" Well in this episode I am chatting with Theresa Cifali on breaking the busy mindset. You know the one that says you have to be busy to be productive or successful?
Theresa is a recovering workaholic and Productivity Specialist and Coach. She built 4 successful businesses over the course of her 32-year entrepreneurial journey. It wasn't until her third business that she realized she had mistakenly classified "being busy" as a key performance indicator of owning a business.
On this episode, Theresa shares practical steps to get the most done in your business in a short period of time; just what us work at home mamas need! She shares her Perfect Hour Formula and walks us through the questions we should be asking before we plan each day.
Are you ready to eliminate the things that aren't needed and really focus on the tasks that will get you to your goals? I know I am!
**This post about how to break the busy mindset may contain affiliate links, which means if you click one of our affiliate links and decide to make a purchase, we receive a tiny commission from the seller at no additional cost to you. We only share products and services we have used, tested, and love ourselves!**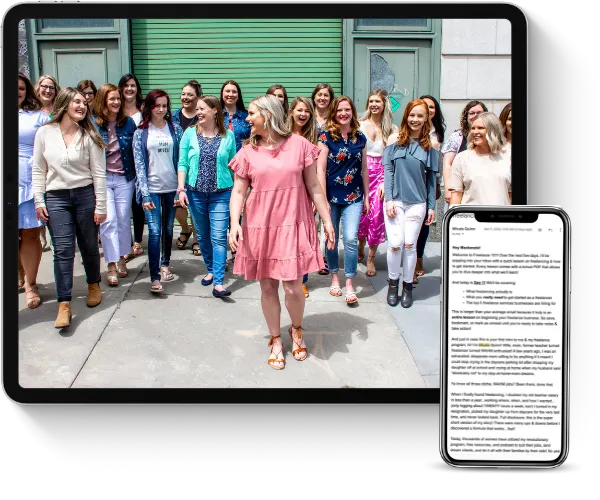 Learn how to earn $3K a month+ as a freelancer working less than 25 hours a week even if you think you have no experience.
This FREE crash course will teach you all about the freelance industry, so you can finally end the family vs. finances battle.
In this episode, we cover:
Three steps to break the busy mindset and get the most done in your business in a short period of time
Theresa's Perfect Hour Formula and how you can implement it into your business today, and
Questions we should be asking before we plan each day
Resources and links mentioned in this episode:
Don't miss last week's episode on how to set and maintain boundaries with clients!
Check out my free workshop on how I ditched my soul-sucking 9-5 and tripled my take home pay all while working less hours & on my terms as a freelancer + how you can too!