This post about the best option for moms to work at home may contain affiliate links, which means if you click one of our affiliate links and decide to make a purchase, we receive a tiny commision from the seller at no additional cost to you. We only share products and services we have used, tested, and love ourselves!
Episode 02: Show Notes
First of all, not all options are created equal… and just to be upfront… I am 100% biased towards the freelance option! But before I explain the world of freelancing… I wanted to just make sure you know about ALL your options when it comes to being a work at home mom.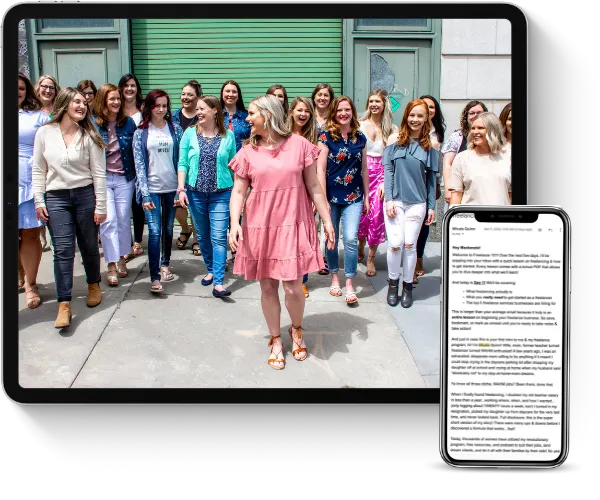 Learn how to earn $3K a month+ as a freelancer working less than 25 hours a week even if you think you have no experience.
This FREE crash course will teach you all about the freelance industry, so you can finally end the family vs. finances battle.
My journey to becoming a WAHM
It first begins with me searching "how to be a stay at home mom" while I was on my lunch break.
All I found in that search was learning how to budget and minimize your budget.
Tips like, sell one car, downsize your house, cut your grocery bill in half.
I did not want to be stuck at home all day with no car to get out and experience our city with my daughter. And I most definitely did not want to wake up, get my daughter in the car, drive 45 minutes one way just to drop my husband off at work to drive home hang out a couple of hours and then pack back up the car with my daughter to drive 45 minutes one way to pick him back up and then drive 45 more minutes home (but probably more like an hour because of traffic… thanks I35).
We just bought our house. It was a house we could grow into. And I distinctly remember my husband saying as we were house hunting… "if we buy this house you HAVE to work… you won't be able to stay home."
He knew me too well and knew that I wanted to be a SAHM.
But I really wanted that house, so I kept saying, "of course I love working"… when secretly I was plotting my way out of a job." And also my daughter wasn't born yet, and it wasn't until she was in my arms for that first time when I knew I could not go back to work.
Needless to say, we bought the house I wanted. And my husband was right. I HAD to keep working if we wanted to afford bills and food and fun.
I was mad.
And now the grocery bill. I am embarrassed at how much my family spends on food a month. I've tried everything. Meal planning. Online grocery shopping (which yes does help), but I am still spending an astronomical amount of money on food for a small family.
And we like to eat out.
I QUICKLY, BEGRUDGINGLY REALIZED THE SAHM LIFE WAS NOT IN MY CARDS. SO, I STARTED LOOKING FOR WORK AT HOME JOBS.
Here is what I found:
1. JOIN AN MLM.
Network marketing. Direct sales… SELL MARY KAY. SELL PLEXUS. SELL PAMPERED CHEF. SELL ANYTHING.
I know lots of moms are very successful in their MLM careers, but I have been tainted by a few of the bad ones. I constantly get random Instagram messages or Facebook messages of people offering me to join their team, a discount to try products, and one time someone even offered to help me lose my "baby weight." I did NOT want to be those people, so MLM was out for me.
2. SOME COMPANIES HIRE WORK FROM HOME POSITIONS.
MOSTLY FOR CUSTOMER SERVICE TYPE ROLES.
They call these "flex jobs." But they weren't that flexible. They wanted you to have a quiet environment (new baby doesn't exactly scream quiet environment) and be at your computer from 8-5. And they paid like $10 an hour. Nope. Not for me. Terrible option.
3. SOMEONE SUGGESTED I START A DAYCARE.
While I love kids and yes this would have gotten me home, I wanted to be at home with MY kids. I wanted to have the freedom to go to the park, go to the zoo, go to the museum, run to the gym. Not be locked in a house all day, outnumbered.
4. ANOTHER OPTION I FOUND WAS HANDMADE PRODUCTS AND SELLING ON ETSY.
This I tried. I started making and selling hair bows. Like really, really big ones. I was hopeful this was going to retire me from my day job. It didn't. It took a lot of time and you can't really sell bows for more than $10 a pop. My back ached. My fingers were burnt from the glue gun. So I slowly let this one go.
5. Drive for UBER or Amazon Flex.
I keep seeing this mentioned now in FB groups as an option for moms to work from home and make money.  These are decent jobs and I'm not knocking them if this is what you do… but I want you to know there is a better, safer option.
That 1. does not require you to leave your home and
2. Is safe! You don't have to drive around strange parts of the city, drive strangers, or deliver packages to strangers at random hours throughout the day.
Plus these jobs have a cap and are likely NOT going to retire you from your day job if you are making 3K+ a month.
And before I get into freelancing…
6. Become a blogger.
Blogging is a full-time job and can take months or years to see a ROI.
Blogging is a great option, and if this is the route you want to take, just know it takes a lot of upfront work, lots of hours, and takes lots of time to become profitable… If this is what you want, I would highly suggest you invest in a course or program to make that process faster!
If you are will still with me… and the bleakness of the options previously mentioned did not turn you away in terror… Good! Because I am about to tell you about the secret, hidden option for moms to make money at home.
However, none of these options were what I wanted…
The best option for moms to work at home, make a full-time income, and STILL be present for their kids is FREELANCING!
What is a freelancer?
A freelancer is basically someone who specializes in a specific skill set and helps other businesses grow their business. A freelancer is not an employee.
A freelancer does not work FOR someone, but with someone. A freelancer either works on a project basis or a monthly retainer. Some freelancers charge a flat fee per project, others charge hourly. It's your choice and your decision!
Your specialized skill set may be social media, design, tech, Pinterest, copywriting, bookkeeping or just saving them time and operating as a virtual assistant.
Who hires freelancers?
Corporations, small businesses, brick and mortars, and online businesses.
This is my specialty. Connecting freelancing moms with online businesses who are dying for help and support! Think lifestyle bloggers, mom bloggers, food bloggers, influencers, business coaches, parenting coaches, life coaches, career coaches, online therapists, podcasters, etsy businesses, direct sales ladies, product-based businesses, online boutiques, online course creators and the list goes on.
Just go to Pinterest and search for a topic… anything… you will be taken to a bunch of pins that all lead to a blog post, a product, or a website. If you click the link and go look at that website, chances are that link leads to an online business that has monetized their business in some way, and I BET they have a team of freelancers supporting them or are on the verge of starting to hire.
Why do they hire freelancers?
It takes a lot to run, grow, and scale a business. Just take a listen at this list of tasks an online business has to juggle at once:
Creating free content (blog posts, podcasts, youtube videos, SM posts, FB lives)
Creating paid content (courses, coaching programs, 1:1 clients)
Maintaining and running a website
Maintaining and running a FB account, an IG account, a linked-in account
Maintaining and running a Pinterest account
Responding to emails (customer service)
Creating sales funnels — designing the pages, writing the emails, doing the tech hook-up
Promoting the business
Running FB ad campaigns
Running Pinterest ad campaigns
Optimizing content for SEO
Producing a podcast
Creating products
Reaching out for podcast interviews, sponsorships, guest blog posts, collab opportunities
Daily admin tasks, answering client questions,
Client calls, or group calls,
Planning projects and launches
Most online business owners go into business in the first place because they want to spend more time with their family, have more freedom + flexibility, and more $, but running and maintaining a business, not to mention growing takes a lot of time and energy.
And most people don't want to do it all themselves!
Either some of the necessary tasks, they are just not good at, don't know how to do them, OR they don't want to work 20+ hours a day to make their dream happen.
I am the business owner who knows enough I could do it all on my own, but I don't want to and there are thousands, maybe millions of businesses out there like me and they ARE dying for your help.
Whether you have a specialized skill set or you can just help save them time! They need your help to grow. (We'll help figure out your skill set in a future episode if you are unsure yet where to start… so stay tuned!)
But the best part, they are willing to pay you for that help and your expertise!
How much can freelancers earn?
It all depends. Hourly rates may vary, but here is an average:
Beginner – $20-30
Intermediate – $30-45
Specialist – $45-70
Expert – 70+
It's going to depend on skill set and the type of work you are doing.
***Most freelancers charge a package price, but the hourly rate is used to determine that package. Also, as a freelancer, you can increase your prices whenever you want. You could start out around $30 an hour and in 6 months have doubled your hourly rate to $60+.
Conclusion
There are business out there that need your help and they are DYING to pay you for that help!
Ever hear someone say, "If I only had more time I could do __ (fill in the blank)…
Or maybe… "I don't know how to __…"
Or even… "I KNOW I SHOULD _, but I don't want to…"
Well in our mom life we outsource all the time: the deep clean, the lawn care, groceries delivered, babysitters… pet grooming… the list goes on!
And online business owners outsource too!
Even small-scale ones like me… and I want you to know that I could not do what I do without the support of my team. And ever other business that has a team relies on that team!
I have on my team someone who helps manage my Pinterest account. This saves me probably at least 5 hours a week from doing it my self. That is 5 hours of my week, I can instead create content… like this podcast… or my course… or work with clients.
I have on my team someone who helps manage my IG account (she helps me repurpose content, creates some graphics, schedule the posts and finds the right hashtags. She also helps me manage my Free FB group… Live Free, Mama Mastermind… making sure your questions get answered, you get added into the group, and helps make sure that people are not being rude or spammy. She saves me probably 10 hours a week!
I also have on my team someone who helps me manage PR opportunities and collaboration opportunities. Right now we are working on a very small level 4-5 hours a month, but if I did not have her on my team… this is something that would just not get done, but it is definitely something that needs to!
Lastly, the most recent LFM hire has been someone who helps manage and produce our podcast. I went into the idea of launching a podcast knowing that I did not want to learn or spend time managing the editing and the publishing of the podcast. This probably saves me at least 10 hours a week.
I have people on my team for a couple of reasons… 1. They have a skill I don't. 2. They help with all the things, so I can spend more time with my family 3. They help save me time so I can spend my team doing my favorite parts of running a business… creating content, answering questions, connecting with you all!
The help and support of my team of freelancers is what has allowed my business to grow without having to sacrifice time spent with family and getting major burn out from working 24/7.
What you offer is valuable and once you know this and believe this, you will find clients who know and believe this too!
Resources mentioned in this episode:
Episode 3: How to figure out what services you should offer