Hayley is a former teacher who taught 6th grade ELA for 6 years before she resigned to freelance full-time. She's showing us firsthand what her day as a former teacher turned freelancer is like plus the benefits she's seen with freelancing since she began!
Haley will also give us a peek at her new website where she is helping to connect former teachers to freelance jobs!
She took the virtual assistant training, Live Free Academy, in March of 2020 right before the pandemic happened. And says she's been on a journey ever since then!
Benefits of Freelancing
You can work with your children being around.
You can work from anywhere.
You can work anytime. In the morning before your kids get up, during naptime, or at night when they go to bed.
You set your schedule and working hours.
You learn new skills.
You can determine your own rates and when to give yourself a raise!
Morning with Haley
I start my day by getting the morning going by dropping my toddler off at school and making some breakfast for the baby.
Course notes
Before I start, I had to go digging, but found this from when I took the course!
I love paper and pencil, and writing things out. One of the great things about the course is that as you are watching the video modules, you can print out any of the worksheets or handouts that go along with it.
Because I'm a teacher, I had to print everything out and print it in my handy-dandy binder. I actually found it and want to show you some of the stuff I printed.
As you can see, there are activities that walk you through all the different steps like who you want to work with, how much you are going to charge, different strategies, and how to land clients.
So, whether you are a paper and pen gal like me you can print and put it in a binder or folder or there are digital versions where you can fill it out in your Google Doc and save those in your Drive!
Either way, there are plenty of resources to help you get started!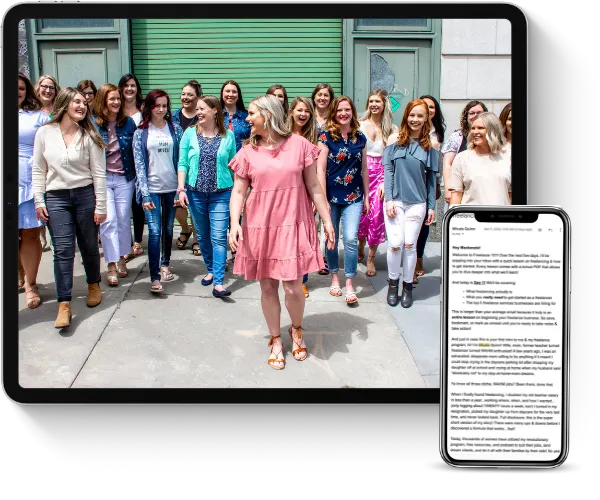 Learn how to earn $3K a month+ as a freelancer working less than 25 hours a week even if you think you have no experience.
This FREE crash course will teach you all about the freelance industry, so you can finally end the family vs. finances battle.
Spending the Morning Freelancing
I just wanted to show you guys where I get my work done. I used to have an office in our home, in the spare bedroom and it worked great!
Then when I had my second son earlier this year, I got kicked out because we needed to use it as a nursery.
So, I currently get all of my work done at the kitchen table!
I did bring my desk out here, I have a little corner spot in our kitchen where I have my extra monitor set up and my standing desk.
But I honestly just like to work at the table because it is comfy and there is plenty of space to spread out.
Freelance Benefit #1: Work anywhere
That's the beauty of this though, one of the benefits of freelancing is that you can work anywhere you have a computer and reliable internet.
I could work from my couch next to my children. I go to Starbucks sometimes, and in the car if my little one is still napping.
The possibilities are endless really!
Schedule
Here's a little screenshot of the schedule for today:
Outfit change
I did a quick wardrobe change because I am in Florida, and it is this time of year when it is cold in the morning then it warms up.
You have to wear a sweater in the morning, then you take it off. I never know what to wear or how to dress my child! Is he going to be too hot in pants? Is he going to be too cold in shorts?
Does he need a sweatshirt? So here we are–a wardrobe change!
Morning work
We are just getting ready for our team meeting to start.
Since it's a beautiful day, I've opened up that door and we will try to make our way outside to work in a little bit, but for the team meeting, I want to have my extra monitor.
Team Meeting Work
Lunchtime
I'm sitting outside for lunch because it's gorgeous today!
But this weather here in Florida has been insane, it goes from freezing cold one day to cloudy and rainy, to beautiful warm temperatures.
Freelance Benefit #2: Decide when you work
Speaking about locations, I know that Micala is in Kansas and so is a lot of her team, but some are in Georgia and elsewhere. But that is another one of the benefits of freelancing!
You can work for any business, anywhere!
I've had clients that work in Texas, Oklahoma, Tennessee, and California.
And while some clients prefer you to be in the same timezone as them, a lot really don't have a preference as long as you get your work done when it's due.
A lot of my clients are in Central Time, but I'm in the Eastern time zone, and it doesn't usually make a difference unless there is a team meeting.
When I did work with the client in California, it was a little difficult because the time zones were so different, and she wanted to have a lot of team meetings. Honestly, most clients don't have a preference though.
Freelance work-from-home mom tip
One tip I learned early on in my transition from the classroom to working from home, and especially after having my baby home with me this year, is to do the mindless tasks while he's awake.
I was used to working at home by myself before he was here. Now when he's awake I'll do things like checking support inbox, replying to Q&A, or stuff like that.
Anything I really need to focus on, I do in the morning before he wakes up or during naptime.
Tasks
As I've said, I work for TPT (Teachers Pay Teachers) sellers. When I first started I was doing a little bit of everything. Copywriting stuff like writing blogs, weekly email newsletters, social media writing the posts, captions, and planning in the images.
Since I was a former ELA teacher, the writing stuff came easy to me. But as I've been doing this for almost 3 years now, I've transitioned my skills into an Online Business Manager.
So now I help my clients hire team members like VAs, blog writers, social media managers, and Pinterest managers.
I've done a lot of content planning where we take the client's resources and different things like sales that are going on in their business and plan out quarters.
One thing I'm also transitioning to in my business is to help teachers learn more about the TPT space they want to do on the VA side of things.  Check out my new website: www.HayleyKlees.com.
Freelance Benefit #3: Learn new skills
One other benefit of freelancing, the nice thing about working as a freelancer, is that the longer you do this you learn new skills. And you can promote yourself.
As a teacher in my district, promotions were not really a thing. Our pay scale went up every so often. I think we got 1 raise the entire time I was teaching in my 6 years. So what is nice with freelancing is that you can set your own pay, and give yourself a raise.
Tasks You Do As a TPT VA
I want to show you if you are interested in working for a TPT seller, some of the tasks you can do for them.
Here's the TPT website, with the resources listed.
On TPT, you will see these cover images and the preview images. You as a VA, can help sellers make these images. Sometimes they will make them in PowerPoint or Canva.
A lot of teacher sellers will hire out this type of work to have this preview created for them so they can do other things in the business.
Or you can work on descriptions.
Things you can be hired for to help TPT sellers:
Descriptions
Previews
Covers
Thumbnails
These sellers though, sometimes have hundreds of resources to manage in their shop and need help with the little and big things. So if you are a teacher, this is the perfect way to start a freelance career because you are already familiar with TPT!
TPT sellers also sell these resources on their personal websites, and they sometimes have courses they sell.
Q&A
Q: How many clients do you have? Are you matching or exceeding your teacher's salary?
A: I've had up to 5 clients at a time and yes I've exceeded my teaching salary!
The great thing if you are a teacher or a former teacher, even if you're not a teacher, is that there are so many transferable skills you have from the classroom or your job in general. If you are a realtor or a nurse, there are so many things you do day in and day out that you don't realize that transfer so well to working online.
That could be customer support, or creating things using programs. As an educator, we used to use PowerPoint all the time. There is GoogleDrive and different platforms that I was already using just in a different way.
So being able to transfer that to having my own business, making my own hours, and setting my own pay has been amazing for my family!
I know as a former classroom teacher, that this whole online business world was totally a new thing to me. I love being able to have the  Live Free Academy course walk me through all of those steps!
Sure you could DIY it, sure you could try to figure it out on your own, but the great thing about the course is that Micala gives you everything you need to know to set it up. From discovery calls to setting up your portfolio, to what you want to offer, to how much you need to charge, where to find clients, and how to scale. It's just really nice having that guide there!
Because all I was used to was the classroom, my mind was blown, that there is so much online that you can do for business owners when you are a freelancer, and so many benefits of freelancing!