Today, I want to share more about the best way to work from home – become a virtual assistant! You will learn if this is the best freelance service for you by learning about the virtual assistant job description, what tasks virtual assistants do for their clients, and more.
If you have thought about freelancing, but haven't gotten started yet this blog post is for you!
Maybe you haven't decided on what service to offer or you kind of have an idea, but just want to learn more about what it means to be a virtual assistant! If this is you sitting there thinking, "I don't have a service to offer", you just need to see more tangibly what it looks like and what it means to be a virtual assistant!
What is the Role of a Virtual Assistant?
A virtual assistant is a jack-of-all-trades person. When you become a virtual assistant your job is to come in and help with all of the random tasks.
Those may be recurring tasks (things that need to happen every Monday, Wednesday, Friday, or every week or month) or one-off projects.
All the things that need to get done, but can take up a lot of time–a virtual assistant will come in and help with those tasks.
A virtual assistant's role is to help with what needs to get done!
Virtual assistant job description
The virtual assistant job description and role is going to look different with each client because every business is different. Every business needs different things and the team is going to be made up of different people, so what you do as a virtual assistant for one client will be different than other clients.
Some things will be similar from client to client, and some of the main things you might take over as a virtual assistant are:
Email inbox management
Customer service
Technology problems
Managing customer orders
Organizing google drives
Data entry like recording KPIs
Scheduling social media posts
Research projects
Making social media graphics
Making slides
Taking a Google doc and turning it into a beautiful branded PDF document in Canva.
How do you know what to do as a virtual assistant?
When you are a beginner, you may wonder how you are supposed to know or learn what to do for a virtual assistant client. In most cases, the client will tell you what they need help with.
Most of the time there will be an SOP (standard operating procedures) in the form of Google Doc instructions or a recorded video that teaches you how to perform the task they are asking you to help with.
How to Work In a Virtual Assistant Role with Clients
Virtual assistant packages
Clients will buy packages of hours when you become a virtual assistant. One of the best perks of the virtual assistant job (besides working from home) is that it's a package of hours that is recurring every month. So, this client you land once and continue to work with them month after month.
So, you have a set package of hours to sell as a virtual assistant.
The client pays for the hours upfront before you start working with them.
This cycle continues until one or both of you decide to stop working together.
Virtual assistant rates
Beginner rates for a virtual assistant job start at $25 per hour and max out around $40 for administrative work.
Steps to Become a Virtual Assistant and Work with Clients
You set packages based on your hourly rate and, the number of hours available to work.
You and the client agree to work together and agree on a set number of hours of support per month.
The client shares with you the tasks they need help with, and the timeline or due dates they need them completed by. (This is usually through some type of project management software like

Trello

or Asana.)
This is how you know what to do when working for clients as a virtual assistant. Now, if that sounds like something you want to do and are not sure where to start check out The Live Free Academy. It's a virtual assistant tutorial that has everything you need step-by-step to get started and begin working as a virtual assistant!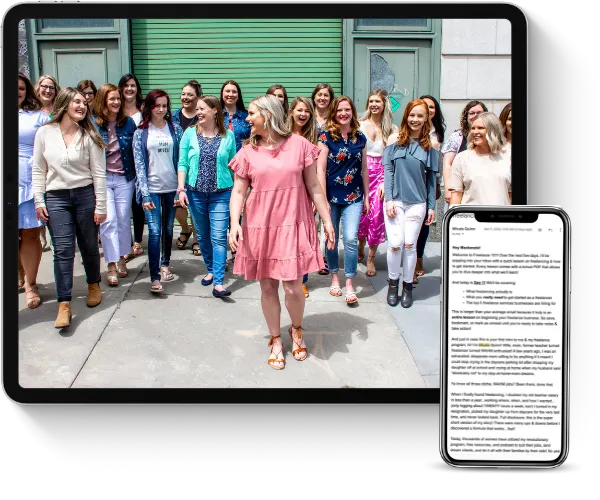 Learn how to earn $3K a month+ as a freelancer working less than 25 hours a week even if you think you have no experience.
This FREE crash course will teach you all about the freelance industry, so you can finally end the family vs. finances battle.
2 Ways to Become a Virtual Assistant
As you think about starting to work in a virtual assistant job from home, you may wonder, "How can I land a client as a beginner with no experience?"
It's easy to look at people in the program or who have been doing this for 1-2 years and see them land their 5 clients, then think, "I can't compete with that."
However, it's important to know there is room for all of us in the freelance space! And that person you are comparing yourself to, started where you are at.
Also, remember that some business owners prefer to hire beginners for a few reasons.
Beginners are easier to train.
Beginners have lower rates for business owners with smaller budgets.
Business owners will want to work with you because of the skills and personality you bring to the job, not because of how experienced you are!
1. Get experience in the virtual assistant role with Testomonial Work
If you are someone who wants a little bit more experience so that maybe you have more confidence in talking about it when trying to land virtual assistant clients, you can do testimonial work.
Check out my Instagram, where every Sunday I share a Swap It Sunday post. Here is where you can connect with other members of the LFA community to get some free work experience in exchange for a testimonial. You will get a little bit of work experience and a testimonial to add to your portfolio!
When you do this type of work, it's a great way to get some experience in a low-pressure environment, because these business owners know that you are a beginner and are going to have questions.
2. Gain work experience with skills training
Another way to gain experience and learn is through the skills training in the Live Free Academy. In the program, I provide skills training tutorials for the most common virtual assistant tasks.
This includes:
Virtual assistance
Social media management
Social media scheduling
Pinterest Scheduling
Copywriting
Blog post management
Podcast Editing
These give you another opportunity to learn before you put yourself out there to start working with and landing clients!
Are you ready to become a virtual assistant and work from home? If you are ready to get started and ready to do this, but just don't know where or what. Stop overthinking and get started today. Make the decision to become a virtual assistant and the rest will follow.
One of the first steps in my program is determining what service to offer. Sign up today!