Want to become a Pinterest manager? Here are 5 simple steps to selling your freelance services and niching as a Pinterest manager.
Learn Pinterest for business.
Practice your skills.
Create a portfolio.
Network to potential clients.
Market your Pinterest services.
Pinterest Background
Pinterest started in 2010 as a social media networking site. It began as an app to replace paper catalogs, called Tote, which struggled with users because of the lack of in-app mobile payment options. (Technology was not advanced enough for enabling in-app purchases then). However, users were saving and sharing large collections of items that were favorites. The creators of Tote noticed this behavior, and so Pinterest was formed. Since then Pinterest has transformed into the visual search engine it's known as today.
Pinterest has become a great way for small and large businesses to reach their audience base. It provides a platform for them to show users their products or services, and is helping many small businesses to grow by bringing traffic to their websites and blogs!
When small businesses grow, it creates opportunities for those business owners to outsource the work to Pinterest managers!
Pinterest and How it Works
Sitting at the cross-hairs between social media and search engine sits Pinterest. It's easiest to understand it by breaking it into 3 main parts.
It's an app where users can save and share content.
Pinterest has social media attributes built-in with network-building features like following, commenting, and liking Pins.
It's a visual search engine.
How To Become A Pinterest Manager
1. Learn Pinterest for business
By learning Pinterest, I don't just mean learning the platform. Using Pinterest for business and promoting content to it, is VERY different than for personal use. The first step to becoming a Pinterest manager is to learn Pinterest for business. You may choose to take a course or find a free tutorial on the internet.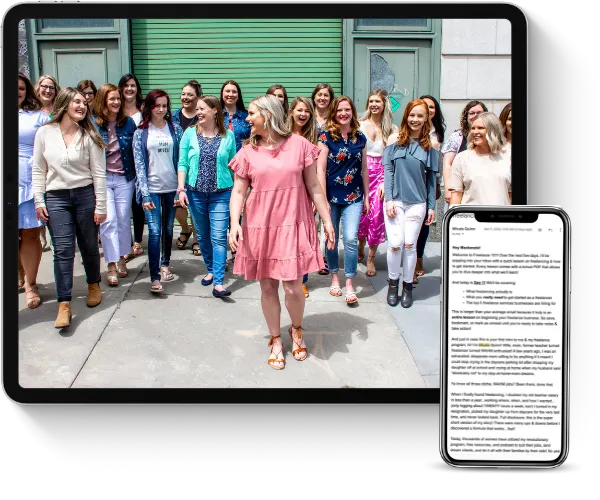 Learn how to earn $3K a month+ as a freelancer working less than 25 hours a week even if you think you have no experience.
This FREE crash course will teach you all about the freelance industry, so you can finally end the family vs. finances battle.
A good course will teach you the basics like:
How to create a business profile and convert a personal to a business profile
How to optimize a business profile
Enable rich pins
Write SEO, Pinterest-friendly Pin headers and descriptions
Create Pinterest-worthy images
Create Pinterest boards
How to find group boards, and how to reach out to group board owners
What metrics you should track and how to report on them
2. Practice, practice, practice
When you are learning how to do Pinterest, don't do work for free to get experience!
Trade small services for a testimonial when you are learning and want experience. You can find other business owners who are excited to work with beginners, and who will trade services for testimonials on the Swap it Sunday thread in The Live Free Academy Facebook group!
If you are not ready to reach out to other business owners, you can also set up your own test account on Pinterest. You will build up the account and manage the analytics yourself.
Either route you take, you'll want to use the results to show potential clients what you can do for them.
3. Create a portfolio
If you are currently working as a virtual assistant and want to become a Pinterest manager, then you'll want to create a Pinterest package in the services section of your portfolio. Replace this package or service offering with some services you currently offer that you no longer enjoy.
A package example could include board creation (be sure to set a number to the boards you will create), a set number of pins per board with board covers, keyword-rich board titles, keyword-rich descriptions, an optimized Pinterest profile, and a meeting to discuss analytics each month.
Be sure to include the test work and testimonial work you did in step 2 in your profile so you have proof you can run a potential client's account!
4. Network and reach out to potential clients
When you're ready to become a Pinterest manager you'll need to find clients to work with. You can go about finding clients in several ways including cold outreach, referrals, or networking through Facebook groups.
To go the cold pitch route, you'll first gather information and research potential companies that you can help. Dig through their site and see if they have good content that you think would do well on Pinterest. Then check to see if they are already on Pinterest. If they are already on Pinterest, are they consistent with it? Do you see opportunities on their Pins that they could benefit from your services? Read more on cold pitching in this blog post!
If you are not into the cold pitch method, you can always ask current and previous clients if they would refer you to anyone they know that could benefit from your Pinterest services. There are many businesses whose only or main marketing strategy is through referrals.
One of our favorite ways to find clients around the Live Free Academy is through networking in Facebook groups.
Listen to this podcast for more information on finding and networking with clients.
5. Market yourself to become a Pinterest manager
Marketing your services as a Pinterest manager doesn't mean you have to be salesy or cringy in selling your services. You can do it subtly and confidently by building a brand presence in the Pinterest space.
To do that, start offering value to others by being a source of trustworthy information. You can do that by simply answering others' questions in Facebook groups when you are networking. You can also do that by creating a website, blog, or social media presence that is centered around these services but offers value to others seeking information about running Pinterest.
Positioning yourself as a leader and source of trustworthy information as a Pinterest guru will help you to build a loyal audience who will in the future want to buy your services and trust you to manage their accounts.
Parts of Pinterest You Should Know To Be A Pinterest Manager
If you want to become a Pinterest manager, you should those these parts of Pinterest.
Creating content
Creating content isn't enough in this golden age of information. It's not enough to just create content for the sake of creating content. You need to create helpful content for real people. Content that people are interested in, and want to read more than any of the other 10 articles competing for views.
Scheduling tools
Using scheduling tools or apps like Tailwind lets you create batches of content ahead of time and schedule them to post periodically. Creating batch content is a great way to fit more work into less time.
Setting Marketing objectives
Learning marketing objectives will give you a leg up on the competition. Start by learning your client's marketing objectives, then plan your content and pins accordingly.
Write SEO, Pinterest-friendly Pin headers and descriptions
Learning about keywords and SEO will help you tremendously! Learning which keywords work well on Pinterest and which have low competition will help the content you manage to be seen by more people. More people = more views= more traffic.
Enable rich pins
Rich pins give data to the search engine that helps your content to rank from a keyword search. Being able to activate or enable rich pins will be important to SEO on Pinterest.
Create Pinterest-worthy images
Because Pinterest is not just a search engine, but a visual search engine, you will need intriguing images that draw the attention of your audience and stand out among all the other Pins.
Create Pinterest boards
Creating boards is a great way to keep content organized and themed on a Pinterest account. To create a board click the + "Create a board" button, then title it appropriately, and start Pinning to it.
How to find group boards, and how to reach out to group board owners
Getting your Pins in front of more people is the name of the game on Pinterest. And joining group boards is one way to do that. Joining group boards will help get your Pins in front of new people, and will help you to connect with others in your niche.
The metrics you should track and how to report on them
Looking at metrics like clicks, follows, and engagement rates can help you to track analytics for the accounts you manage. Using these metrics you'll tailor your marketing plans, Pins, and content when you become a Pinterest manager.
FAQ
What does a Pinterest manager do?
A Pinterest manager runs a business's Pinterest account. It could be for a small business that sells products or services, or for a blogger.
A Pinterest manager's main job is to use Pinterest to drive traffic to their client's site.
Services a Pinterest manager can offer
Services a Pinterest manager can do:
Pin design
Keyword research
Copywriting
Account creation
Creating boards
Monitoring analytics
Managing and responding to comments
How much can you earn as a Pinterest manager?
The amount of money you can earn when you become a Pinterest manager can depend on many factors. Factors like your expertise, your clientele, and what rates you are comfortable charging are a few of the variables.
For more guidance on setting your rates as a freelancer, check out this guide!
Some basic numbers that Pinterest managers charge begin around $25-$30 an hour. Advancing rates can be anywhere from $35-$50, and experts in Pinterest management services can charge $60+.