Are you wondering what it's like to have flexibility at work? Maybe you see other moms with flexible work-from-home jobs, and it makes you wonder how they are doing it? What is the secret to having flexible work? The answer is freelancing!
Freelancing allows you to work on a flexible schedule, and from home! Keep reading to see how you can get freedom and flexibility with freelancing, plus a bonus benefit.
Definition and Examples of Freedom and Flexibility
Freedom and flexibility in the workplace are defined by the ability of the employee to choose how they work.
That could include things like what tasks they work on, where they work, how much they work, and when they work.
So, what does having the freedom and flexibility in your work look like? The answer to this question varies because no two situations working from home are going to look the same. Which is the amazing thing about freelancing! You get to decide where you want to work. So, maybe that is on your couch in your pajamas. Or it could be in the playroom where your kids can play while you work.
Freelancing gives you the freedom to work when you want. It also allows you to work as many hours as you want. You can work a few hours here when the kids are sleeping, and a few hours there when they are having quiet time. Working in these little blocks of time can add up fast, allowing you to get a good chunk of work each day you choose to work.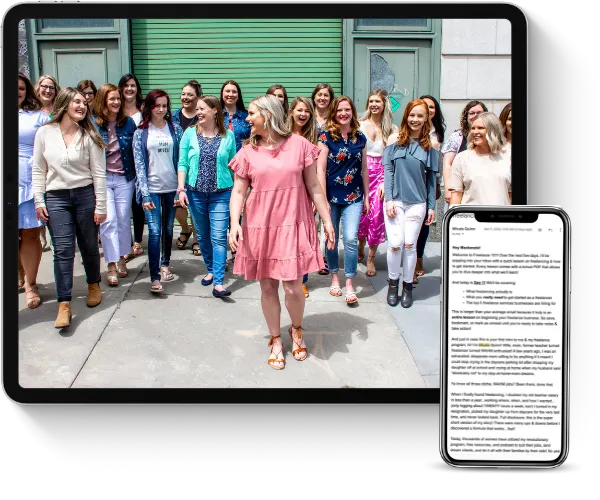 Learn how to earn $3K a month+ as a freelancer working less than 25 hours a week even if you think you have no experience.
This FREE crash course will teach you all about the freelance industry, so you can finally end the family vs. finances battle.
Work From Home Freelance Jobs that give you Flexibility
So, what kinds of jobs can you do from home that allows you to have this freedom and flexibility so desired by work from home moms that are freelancing?
If you are new to freelancing, you can learn more about What Freelancing Is and common questions we get about freelancing here. Some of the most popular ones are virtual assisting, social media managing, and podcast managing. Those are just three of the unlimited choices out there, though.
Freelancing offers a lot of solutions for moms who are looking for flexible work-from-home jobs.
If you are wondering, "what services could I offer, I don't have any training in freelancing?" You can freelance without formal training, degrees, or certificates. You can get started today as a virtual assistant, by offering services to online businesses that need help with running things daily.
There are so many choices when it comes to freelancing that will allow you to use your specific skills and background to leverage a flexible freelance job that business owners need help with. In the 7 Legitimate Work From Home Jobs for Moms blog, we covered 7 of the most common freelance jobs that are taking off right now. Want more? They are also covered more in-depth in the Work From Home Jobs for Moms series where we covered what each position does, the earning potential, and more.
However, there is no limit to the ways you can use freelancing to work from home. The women in the Live Free Academy have used their specific backgrounds to create a service that helps very specific clients in their niches. And you can do the same! By downloading the free Launch Fast Crash Course resource on MicalaQuinn.com. When you fill out the workbook, you will be brainstorming ways your specific skills and experience can help other businesses.
The Bonus Benefit of Freelancing: Freedom of Income
When you start freelancing, you should ask yourself, "how much money do I need or want to make each month?"
As a freelancer, you get to call the shots on the income that you make. You determine how much money you work for by determining your income goals. You can make it work with freelancing whether you are looking for a little extra fun money for vacations, or need to replace your full-time 6-figure income. It's all possible with freelancing!
First, you'll determine your services as we discussed above. Then based on the services and experience you have, you can determine your rates. And depending on your income goals, you can figure out how many clients you need to onboard to make your income goals a reality.
Now, as you gain more experience and confidence in your services, you'll be able to onboard clients for more money with each new client and project. That will allow you to eventually take on fewer clients while making more money.
The best part about the income of freelancing, though, is that you get to determine when you get a raise. You can charge each new client more money because you have gained new skills with each project that you complete. So, there's no more waiting for a yearly 3% raise like in a traditional job.
Are You Ready to Start Freelancing?
Freelancing is taking off right now, and it's no wonder why. Moms like you are using the skills they already have to create a life they love. It allows you to work from home on your schedule and your terms.
So, are you ready to make a change?
Are you ready to work when and how you want with freelancing?
Get started today with the Live Free Academy training. It will teach you how to start so that you can live a life of freedom and flexibility!