VIP days are 1 way women are making money from home! By making a VIP day a part of their business structure, freelancers who have walked away from corporate make the same or more money than at their previous full-time jobs!
So, what exactly is a VIP day? How can you make it work in your business? Learn more about offering vip days and how they can replace monthly retainers or be an add-on so you can add more clients and more revenue in less time.
What is a VIP Day?
A VIP day is a service offering that is done within 24 hours. It consists of clients reserving your time and undevoted attention to get a service or project finished in 1 day.
Some examples include creating a website, building a sales pitch, or a client management system in 1 day.
It can also be called an intensive.
How long does a VIP day take?
Generally, the work is performed within a 4-8 hour period, though some service providers put in extra hours to tie up the odds and ends in a pretty package for clients.
Pricing for a VIP day
These services or packages are an investment for clients because they get implementation and strategy. So carefully consider what you want to charge.
The package can include a lot of deliverables that would normally be in a month-long service package. Or it can be a simple, like an account setup.
In the day rate model:
You are selling your time and devoted attention.
You are solving a client's problem.
You are doing all this in 1 day.
Allowing the VIP client to pay extra to skip the waitlist and get a service done in a day.
Essentially, it works like a FastPass!
The VIP day price can range from 3, 4, and even 5-figures!
Services
You can use any service to offer VIP days.
VIP copywriting, design like designing a website, or creating a month's worth of social media graphics in a day are examples. You can leverage almost any service into a VIP day!
Qualifier offer
Many freelancers offer this intensive service as a qualifier offer. So, if you have launch strategy + management services in your business. You could offer the launch strategy in the intensive, then upsell them into the management side on the backend.
Why Clients Want VIP Days
Clients looking for this service usually want to pay extra to wait less time in line for the service. It's probably not clients just starting their business, but there may be some.
Most will be established businesses that want to add on a service like a podcast or a website and want to add something to their business. Plus, they will have the money to pay the higher price for the intensive.
Offering VIP Days as a Beginner
You do not need to be an experienced freelancer to start offering VIP days!
You only need to get aligned with your services, who you want to help (your ideal client), and how you can help them! After you get clear on these things you can set up your virtual assistant business.
For example, if you are a bookkeeper and want to offer a VIP day, a great alignment service would be to do an account setup.
What makes the most successful offers?
The best VIP offers and most successful freelancers with this offering are 2 things:
1. Able to explain the day in 1 sentence.
2. Able to make it clear on the value it brings.
Are you ready to replace your full-time income by working part-time hours from home? It's possible with a freelancing business! Work on your terms with retainer clients, VIP days, or a mix of both. How fast could you make your full-time salary with just a handful of clients? Could you surpass your corporate salary by offering VIP days?
Fast-track your success and start landing clients with my course The Live Free Academy, where I teach you step-by-step how to start your business, get clear on your services, and land clients ASAP. Sign up for the next free training here!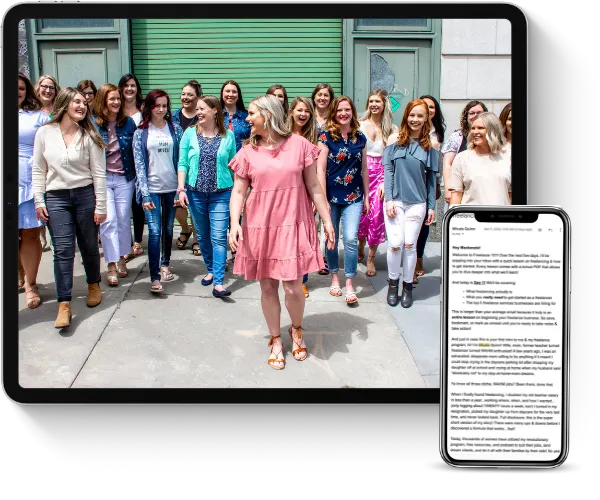 Learn how to earn $3K a month+ as a freelancer working less than 25 hours a week even if you think you have no experience.
This FREE crash course will teach you all about the freelance industry, so you can finally end the family vs. finances battle.