Remote work and working from home often are used to describe the same thing. However, they are very different, especially for a mom looking to be home with her kids and work at the same time. Do you know the difference?
We are discussing what it is like to do remote work versus 9-5 work-from-home jobs, plus the differences between the two.
What is Remote Work?
Working remotely can be defined very broadly in that it can be working from anywhere that is not in a traditional office. So, you could be working from your home, a doctor's appointment, or the park.
Working remotely also means you can work on your terms. So, you make the rules to determine which hours and how many hours you work, what your rates are, and who you work with.
What is Working From Home 9-5?
When working from home 9-5, you are a full or part-time employee and contracted to work specific hours. Generally, those hours are designated for you to work and be available for questions between 9 AM to 5 PM.
You can do your work remotely from your home or anywhere with a secure internet connection.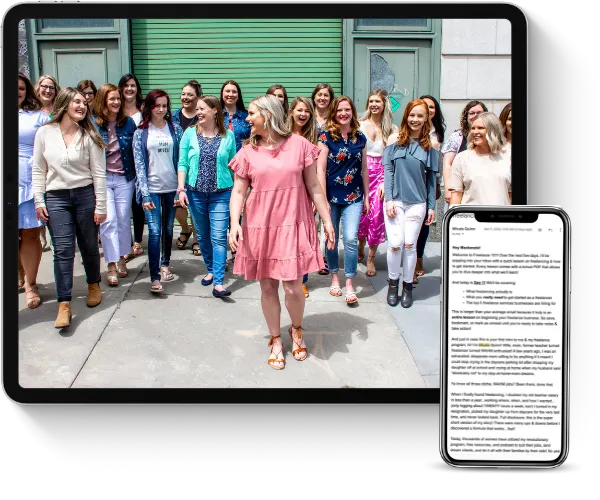 Learn how to earn $3K a month+ as a freelancer working less than 25 hours a week even if you think you have no experience.
This FREE crash course will teach you all about the freelance industry, so you can finally end the family vs. finances battle.
What are the Differences Between Remote Work vs. Working from Home 9-5?
Working remotely you are the owner of your business and able to set your terms versus working from home 9-5 and working on the company terms.
This means there are a few main differences…
Employee vs. Owning Your Own Business
The Time and Place in Which You Work
Setting Your Goals & Work Pace
Job Security
Determining How Much & When You Get a Pay Raise
1. Employee vs. Owning Your Own Business
As we discussed in the definitions, the benefit of working from home as a remote worker is owning your own business. There are differences in the hiring processes to set your own business and personal goals and all the details in between.
When you own your own business, you are calling all the shots.
When you are an employee, you work on the projects and goals of the company you work for. And, you work within the constructed parameters of your hired job description set forth by your boss.
2. Time and Workplace
As a full-time employee, you are contracted to work at a scheduled time during the workday and workweek. Usually, that is between Monday through Friday, 9 AM to 5 PM.
As a business owner working remotely, you work when it fits in your schedule. So, if you want to work when your kids are asleep, you could do 2 hours in the morning, 2 hours at naptime, and 2 hours after everyone goes to bed. You could work Monday through Wednesday, or if it works better for you, you can work on Saturday and Sunday.
3. Set Your Business and Personal Goals and Pace
When freelancing as a remote worker, you set your own goals. Which can be both your personal goals and the goals for your business. So, if there is a part of a project that doesn't align with your business's goals and mission, or the services you offer, then you can negotiate with a potential client to ensure that is not in your contract.
You are also free to determine the amount of work you take on according to the amount of time you have to give to your business.
As a full-time employee working from home, you are given projects by upper management and expected to carry out tasks as desired by the company. These should be in the realm of your job description. But let's face it, in the corporate world we are often asked to perform work tasks outside of our job descriptions and take on extra hours as salaried full-time employees.
4. Job Security
A lot of people think that working as a full-time employee from home is going to be more secure than freelancing. And while I can see how many people think that because it's providing a steady weekly or bi-weekly paycheck. The reality is that most companies are at-will employers, and can terminate employment as easily as they began your employment. Leaving you in a lurch to find a new full-time "steady" paycheck as quickly as possible.
By working remotely, you are not putting all your eggs in one basket per se. You are diversifying your income. So, if one client terminates a contract with you or when the project ends, you can keep your steady income with other clients as you take on a new client.
Want a bonus? When a client project or contract ends, that becomes an opportunity to make more money with the skills you obtained working with them as you bring on a new client in their place.
5. Earning Potential
Working from home 9-5 as a salaried or full-time employee provides you with a steady, yearly salary. It's typically set when you are hired and capped at a specific number. You can earn a yearly bonus or pay raise if the management team determines you earned it.
With working remotely from home, in your business, your income is never capped! You are paid for the value you provide your clients. You can show your value through many different paths. It could be that you are saving them time on the administrative tasks of running the business that allows them to focus on obtaining more customers. Or driving more traffic to their site through specific skills they don't have time to learn about. Whatever it is, the value you provide is what gets you paid. And the more skills and experience you obtain, the more potential earnings you can make!
Conclusion: Remote Work vs. 9-5 Work From Home
In conclusion, you have to determine what is best for you, your family, and your unique situation. Are you ready to transition your work to remote work? Learn more about what positions are taking off right now in the remote freelance world.
Ready to jump in and learn how to start a remote work business of your own? Check out the Live Free Academy, which will teach you how to start your business, determine the skills you already have to provide value to clients, and start earning money as a remote worker today!