After researching the Q&A: Sending Virtual Assistant Contracts to a Clients blog post, where we put together a process for creating contracts, we wanted to talk a little more about the apps for creating contracts for clients. And the options available for those apps.
So, in this post, we are diving deep into some of the most popular apps for creating virtual assistant contracts. We will discuss their pros and cons, which ones have free trials and other great features they offer.
Plus, we will discuss the free options you can use too!
Favorite Apps for Creating Contracts
HoneyBook, HelloSign, Dubsado, and 17hats are all CRM systems that automate everything for you. Yes, please!
These are the most popular apps for creating contracts with the LFA alumn, so we are reviewing these 4. There are so many options available for creating contracts.
Features include appointment booking, automatic confirmation emails, and contract templates.
So let's dig in!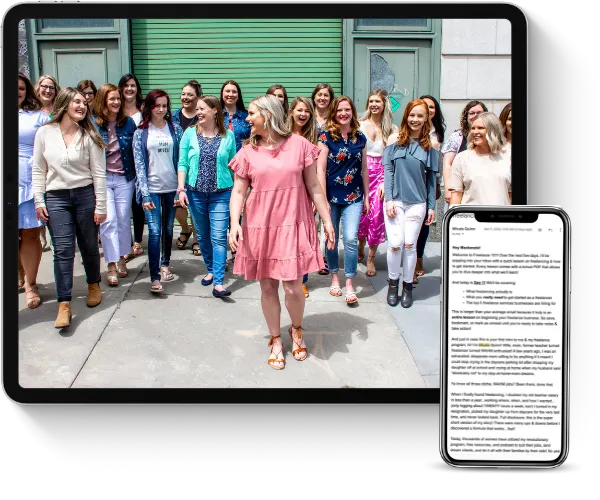 Learn how to earn $3K a month+ as a freelancer working less than 25 hours a week even if you think you have no experience.
This FREE crash course will teach you all about the freelance industry, so you can finally end the family vs. finances battle.
Summary: an app that lets freelancers send proposals, contracts, and invoices all simplified in one place. It has a cool feature that allows you to embed forms into your website, so when someone inquires about your services, it adds their information to your database so you can reach out to them.
Pros:
Web app and a mobile app for freelancers on the go.
Send and store proposal, invoice, and contract all in one place.
Create your workflows to automate emails, contracts, and invoices.
Integrates with Zapier, QuickBooks, Calendly, and GSuite.
Cons:
Expensive with only one plan option.
Doesn't automatically track expenses.
Only gives you seven days to try it for free.
Pricing Plans:
The pricing includes all features on both plans and is unlimited, so you can access them no matter what plan you pick. The pricing is $39/month or $390/year.
Summary: This app helps anyone upload documents for signature, sign online, add date stamps, and comments. It offers templates and signature requests to integrate with other apps and keep a record of signatures.
Pros:
You can try it for free for one month.
Easy to use and simplifies the signing process.
Cons:
No free plan option.
No customer service phone support. Email or chat support only.
30-day free trial before you buy it.
Pricing Plans:
Starting at $15/month is the essentials plan, dropbox + eSign is $24.99/month, the standard plan for a small team is $17.50/month, and the premium plan for a large team is a custom price.
Summary: a CRM system that streamlines contracts, invoices, forms, and client information all in one place. You can customize templates, pay invoices online, automate workflows, and create client portals and scheduling.
Pros:
Unlimited free trial for even the premier features for up to 3 clients.
Endless customization options.
A client portal for clients to upload documents or anything else you need to work with them.
A Dubsado Facebook community with experts to help answer questions, engage with other users, and get tips.
Cons:
Basic capabilities for project management that aren't enough for some users.
It can be hard to set up and learn when first starting.
Pricing:
A starter plan for $20/month or premier for $40/month.
Summary: a tool that helps you manage your small business by focusing on billing, scheduling, and managing client projects.
Pros:
Easily integrates with email for uploading contacts and sending automatic invoices.
Easily integrates with social media sites for posting and sending out information online.
Tracks prospect visits to your websites and notify you of new visitors.
Free trial for up to 3 projects.
Cons:
Does not have time-tracking capabilities.
No phone support for customer service, only email or chat, which can be slow.
Less bookkeeping capabilities as other apps.
Pricing:
The essential plan is $15/month, the standard is $30/month, and the premier plan is $60/month.
Free Options and Apps for Creating Contracts
If you want free options, you can choose to create and send a manual contract or find an app with a free plan. Apps with a free plan usually limit the number of contracts you can send out or the editing abilities for customizing. If you only need 1 or 2 contracts a month, a free option would be an app like indy.
Indy helps you to send proposals, contracts, and invoices, receive payments and even track your hours. Having all these things in one place is convenient and streamlines this part of your business.
They have a free and a paid option. The free option includes two contracts, invoices, and proposals, while the paid option offers unlimited contracts, invoices, and proposals for $6.75/month.
Google Docs is another option for creating and sending a free contract to use Google Suite.
First, you will create the central part of the contract in a plain Google Doc. Customize and format it as you want. Next, you want to print to a PDF, so it's not easily editable. Then you can email it to the potential client for signing.
If you go this route, you can ensure all details and sections are included; you can add your branding and customize the contract as much as you want!
How To Create a Simple Contract?
The parts of a simple freelance contract are a description of services, the start and end of the agreement, how/when time is billed, confidentiality, and non-exclusivity.
Description of services
This section details what services you are providing. Be sure to include any deliverables you will provide.
Start and end dates of the agreement
Include a start and end date for the work or if the services are ongoing. You will want to include the number of days' notice either side needs to give when ending the contract.
How/when time is billed
Include how and/or when the time is billed, how you will track the time if paid hourly, and when the invoice will be due each month.
Confidentiality of information
If you are working with clients' sensitive information (trade secrets or logins), including how it will be safely stored or kept private.
Non-exclusivity clause
This part of the contract protects you by stating that you can take on as many clients as you see fit, and a client cannot determine this for you.
Read more about these basic contract sections on the Q&A: Sending Virtual Assistant Contracts to Clients blog!