These questions come up a lot from women considering signing up for the Live Free Academy course.
"How do I answer client questions?"
"What if I don't know the answer?"
Psst! Guess what? It is okay not to know the answer to everything! Especially when you are just beginning as a virtual assistant.
Today, on the blog, we are discussing how to answer client questions when you don't know the answer. Plus, a template for common questions you may get!
How to Answer Client Questions
Be honest
Be honest with your client or potential client. Tell them you don't know the answer. Do NOT lie! They might know you are lying, effectively ending your working relationship with them. Plus, it could create an awkward conversation about the lie.
Answer any parts of the question you do know
Do you know how to answer part of the question? Answer it. It shows you know the subject.
Offer to find the answer
When you don't have the answer to part, or all, of a client/potential client question, the best way to handle it is to offer to look up or find out this information. Tell the client you don't know, but you will find out.
Try to give them a timeline for when you will have an answer.
Then offer information on how you will find the answer. Are you going to search in a Facebook group (like the Live Free Academy course group)? In the group, you have access to other freelancers who you can ask for their knowledge on the subject. Have they ever experienced this issue before?
Whether you are going to ask a network of other freelancers, do a Google search, or find the answer some other way–let your client know when and how you plan to find the answer.
Bonus: Offer to learn
If the answer is something that you don't know how to do, get bonus points by offering to learn. You'll learn a new skill you can offer to clients moving forward.
Plus, you'll show your current client that you have the initiative to search for and implement the solution.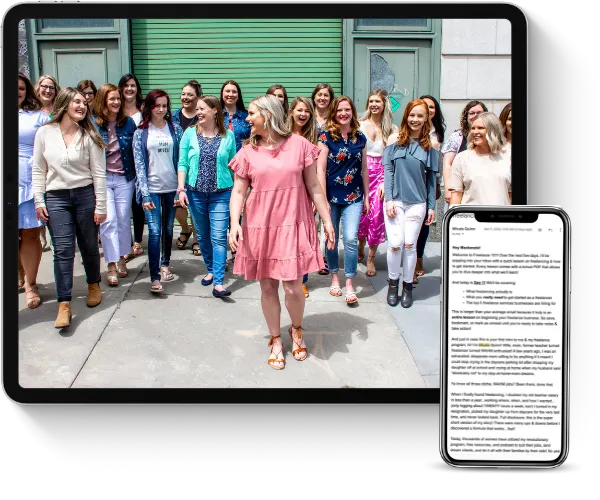 Learn how to earn $3K a month+ as a freelancer working less than 25 hours a week even if you think you have no experience.
This FREE crash course will teach you all about the freelance industry, so you can finally end the family vs. finances battle.
3 Question & Answer Templates
How will you store my sensitive login information?
I suggest using LastPass for securely storing and sharing client login information. Since login information is sensitive, it's essential to let clients know that you have a safe way of storing their information that isn't easily accessible to hackers online. With LastPass, your client can share passwords and logins without you seeing what the password is.
How will you access my programs?
To perform many virtual assistant tasks for clients, you will need access to sensitive information from them, like usernames and passwords. You will also need access to some accounts.
However, many apps and software have features available allowing a client to share only partial access to the account.
Be open with clients or potential clients about what access you will need to do your job. Then assure them how you safely store their information.
Do you know how to use (enter app name here)?
With so many apps and software programs available now, it is impossible to know all of them. It is a good idea to learn commonly used apps in your niche.
So, for example, if you offer social media services to female business owners. You will want to be familiar with the following apps.
Canva

for creating posts.
Scheduling Software (like Later or Tailwind) for scheduling posts to go live.

Trello

for organizing a content calendar.
To learn software, head to the website for a tutorial. Most have free tutorials. Sign up for a free account and play around with it to get familiar with features and basic functionality. And you can find a tutorial on YouTube.
Now that you know how to answer client questions, even when you don't know the answer. Don't let that hold you back from living a life you love—working from home with your babies by your side. The Live Free Academy course will teach you how step-by-step. You can learn more about the Live Free Academy here!
Not ready for the entire course? Check out this free 5-day mini-course. You will learn how to uncover your freelance skillset so you can make $3k a month working 25 hours a week!