Amber Kindler is a small-town girl turned big-time freelancer! In this month's success story episode, Amber is sharing her story on how she went from kindergarten teacher to copywriter and social media manager.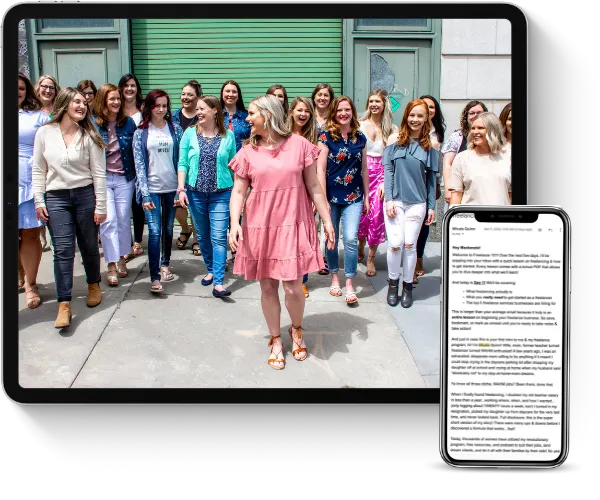 Learn how to earn $3K a month+ as a freelancer working less than 25 hours a week even if you think you have no experience.
This FREE crash course will teach you all about the freelance industry, so you can finally end the family vs. finances battle.
Amber's Story
Born and raised in north-central Kansas, Amber grew up on her family's farm and ranch. Extremely close to her family and community, Amber knew she would return after college and help with the family business. 
"Home is a really big part of my life and family. And so I have always been very driven and independent."
Amber always knew that she wanted to be a teacher. So after she got her teaching degree, she went back to her small town and taught elementary for four years. And while teaching was something she had always wanted to do, Amber also knew that she wanted to be able to stay at home when she and her husband had kids.

"With the lifestyle we live, I knew that if I couldn't be home, there would be several times out of the year where my kids would never see their dad or I would never see him. And that broke my heart. I did not want that."
Amber found out she was pregnant with their first baby in August of 2019, and that was the motivation she needed to find a career that would work with her schedule. After finding out about Overwhelmed to Overbooked from a friend who had already joined the course, Amber started listening to the Live Free Podcast.
With Amber's naturally ambitious and driven personality, she joined Overwhelmed to Overbooked that same month. Amber had her son in April 2020, and that's about the same time her business took off — she onboarded her first client two days before she had her son! After that, she found her niche, and her business truly scaled.
Turning Fears into Challenges
As if a pandemic wasn't stressful enough, Amber had several fears while diving in. What would her small town think of her decision to abandon teaching? Could she really do this? Could she match her income before her teaching salary cut off? Was the pandemic going to affect her new business? Even with all the unknown, Amber turned those fears into challenges. When a new timeline presented itself, Amber was determined to make it happen. 
"I love a challenge. And that's kind of how I just approach goals and my business too. Like where can I be at this point? Where can I be at this point? Push me."
With only two clients and nowhere near reaching her full-time income, Amber still felt confident in resigning from her job for the following school year. She knew through networking and hard work that she could make this happen. She would make this happen. Challenge accepted!
Client Breakdown
By networking through Facebook groups, Amber connected with a TPT seller and landed her first client in January.

In February, Amber landed another TPT client through Facebook groups. 

Through consistent networking through Facebook, Amber had a total of six TPT clients by July.

By making connections through the OTO group, Amber landed two more clients (one in the health and fitness space and one in the web design space).

Amber is fully booked and not looking for any new clients in the fall! 
And that is how Amber quadrupled her teaching income in less than a year! 
"I hit my goal. I knew it was possible, but I didn't know it was possible in a year. It's crazy!"
Amber's Tips for Success
Confidence.

Turn your fears into challenges. 

Find your niche.

Find what you love and enjoy what you do. It's okay to pass on a client if they aren't the right fit for you.

Set goals.

Constantly challenge yourself but never compromise on what is most important to you.
A typical day in the life

Amber is able to stay at home with her 10-month-old son and manage her freelance business while he sleeps! 
Each day can look different, but being able to run her business from home is a dream come true for Amber. She is with her son 95% of the time and doesn't have to use daycare. 
"I try to knock out as much as I can between 5:00 and 7:30. I have grown to love that morning time. I make my coffee, I sit and I do my work, and then he wakes up about 7:30 and I feed him and we play."
Are you ready to join Amber and the thousands of other women who have ended the battle between freedom and finances…forever?!