Have you ever wondered what a new career for a former teacher would be?
What would it be like to be a work-from-home mom while simultaneously dreading going back to school?
Having a flexible schedule that allows you to work when you want would be nice, right?
Well, this blog is for you! In today's "A Day In The Life" post we are seeing what a day in the life of a new career for former teacher, Leigh Ann Zerr, looks like.
One day, fed up with teaching and its inflexibility of it, Leigh Ann searched for "legit work-from-home options". That search led her to the world of freelancing, where she followed her dreams of working on her terms with a flexible schedule.
You'll see how she structures her day, what kind of legit work from home options she found in freelancing, and how she learned about a new career for a former teacher working from home!
A Day in the Life: A New Career for a Former Teacher

Intro and background
Leigh Ann is a copywriter and former teacher who now works from home.
She bought The Live Free Academy course in 2019 and knew right away she was not going back to teaching after starting the course. As a high school teacher, she was fed up with not having a work-life balance.
So, she binged the course during spring break and put in her resignation right after.
She found her first client for a small project in the month after finishing the course!
Then landed her first retainer client right after that!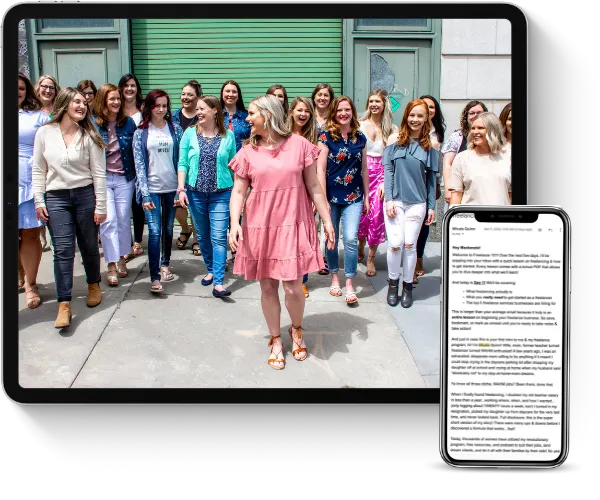 Learn how to earn $3K a month+ as a freelancer working less than 25 hours a week even if you think you have no experience.
This FREE crash course will teach you all about the freelance industry, so you can finally end the family vs. finances battle.
Beginning the day
Leigh Ann starts off her day around 7 AM, by sending her kids off to school. One on the school bus, and the other at preschool.
Then she makes a quick stop at the grocery store to get some food for lunch at her co-working space.
Next, she heads into the co-working space she rents to get some work done.
Leigh Ann describes how working from a co-working space works better for her because she is too easily distracted by laundry and dishes piling up in the sink.
She likes to get out of the house for dedicated work time.
Morning tasks
First, Leigh Ann compares her Google calendar (with all her family and work stuff) to paper calendar to organize and plan the day.
A Breakdown of Leigh Ann's Clients and Tasks
As a former high school English teacher, copywriting seemed to go seamlessly with it, so Leigh Ann works as a freelance copywriter.
Today, she is working on a sales pitch for a repeat client. With this client, she offers VIP copywriting days once a quarter. She's helped them with copywriting, email sequences, and a sales pitch.
Leigh Ann is checking in with another client on an upcoming launch to make sure all their content is ready.
After that, she will prep for a content huddle for another retainer client. This client is a marketing agency, where she's been on retainer as a copywriter for a couple of years now. They are planning out newsletters for the month, and some posts on social media.
Leigh Ann has 2 retainer clients and fits in 2 VIP day clients per month.
Questions about Working from Home
Q: Have You Matched Your Teaching Salary?
A: Yes! I matched my take-home teaching salary within the first 6 months.
And that is with working no more than 25 hours per week – WAY less than time spent teaching/grading/commuting/all.the.things!
Q: How did you find copy leads? My goal is to find copywriting clients, but am stuck finding them.
A: Almost all my copy leads came from networking in FB groups. I created a simple portfolio with writing samples and dropped its Google link with a short pitch in all the job opp threads I could find.
I made it easy to click a link to book a call right from the portfolio. Most of the calls I got were from lurkers, not the original job opp poster!
Q: Do you miss the summers and holidays off?
A: No. I don't miss having summers and holidays off, because I get to still have holidays off, and do it whenever I want. Whenever works best for my family and my schedule. The freedom of time that comes with not being stuck to my classroom or school schedule is one of the best parts.
My husband works an odd schedule and I can take a random lunch date and go out to eat with him.
I can decide if I'm working when my kids are in school or not. This year I have a 1st grader, and this year I've managed to make it to all 3 of her class holiday parties.
Q: Where did you learn your copy skills/formulas?
A: As a former teacher, one of the subjects I taught was high school English. So I had an academic background and the conversational copy and marketing copy came naturally to me.
I started out doing a lot of content like blogs, emails, and newsletter-style emails. When I started to get into writing more sales copy to convert for sales I enrolled in Copyschool by Copyhackers. It's the conversion copywriting course that helped me build up my skills and confidence. It's having that confidence level has allowed me to charge higher rates.
In the beginning, before I was able to invest in the Copyschool program, I Googled a lot of stuff, I followed some copywriters on Instagram, followed some hashtags, used free templates, and did trial and error.
Mid-day break
Leigh Ann takes a break from client work to fit in a quick workout session at Barre3, a KC local fitness gym.
After sharing a sweaty selfie with us, she heads back into her co-working space to fit in a little more work before picking up her son from daycare.
After working all morning on a sales page, she likes to take a break and come back to it with fresh eyes.
Afternoon in a new career for a former teacher
Daycare Pickup and Errands
Leigh Ann stops working in the afternoon to pick up her son from daycare.
She explains that she didn't finish the sales page as she wanted to, so she plans on jumping on the computer later on to finish it.
After picking up her son from daycare, Leigh Ann runs errands and picks up her daughter from the school bus around 4 pm.
Afternoon Work
Showing a screenshot of a content huddle meeting at 4:30 pm. The content huddle is a monthly meeting with her biggest retainer client. This client is a marketing agency based out of Australia.
Every month she meets with the CEO and agency manager to talk about the topics she will write about that month.
Right now, she does email newsletters and social media for the agency, the CEO's personal brand, and some of their clients.
She also helps with special projects from time to time. Right now she is doing media kits for the clients they represent.
This client is her highest-paying, longest-term retainer client that she landed through a connection in the LFA group!
Evening hours
Around 5:30 pm, Leigh Ann does dinner with her family and logs off for the day!
Are you ready to dive into the world of freelancing to find a new career as a former teacher like Leigh Ann? Learn more about the endless options and flexibility you have with freelancing in the Freelance Crash Course.
Are you wondering what skills you have that you can turn into legit offers for clients? Head to the MicalaQuinn.com/free-resources page to find out!