Ever wondered what an actual day in the life of a freelance mom looks like? Stacy Hanson- a virtual assistant, podcast manager, mom of 2, and Live Free Academy student– is taking us behind the scenes of her business and life!
Stacy Hanson
Today is a little different for me because today is a snow day! So my daughter is home today with me when normally she would be at school, so my schedule changed unexpectedly. That's okay, we can work around her (unlike a traditional 9-5!).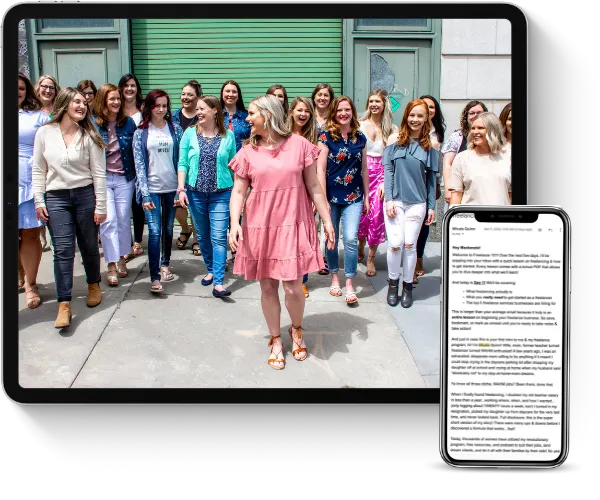 Learn how to earn $3K a month+ as a freelancer working less than 25 hours a week even if you think you have no experience.
This FREE crash course will teach you all about the freelance industry, so you can finally end the family vs. finances battle.
So first thing in the morning, my kids are eating breakfast and I sit down beside them and plan out my to-do list and priorities for each day.
To-Do List
Edit a podcast episode
Finish a podcast episode
Create pin graphics
Post idea pins for 2 accounts
Stacy's Background
So, a little bit about my background and what I did before! I was a dental hygienist for six years before having my daughter in 2017. After my maternity leave, I went back to work part-time. After having my son in 2020, my husband and I decided it was best for our family if I stayed home with both babies.
While I was happy to spend more time with my kiddos, I wanted to continue bringing in an income…I just needed something more flexible. That is how I found Micala and The Live Free Academy. In a mom Facebook group, someone had asked about work-at-home mom jobs, and Micala's program was listed. I reached out, asked her some questions, utilized the free resources, and after discussing it with my husband, we decided to go for it!
We launched my business, and it's been so amazing. I'm so happy that I did it. It's made me happier and gives me something new and challenging to look forward to every day, and still be here to see all the milestones of my kiddos.
Services Stacy Offers
Podcast management. I started offering this service as a package about 2-3 months ago now. I just really enjoy everything about the podcast world and all the behind-the-scenes work. It's really exciting to help my clients with already established podcasts or my clients launching podcasts. One of my favorite parts of podcast management is editing the audio. I really enjoy project-based work so having a start-finish, and a finished product at the end is really what gets me excited. When I look for podcast clients, I am looking to take on clients who need editing because that's what I enjoy, and that is one of the biggest reasons I started offering services for podcast management.
Virtual Assistance. I do also offer virtual assistance services as well because I enjoy the variety of tasks and skills you learn as a virtual assistant. From social media scheduling to admin tasks to email management, I love variety and change in my life!
Q&A
My job is WAH but I'm trapped in my home office from 8-4:30, does this allow more flexibility? The best part about freelancing is the freedom and flexibility! The majority of services you can offer as a freelancer will allow you to work whatever hours you want. Most of the time, your clients are going to just want to see that the work is getting done and not necessarily care when it is.
Where did you get your laptop from and can you tell me the exact one it is? My laptop is an HP Envy that I got from Nebraska Furniture Mart several years ago.
How do I know if freelancing is for me when other potential "suggestions" make me question it? Freelancing is for you if you're looking to create income with the freedom and flexibility of being your own boss. If you have drive and motivation, freelance can be amazing for you!!
Do I need any additional funds outside of the funds for the course to have success? Outside of the two courses I took and the fees for setting up the legal side of my business, I have needed to make minimal investments in my business to be successful. I have monthly expenses under $50 total. You can invest in lots of things, but for me, they are not necessary right now for where I'm at in my business.
I will wrap up everything for today, but I enjoyed getting to share a day in my life with you! My handle is @stacyhansenllc, feel free to shoot me a message. I would love to connect with you, learn about you, your business, and your journey!
Thank you so much Stacy for giving us a peek into your life!
Ready for your freelance journey to begin? Download the FREE crash course now!