Are you wondering what a day in the life of a copywriter looks like?
Maybe you are thinking about starting to freelance so that you can work from home, and are thinking copywriting is for you!  If your answer is "yes", then this post is for you! The A Day In The Life Series is where we follow around a Live Free Academy student who shows us what they do for clients, how they work from home, and a peek into their schedule as they balance work and home life.
Today, Amber Kindler is giving us a peek into a day in the life of a copywriter. You will see all the inside details, from when she wakes up to when the kids go to bed. Learn how and when she works and what copywriting she is working on!
A Day in the Life Of A Copywriter
So, to kick off this series, we are looking at a day in the life of a copywriter with freelancer and LFA alumna Amber Kindler.
Watch the full video here!
A Day in the Life of a Copywriter:
Waking up
Amber first shares that her 2-year-old, Judd, goes to grandma's house for two days a week for daycare so she can do client work.
Kicking off the day
Amber feeds her 4-and-a-half-month-old, Joanna, around 5:30 AM and puts her back to bed. While baby Joanna sleeps, Amber gets a good chunk of work in.
Mid-morning
After a few hours, baby Joanna is up for the day. After feeding, Joanna plays while Amber gets another chunk of work in.
Lunch-Time
Today, Amber is working on a blog post for a client. Then Amber preps for a client meeting while eating lunch.
She shows us how she works, usually from the floor next to baby Joanna while she's playing.
Afternoon nap
After lunch, Amber has a call with her client. Then Joanna goes down for an afternoon nap for a couple of hours. So Amber squeezes in a quick workout but is stopped for baby snuggles halfway through.
Shortly after, big brother Judd comes home from daycare at grandma's house. When he gets home, Amber puts Curious George on the T.V. Then sets baby sister up at her play table so she can start dinner.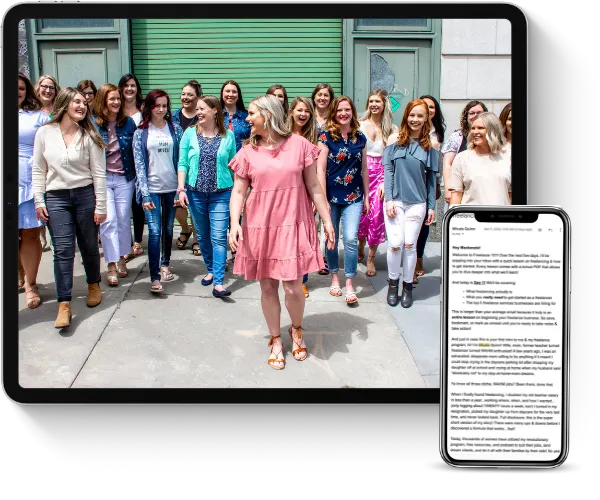 Learn how to earn $3K a month+ as a freelancer working less than 25 hours a week even if you think you have no experience.
This FREE crash course will teach you all about the freelance industry, so you can finally end the family vs. finances battle.
Dinner time
While making dinner, she usually listens to the Live Free Podcast to do a little professional development!
Wrapping up a day in the life of a copywriter
After dinner, she cleans up the dishes, starts bath time and bedtime, and wraps up the day.
Watch Amber's a day in the life of a copywriter below. Amber talks about how she found freelancing and the Live Free Academy!
Amber shares information about her clients and the projects she's currently working on. Watch Amber's Day in the Life of a Copywriter video here.
Services of a Copywriter and Director of Marketing
At the beginning of her business, Ambers's ideal clients were Teachers Pay Teachers sellers because she was a teacher so she really connected with them. While those are still ideal clients, Amber really likes working with any female business owner who is making an impact.
Right now, she has 2 clients that are Teachers Pay Teachers sellers. And another client that is an agency.
Amber says the agency client is her favorite because she gets to work on new projects every day. It's a new client, a style of writing, and a project that she does every day which keeps her on her toes.
Amber's last client is a painting company that she connected with through LFA, and helps with copywriting for the website.
Want to Learn More About Freelancing?
Learn the 8-step framework you need to start as a freelancing copywriter. This program is packed with the tools you need to start a business. With the Live Free Academy course, you get free access to Trello boards, brand kits, and even discovery call scripts that have proven successful for many LFA alumni!
Do you still want more information on freelancing before you sign up?! We get it! Check out all the free resources right here!