Say we were shopping at Target one Saturday and they asked over the intercom for everyone who has ever Googled "legitimate work-from-home jobs for moms" or something similar, to come and get a free coffee at their in-store Starbucks…the line would probably be a mile long—for that store alone!
I get it—you're a mom first and foremost. But you also want to work or need to work to support your family. I feel the exact same way, and I was totally lost until I discovered the world of freelancing.
Let me tell you about seven legit work-from-home jobs that are perfect for moms. These jobs are plentiful if you know where to look for them. They are flexible: you can work them around your schedule and in your favorite yoga pants from home. They pay a decent wage and you do not need any special training or degrees to do most of them!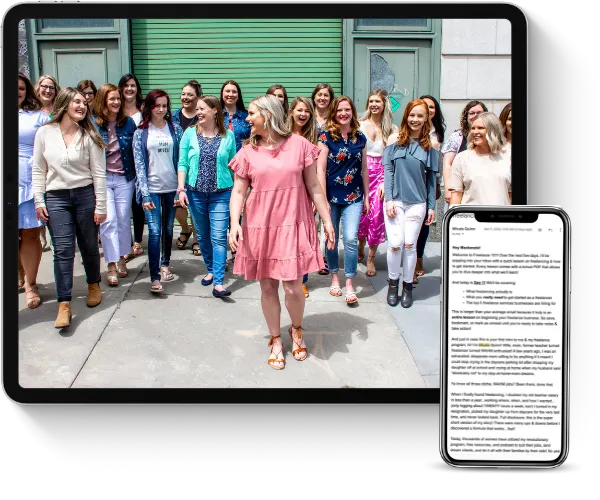 Learn how to earn $3K a month+ as a freelancer working less than 25 hours a week even if you think you have no experience.
This FREE crash course will teach you all about the freelance industry, so you can finally end the family vs. finances battle.
I know this sounds too good to be true, but I swear it's really an option. There is this whole freelance world of mamas who are crushing it in work-at-home jobs just like these, and you can join them!
Work-from-Home Jobs for Moms
1. Social Media Manager – starting $25-$35/hour
Plan and schedule social media posts on a variety of platforms. May create the graphics and write captions or simply add content to a scheduling program. Engaging with the client's audience and managing their Facebook group may also be included. No specific training is required, but with added training or expertise in strategy or ads, the pay scale increases dramatically.
2. Pinterest Manager – starting $25-$35/hour
Set up boards and actively pin to a client's Pinterest boards to drive traffic from Pinterest to the client's website. No specific training is required. With more experience with strategy and proven conversion from views, to clicks, to sales, the pay scale increases.
3. Virtual Assistant (VA) – starting $25-$35/hour
Take on any variety of tasks that a business owner needs to outsource. This may include email management, customer service, copywriting, social media, bookkeeping, etc. You choose the types of clients and businesses you want to work with and what services you will offer.
4. Copywriter – starting $30-40/hour
Write copy for blogs, email marketing campaigns, social media captions, websites, ebooks, etc. You can price yourself by the wordcount or project. The pay scale for writers varies greatly depending on the clients you are working with, your level of experience, and if you have a proven track record of increasing sales through your copy. No degree is required, what's important is what you produce.
5. Graphic Designer – starting $30-40/hour
Design logos, fliers, workbooks, graphics for use on social media or websites, or anything else a company needs. You can also get into creating an entire brand concept and strategy with logo, colors, and fonts. A related degree is not required, however, with a degree or experience the pay scale can increase dramatically. If you're tech inclined you can combine this with web design and bump up your pay scale even more.
6. Podcast Manager – starting $30-40/hour
Edit podcasts, publish episodes to hosting sites, write show notes, promote the show or client as a podcast guest, etc. The podcasting world is blowing up. It is incredibly time-consuming for a podcast host to record, edit, publish and do everything related to promoting their podcast. Anyone moderately comfortable with technology can learn the skills required to do this job. There are free editing tools and many YouTube videos that can teach you what you need to know.
7. Online Business Manager (OBM) – starting $75-$100/hour
OBMs are the right-hand to the business owner. This is a planner position, not so much a doer position. You work directly with the business owner to take their vision and goals for their company and set a plan to make it happen. You hire the right support, manage the timeline, and organize the systems to keep the business side of the business running.
Get with the Times—Work-from-Home Jobs Are the Future
Welcome to the 21st century, ladies! The internet has made it 100% possible to do meaningful work from home. There are loads of entrepreneurs out there who are building online businesses or their own brick and mortar small businesses and they can't do it alone…buuuuuut they also don't want to hire traditional employees.
This is great news for you! The economy is shifting from traditional jobs to a freelance, or gig, economy, and you can get in on it. Yes, YOU!
This CNN Parenting article is already several years old and even it points out that millennials are looking to their grandmothers as inspiration for women who worked AND had families. It was a necessity of the time, and for many it's a necessity now. The boomer generation is known for the stay-at-home-mom movement, and the millennial generation is becoming known for its work-at-home-mom movement.
Get this,
…you don't have to work a job that barely pays for the childcare you have to have so that you can work that traditional job.
…you don't have to miss out on the opportunity to do meaningful work and contribute to your family's income goals if that's what you'd like to do.
…you don't have to drop your babies off at daycare and miss their milestones in order to be a working mom.
…you don't have to lose yourself completely to motherhood if you'd like to be using your talents, skills, and experience to pursue things outside of parenthood—it's ok to do something that fulfills you.
Questions from the Skeptics
Whenever I talk to people about these no joke, no scam, totally legitimate work-from-home options for moms, they usually have some follow-up questions:
1) Are there really jobs like this out there?
Answer: Yes! Absolutely. I see ladies landing them every day and I see job opps all over the place, not to mention everyone has their own personal connections with small business owners.
2) Can I really earn good money doing this?
Answer: Yes! You set your rates. While many will start out on the lower end of the pay scale initially, you don't have to. It all depends on your experience and, quite honestly, your confidence. And you can raise your rates dramatically and quickly as you get more experience and get more clients. I was a high school teacher before I started freelancing and I was able to replace my entire teaching income only working 15 hours a week because my freelancing rate was so much better than my pitiful teaching rate!
3) Can I really do this?
Answer: Yes! Working as a freelancer is completely possible for everyone who wants it bad enough to do the work. Clients will not simply drop into your lap—unlike your toddler. But if you do the work to find them, you will.
4) Is the market saturated with too many people vying for these jobs?
Answer: No! Ok, yes, there will be competition for every job posting you see. That's no different from the traditional working world. But there are still plenty of jobs to go around and each client and job description is unique, so there's really something for everyone.
Ok, Sign Me Up—How do I get started?!
Sign up here to get my free Lanch Fast Crash Course to get your freelance biz up, running, & profitable – ASAP!
Come and join my Facebook group: The Live Free Podcast Mastermind with Micala Quinn.
And, by the way, I have a podcast! It has LOADS of information all about how exactly to start a business as a freelancer (I swear it's easy, anyone can do it—trust me), success stories from other ladies, guest interviews with awesome experts in a variety of subjects related to the work-at-home life, and more.
I also did a Facebook live about this topic and you can watch it here if you're interested.
I'm so excited you're looking into these work-from-home jobs and considering it for yourself! I don't want any mom out there feeling like she's stuck in a job she doesn't like and has to choose between her job and her family. Don't let that be you!!